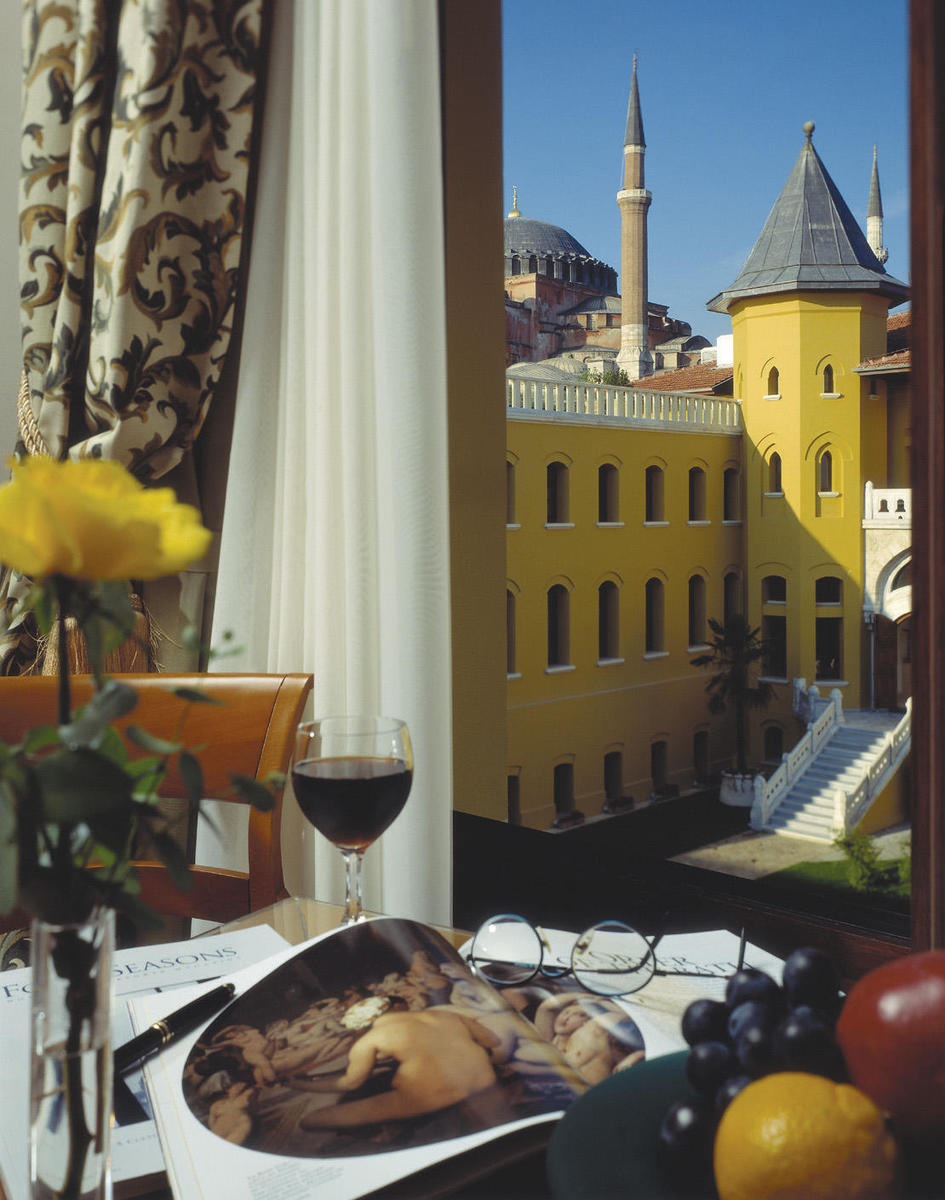 The nicest thing about the Four Seasons Istanbul is that the building once housed a jail, and the off-white pillars in the hallways still show graffiti etchings from the prisoners. I took my time to look really closely and read them all, except the one behind the huge mahogany hardwood buffet in the breakfast room (it's really hard to reach, and I was embarrassing my wife by trying to get to it). My wife's sister, who was spending her spring holiday with us, said this "type of architectural allegory would have made Foucault proud," but I'm not sure she always knows what she's talking about. Most of the etchings on the pillars were in Turkish, but some said things like "Lima," or "John Boulos, Class of 1980," or "Duran Duran Fuck You." This last I found rather rude; no matter how hard the circumstances of imprisonment, I have my doubts as to whether Duran Duran had anything to do with it.
The time was late April, which is actually my favorite time of year in Istanbul. Fittingly, our hotel room had romantic terracotta walls and Jugendstil wrought iron tablelamps with matching bedposts. I quite liked it, even if the carpeting looked like vomit.
Later, I asked the tall, mustached man at the reception desk for directions. "We want to go for a walk. Just tell me which direction is north," I told him. "Once I know where north is, I'll find my way around."
The man took a while to think, gently caressing his left eyebrow with his thumb, then pointed straight ahead and said, "That's north." I was about to thank him and leave when the receptionist slowly pointed to his right and said, "And down there, that's south."
"North, straight ahead; south, to your right."
"Yes," he answered, and offered a smile, shy and frisky. A true Virilio this man was. "Temporal cross-dissemination of spatiality," as my wife's sister might put it. Virtual densities of space-time. I gave him a stern look, and instead of going for a walk I decided we should all go and visit the roof.
Unfortunately, we were the only ones at the rooftop cafe. The sun was blinding, my wife kept claiming the receptionist looked just like Bashar Al-Assad, and I was in a bad mood since my sister-in-law had a larger room, with an extra window. She also had a Chagall reproduction on the wall, whereas we had what I took to be a painting of a desert landscape, with a small clown standing on his head. I remember that, as I was looking at the artwork, my wife said, "What is this supposed to be? A truffle pig?" I guess the strong point of this talented young artist is that he leaves everything open to interpretation. Yet another genius from the suburbs.
We later went back to the lobby, patiently waiting for the mysterious, post-spatial receptionist to finish his shift. My wife was commenting on the small marble sculptures, saying things like, "If you throw this at a person it will kill the person," while I tried to concentrate on finding new etchings on the pillars. Finally, Bashar left, and we asked the new receptionist to recommend a nice quiet place somewhere.
She directed us to a restaurant that resembled a Dubai design fair serving Italian cuisine in petite French portions, with disco salsa playing at a volume that would have made Metallica cringe. None of the staff spoke any English, but by virtue of the "mi amor, mi morena, me gusta tocar guitarra," for once I didn't really care. I decided to make a rude remark to the receptionist when I got back, something about her ancestry perhaps, but she was not at work when we got there. I decided to etch something about her on the pillars, but I couldn't find my pocket knife.
Tevkifhane Sokak No. 1
Sultanahmet-Eminönü
Istanbul, Turkey, 34110
Tel +90 (212) 638 82 00