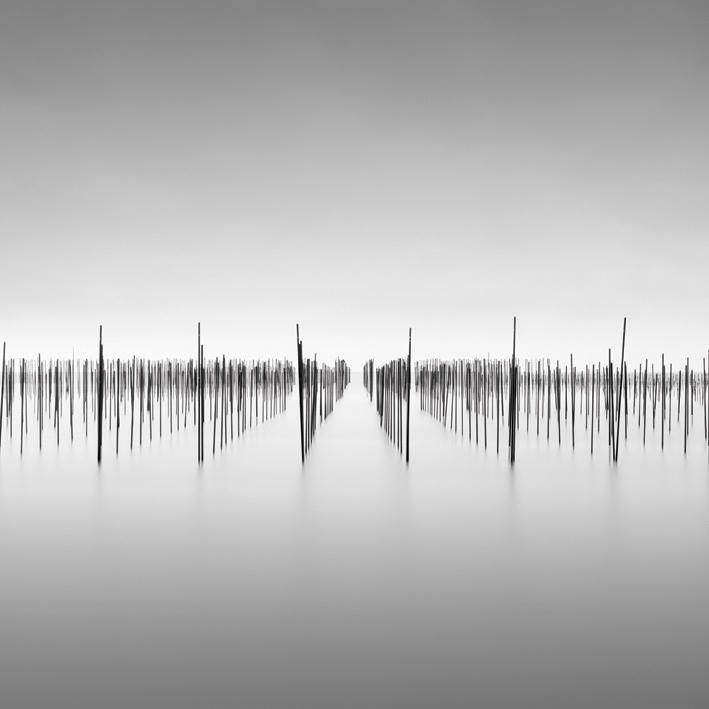 Aleppo
The 9th Aleppo International Photography Gathering
LePont Gallery
September 15–26, 2006
The 9th Aleppo International Photography Gathering opened in September, despite the usual setbacks — continued harassment from a variety of Syrian officials and bureaucrats; the detention of art works in customs; unexpectedly high fees at the post office; and the last-minute withdrawal of official permission to use the city's large empty electricity building, the main exhibition space.
Given the switch, the international artists, hailing from thirteen countries, had their work crammed into the much smaller space of the LePont Gallery in the eastern part of Aleppo. Few of the visitors, around forty artists, curators, and diplomats, seemed perturbed, however. Most had come to support curator Issa Touma's mission to bring together international practitioners with young photographic artists from Syria and the Middle East and to foster a space for experimentation and idea exchange.
Moroccan-born Lalla Essaydi, whose staged photographic works challenge European-defined notions of Orientalism in Middle Eastern art, has an academic background in the study of cultural and visual arts in the East and West. Informed by painting and calligraphy, her best-known photographic works are large-scale, staged color images of women and female family members against white backgrounds, overlaid with the graphics of writing — rooted more in metaphor than pure documentation.
Essaydi's work was exhibited alongside minimalist imagery of contemporary urban architecture in the United States and Europe by young German artist Julianne Erlich. Lebanese-American documentary photographer Rania Matar showed an image of a young child donning the hijab with care and dedication. Johannes Hepp's panoramic images revealed the visual ordinariness of urban streets where major terrorist events have taken place around the world. Among the strongest images were penetrating color portraits of factory workers in Aleppo by a young Syrian Kurdish artist, Nazem Jawesh, who is largely self-trained and self-schooled. Inspired by the social conditions of life, particularly aspects of male life, in Syria, his imagery was almost fiercely documentary in form. The frontal, close-up photographs of workers seemed to force these men to speak for themselves, deliberately removing the artist as intermediary. Faces of Workers is Jawesh's first complete series of work.
Logistical problems made it impossible to hold the keynote conference on the role of culture in the East and West, scheduled to include European, American, and Middle Eastern artists and curators. But Austrian curator Gerald Matt, curator/director of Kunsthalle Wien in Vienna, gave an important talk, "Cultures on the Move," about globalization and the need to find alternative definitions of cultural boundaries, referring not just to "first and third worlds" but to the "spaces in between" where transnational expression and media are finding or creating roots — "the emergence of an art of the hybrid."
British artist Ronnie Close talked about philosophical connections between the 1981 Irish hunger strikers and recent events in Iran. Satellite programs included two nights of classical Egyptian music and presentations of films and videos by Colombian artist Fernando Arias and Danish writer Monica Seidler. The showing of an historic documentary and photographs on the hajj, made in 1929, was a coup; even the festival's Syrian detractors asked to see those works. (In October, a special screening of the film was held under the auspices of Syria's leading official (Sunni) cleric, the Grand Mufti Ahmed Hassoun.)
Sixty artists and curators from twenty-eight countries, including Jordan, Lebanon, Morocco, and Syria, had originally been invited to participate in the festival, with more than 1,000 works of art included. In the end, over forty artists, curators, and diplomats from various countries were able to attend.
In response to the loss of his main exhibition space, Issa Touma has continued showing the photographic works in his small gallery, rotating the exhibit and extending the time of the festival from its original ten days to several months so every photograph can be shown.
Within Syria, and elsewhere in the Middle East, artists have been somewhat isolated from contemporary trends in art photography. Touma's Gathering begins to build that "space in between." where artists can explore and encounter new forms of creative expression in photographic art — and where those outside the region can experience photographic art originating in the Middle East.