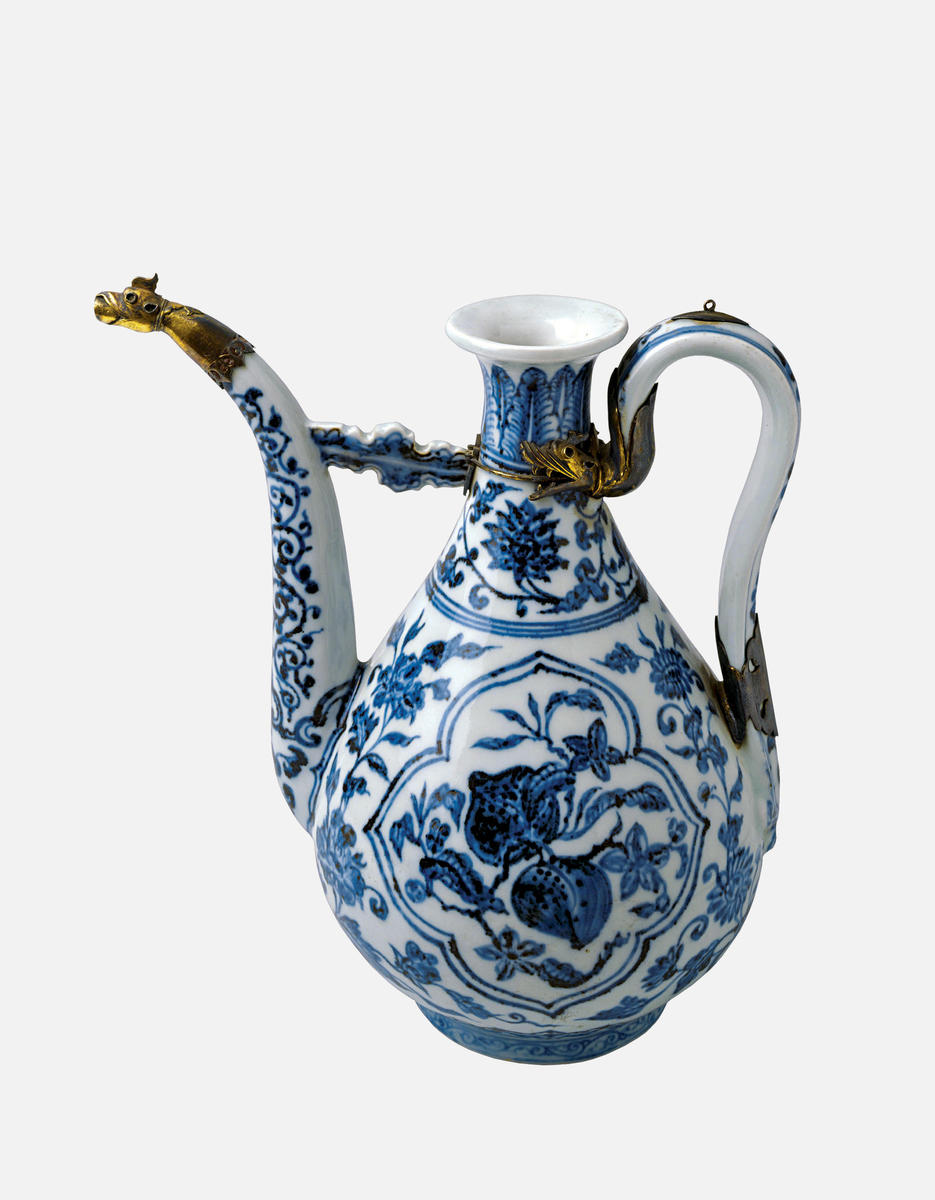 London
Turks
Royal Academy of Arts
January 22–April 12, 2005
Sir Joshua Reynolds keeps unusual company these days. His bronze straddles the gracious courtyard of Burlington House, home to London's Royal Academy. Palette in one hand, paintbrush delicately poised in the other, Reynolds epitomizes the eighteenth- century English aesthetic. Flanking him, however, are draped two duplicate posters, each depicting a gigantic black demon of medieval Central Asian provenance. The creatures crouch cross-legged, their leering expressions at once menacing and comically protective of their English charge.
This witty triptych perfectly introduces Turks, one of the most compelling London exhibitions in years. Many of the 350 items, gleaned from Istanbul's Topkapi Palace, Sakip Sabanci Museum and similar sources, attest to Turkey's centuries-old love-hate relationship with the West. Anatolia's Hellenic heritage clearly charmed the hardy Turkish invaders, who soon made it their own. Centuries later, Sultan Mehmet II hired the Venetian oil master, Gentile Bellini, to paint his portrait. And here it hangs, alongside a similar depiction of the sumptuously robed, rose-sniffing conqueror of Constantinople by a local talent, Shiblizade Ahmed.
Celebrating such coexistence tallies nicely with last December's decision to start Turkey on the long road to European Union membership. Turks is the Royal Academy's first exhibition of mainly Islamic art for seventy years. And Turkish commercial sponsors, like Aygaz, GarantiBank, Corus, Akkők Group, and Lassa Tyres, are eagerly supporting this "overture to Europe."
Mostly, though, Turks suggests a sensibility that looks not westward, but eastward. That is, back to their nomadic heartland in western China. Hence early Uighur Bbuddhas and Ming dynasty bowls in Chinese ringzhi (mythological fungus) pattern, overlaid with Qur'anic inscriptions. A twelfth-century life-size statue of a courtly guard, and paintings of mounted warriors from fifteenth-century Tabriz, Iran, both retain Turco-Mongol features.
Undeniably this assault on the senses from so many corners has confused certain viewers. What does this have to do with Turkey, they ask? Why do we have to wait until Gallery Seven (of eleven) before we meet the Ottomans we all know?
The answer lies in the subtitle to the exhibition: "A Journey of a Thousand Years: 600–1600," indicating a journey in space as well as time. Today's Turkish Republic contains only about half of the world's 155 million speakers of Turkic dialects. Turkish dynasties governed the largest Muslim realm in history, and in turn drank deep from the wellspring of Islamic creativity.
Consider incense holders from Syria, sandalwood boxes from Samarkand, Ottoman courtly carpets and caftans, or fabulous Qur'ans from all points along the Silk Road. Other surprises include Suleyman the Magnificent's sword, damascened in gold, and his grandiose tugra (calligraphic signature). Turks also boasts the first known example of a picture formed from Arabic letters. Curiously contemporary in appearance, this lion portrait of 1458 denotes the Qur'anic verse "God is the best guardian, and he is the most merciful of the merciful."
Over time Turks had adopted faiths such as Manichaeism, Buddhism, and Nestorian Christianity, before (for the most part) accepting Islam. Successive Turkish empires — Seljuk, Timurid, Ilkhanid, and Ottoman — incorporated fellow Muslim Persians and Arabs as well as Greeks, Slavs, Jews, Zoroastrians, Magyars, and Armenians.
Magpie-like, Turks incorporated all these influences. Yet the Royal Academy also honors more obscure pagan origins: in the appropriately dimly lit introductory galleries lies a primitive stone plinth bearing the runic legend of Uden, an eighth-century warrior from Kyrgyzstan, for example.
For true Turkish whimsy, visit the gallery dedicated to Muhammad Siyah Qalam (the Black Pen) and his school. Many of these sketches have never been seen in public before. They show demons trying to budge a stubborn donkey, hewing a tree, playing (and cheating at) tug-of-war, strumming lutes or slaying terrifying dragons. Throughout, there is an easy, confident approach to perspective and individuated expression that European contemporaries were still laboring to master.
Turks is exhaustive, and potentially exhausting. Accompanying illustrated talks and study days investigate everything from how Ottoman marching music inspired Haydn, Beethoven, and Brahms, to the current Turkic political renaissance and the mercantile dash for oil.
One abiding memory is the exhibition's commentary on a thirteenth-century volume of Rumi poems. A Turkish Sufi master who wrote in Persian in the formerly Greek city of Konya (Iconium), Rumi called for "fellowship and unity between all humanity, while Anatolia was itself in political upheaval." Turks makes the same plea in a similarly fractured world.