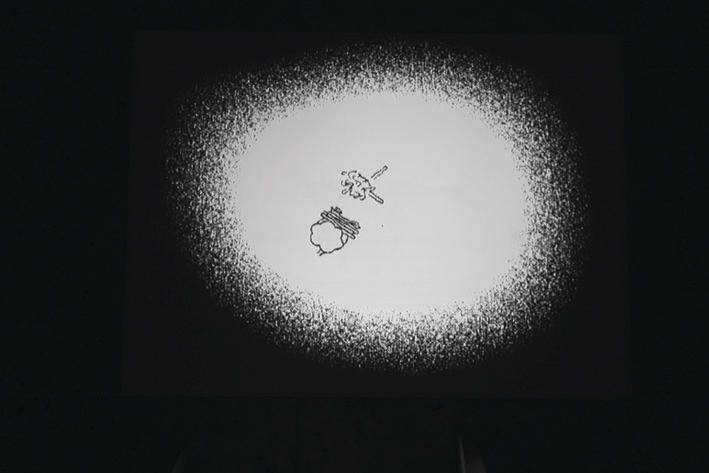 Ramallah
The Young Artist of the Year 2006: The Hassan Hourani Award
A.M. Qattan Foundation
September 19–October 3, 2006
Set up by the Qattan Foundation in 2000, the biannual Hassan Hourani Award is aimed at Palestinian artists below the age of thirty, and awards prizes with a combined value of $12,000. For this year's award, twelve artists were short-listed in January, from forty-seven entries, and given eight months to develop their projects for exhibition.
In 2006 there was a marked increase in interest in the award, on the part of competing artists and the viewing public both — perhaps due in part to the involvement of a wealth of new exhibition spaces, from cultural centers to shopping malls. Yet the jury, including Catherine David, Adila Laidi-Hanieh, Samir Salameh, Salwa Mikdadi, and Taisir Masrieh, declined to award a first prize, stating that no single work stood out above the others: their decision was influenced by the necessity of "maintaining the highest possible standards" and "preserving a level of consistency in the quality of work."
They did, however, highly commend Wafaa Yasin's video work, Worm Way, a portrait of a worm that attempts to regrow and rejoin itself, which, shown alongside another video piece Ice and Salt, was one of the most substantial and developed works in the exhibition.
And the jury awarded two second prizes — to Shadi Habib Allah and Mohammed Fadel. Shadi Habib Allah deals with local subjects in his simple, animated videos. An Ongoing Tale was projected on to the ground, encouraging the viewers to look down — as though into a well — and, ultimately, at themselves. Mohammed Fadel, who unfashionably describes himself as a "decorator" and was one of few painters included in the show, presented a series of mediumand large-sized canvases in oil in the biggest and most modern shopping center in Ramallah. Their naïve style belied Fadel's myriad influences. Wafa Hourani, who received third prize, presented a multimedia installation, taking the Qalandia checkpoint as his point of reference and mapping the area around it with video, referencing the style traditionally used in historical three-dimensional models of castles. Hourani's video, projected onto a curtain, featured the checkpoint area in minute detail, encompassing the stacked houses, narrow alleys, satellite towers hovering above the roofs of the refugee camp, the sidewalks, the gardens, and the Wall. Viewers were encouraged to walk through the curtain, to take in a performance based on the lions of Ramallah's Manara Square. A huge endeavor, and highly popular with local audiences, the work attempted to say too much and was ultimately marred by its clutter.
This year's exhibition went some distance toward illustrating the ambiguous role of contemporary art in a country under occupation and siege. Of course, in Palestine, it's impossible to divorce cultural matters from politics: while the jury was announcing the winners in Ramallah, now the Palestinian political and cultural capital, the Gaza Strip and some areas of the West Bank were in crisis, experiencing once again the destruction of human lives and public property. While it's rare to find artists here capable of — or willing to — transcend their surroundings and the all-pervasive nature of the conflict, some at least succeed in reading the situation anew.
Mohanad Yaqoubi and Yazan Khalili's minimalist video, State of Waiting, portrayed intimate and ordinary scenes of the artists and their friends — a generation living at a crossroads, or as if at a bus stop. Ayman Azraq, painter Shadi Zaqzouq, and Fouad Aghbaria, who draws with coal on formica, produced commendably spontaneous and innovative work.
These artists represent something of a new wave in Palestine's contemporary art scene. In cultural terms, Palestine can no longer be defined as self-contained, unaffected by external influences. While Palestinian artists still engage with the specificity of their own time and place, their practice is now influenced by festivals, biennials, and cultural events elsewhere, and, four years into this award, the much-touted global diversification of artistic centers and curricula is having an impact on artists' work. In the future, this diversification in practice will surely be accompanied by work that vies for first prize.