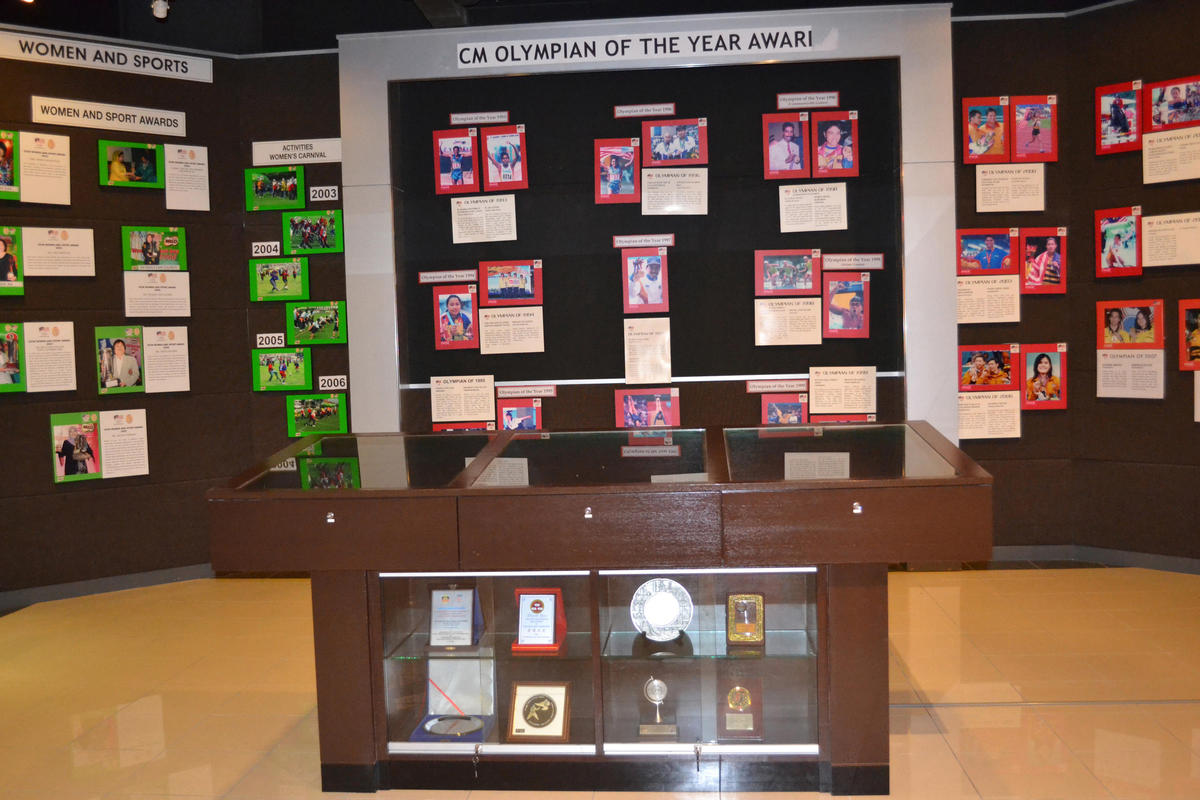 The Olympic Committee of Malaysia Sports Museum and Hall of Fame lies behind an unmarked door in the Olympic Committee's administrative offices, part of a vast complex that includes a multipurpose indoor-sports facility, a banquet hall, and a hotel for visiting guests. I made my first visit on a characteristically moist Saturday afternoon, the better to see the place in action, only to be informed by a slightly amused OCM staffer that the museum was not open on weekends. This gentleman did not seem particularly inclined to encourage me to return at a later date, either. Personally, he said, he found the whole business of awarding pins, medals, and plaques a frivolity.
The Hall of Fame is a national sports museum for a nation that is not particularly interested in sports. When I returned on a weekday, the receptionist professed ignorance of the Sports Museum's very existence. But soon I was talking to Jaffar Abu, the OCM's Director of Social Functions, who confirmed that there was indeed such a place, and that he would show it to me, if I really wanted to see it. He led me deep into the complex, to an unmarked door sealed with chains and a padlock, and rifled around for the keys. Inside at last, he turned on the lights to reveal a spacious, egg-shaped hall, brimming with stuff, including mountains of boxes full of yet more stuff. Abu immediately apologized for the boxes, and for the air conditioning, which did not appear to be working.
The Sports Museum and Hall of Fame, it turns out, is an eccentric archive of photographs, biographies of beloved players, and glass cases extending in all directions, showcasing a dizzying array of memorabilia, from ornate batons to laptop bags to decorative plates from Belarus and Thailand and Samoa, along with stuffed animals from dozens of countries: elephants, snow leopards, camels, roosters. The vitrines, loosely organized in order of prestige — South East Asian Games, Asian Games, Commonwealth Games, Olympics — seemed to incorporate every type of commemorative object imaginable. Holographic trading cards flickered alongside collectible pins of ducks enjoying archery, diving, and football at the 1994 Asian Games in Hiroshima. The 1998 Commonwealth Games were held in Kuala Lampur — the first time that venerable (some might say, undead) competition was held in Asia — and its display case is a thicket of mugs and neckties and patches, among many other items. The Malaysian national mascot — a monkey, naturally — makes multiple appearances, including a starring role as kind of latter-day King Kong, amid a 3-D diorama of Kuala Lumpur's skyline, painted in impressionistic, dreamy pastels.
Abu is also responsible for the OCM library, which houses its archive and a selection of books with titles like Badminton: a Malaysian Chapter and The Basic Skills of Badminton. He is a sober, soft-spoken man, but in his charmingly understated manner he addressed his frustration at the status of athletes in Malaysia. Sports in Malaysia are considered more along the lines of games — hobbies, if you will. Academic, technical, and artistic pursuits are valued much higher than athletic prowess, and neither the government nor the schools do much to encourage young people to consider sports as a profession. Would-be athletes are forced to work with private tutors and clubs, an expensive luxury for most families. (Abu, a top tennis instructor in his day, got his start fetching balls on the tennis court in exchange for lessons.) He speaks wistfully of nations where athletic ability is so prized that students are actually awarded scholarships.
Still, there is something cheering about a museum that celebrates the contributions of athletes who might elsewhere be neglected, including famous names like Zaiton Othman, a heptathlete and Malaysia's "Iron Lady of Athletics," or the badminton brothers, Razif and Jalani Sidek, winners of the country's first Olympic gold in 1992, but also the nearly anonymous — the promising thirteen-year-old swimmer, the long-suffering squash coach. Amid the plush lambs and the tracksuits, this museum-in-waiting lies dreaming of a public that will one day rally to its displays and validate the work of the small yet devoted community of former athletes, coaches, and fans that staff the OCM.
The Hall of Fame's muted longing for affirmation, oddly enough, is shared by the country that neglects it. Malaysia has a booming economy, a highly diverse population, an impressively spiny skyline, and a largely successful policy and practice of tolerance. A majority Muslim country, it might be said to have found an enviable balance between tradition and modernity. Yet it is reputation lags far behind its accomplishments, eclipsed by a whole pack of Asian Tigers, especially China.
There's still hope for the OCM. In a city that feels sometimes like an overgrown theme park with heart — an innocent, gambling-free Las Vegas of water slides, bowling alleys, world-class spas, rugged ecotourism, seedy karaoke bars, and a mind-boggling number of restaurants, where the Police Museum, the Orchid Park, and the petroleum-themed rides at the Petrosains Discovery Center receive more than their fair share of visitors, why shouldn't there be room for The Little Hall of Fame That Could? I ruminate on the future of this place and its stewards as I take my leave, ushered out by the sound of two OCM employees gossiping loudly in Malay while unpacking commemorative T-shirts from the cardboard boxes that have come to feel like a valid part of the exhibition in their own right.