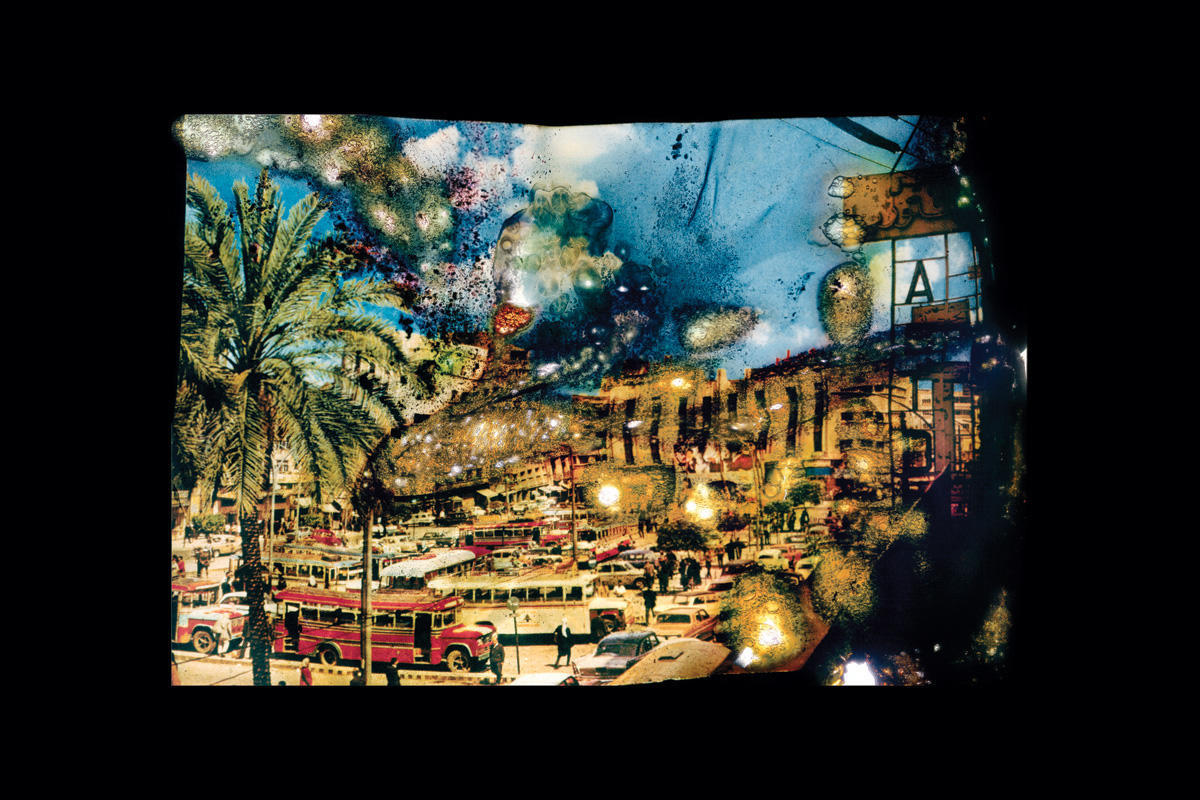 New York
Joana Hadjithomas and Khalil Joreige: Circle of Confusion
CRG Gallery
April 22–June 2, 2007
Lebanese artists who've taken the aftermath of the armed conflicts in Lebanon between 1975 and 1990 as their point of departure have seen their individual interests crystallize into a kind of unanimous poetic sensibility. Artists such as Walid Raad, Tony Chakar, Akram Zaatari, Jayce Salloum, Jalal Toufic, and Joana Hadjithomas and Khalil Joreige have translated an insidiously complicated political situation into a kaleidoscopic metanarrative. Merging structuralist resolve with cynical disbelief, scientific objectivity with stabs of emotion, they describe what it is to live between a "surpassing disaster" (in the words of Toufic) and its (premature) reconciliation: a chain of events, images, denials, and orphaned memories.
In Circle of Confusion, Joana Hadjithomas and Khalil Joreige's first New York exhibition of photo and video works at CRG Gallery in Chelsea, the artist and filmmaker couple/team show a number of works of this vein. Circle of Confusion, the central work of the exhibition, features a large-scale cityscape of Beirut as seen from an approaching aircraft. (The term "circle of confusion" is used in photography to describe the circular shape of the "optical spot" made by out-of-focus objects.) The image is cut into a grid whose sections can be removed by viewers to expose patches of mirror beneath. When a viewer removes a section of the grid, she finds "Beirut does not exist" written on the reverse. The exposed patches of mirror interrupting the cityscape make Beirut appear to be psychically bombed-out, the result of a systematic process of elimination.
The pair's iconic Wonder Beirut (The Story of a Pyromaniac Photographer), 1998–2006 is accompanied by a narrative of the titular photographer, Abdallah Farah, who was ostensibly commissioned by the Lebanese state in the late 1960s to take photographs of the Lebanese Riviera and Beirut's hotels, for eventual publication in postcard format. In 1975, as fighting began, Farah began carefully burning his images of a leisurely day-glo Lebanon, in such a way as to correspond to and mimic damage done to the real locations represented. What results is a kind of spontaneous portraiture whose uncanny correlation to war-ravaged Beirut speaks about the inexplicable dimensionality of images themselves.
The name of the series comes from the most iconic of the works, a postcard in which the text WONDERFUL BEIRUT has been partially burned to leave the ambivalent WONDER BEIRUT. Excavating the story of Abdallah Farah, Hadjithomas and Joreige become researchers displaying their findings and recontextualizing found objects. As artists they fabricate a position of objectivity and removal, boosting the integrity of the objects themselves, rendering history and source contestable. It's a game of belief and disbelief played by more than a few Lebanese artists — they give you a lie, and you're left to respond by declaring the truth as it applies to you.
On the facing wall, another work considered to be a part of the Wonder Beirut series, called Latent Images, features photographs of undeveloped rolls of film accompanied by indexed lists of images supposedly latent in the rolls. As the inverse of the "overexposed," scorched images of the Wonder Beirut postcards, which have been "seen to death," in a certain sense, the latent images are images not yet born.
Another large-scale work in the exhibition, 180 Seconds of Lasting Images, contains another narrative. This work is made of prints from a three-minute Super-8 film shot by Joreige's uncle, Alfred Keecineh Jr, before his abduction in 1985. After having been left in a house that sustained shelling and bombings, the reel of film exhibits not only the images that were recorded intentionally on the film, but also a material memory of being burned and scorched by bombing. Hadjithomas and Joreige display the small and insignificant prints in a cubic spiral that opens from a center, staying true to the coiled layering of a reel of film. Certain patches are scorched, some on the exterior only and some penetrating deeper.
By identifying certain structural loopholes, Hadjithomas and Joreige hit upon forms through which the repressed memory can be displayed alongside the expressed. The lightness of their touch (or its purported absence) claims that this repressed aspect is already near the surface, and that only a slight gesture is required to bring it out to stand openly alongside the form that contained it. In a separate room, a video piece called Distracted Bullets features five "manifestations of joy," all shot from the same vista overlooking Beirut. The five filmed events, ranging from New Year's Eve 2005 to Samir Geagea's release from prison later that year, are celebrated with fireworks and gunfire reminiscent of an air raid. The sense of doom accidentally expressed by these manifestations reveals an uncanny flipside to the celebration, and in so doing, triggers the harrowing thought that, in a politically charged situation, every gesture contains its inverse.