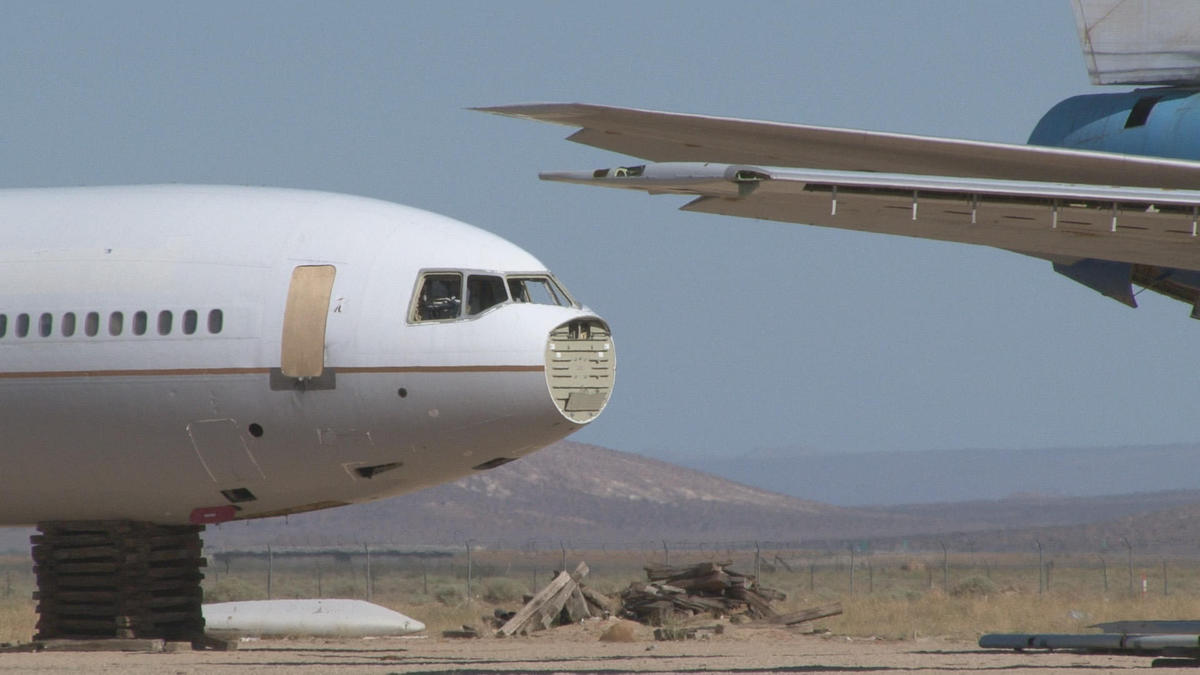 Berlin
Hito Steyerl
Neuer Berliner Kunstverein
August 29–October 18, 2009
Hito Steyerl's untitled first solo show in Germany took place in the center of Berlin at nbk's screening room-cum-gallery. In the tradition of Chris Marker's Sans Soleil and Situationist détournement, the German-born artist drew upon elements as various as academic discourse, politics, personal history, and popular culture, to explore the ways in which global image and media networks interact, subtly complicating notions of copyright, truth, and authenticity. Steyerl's work mirrored, and at the same time commented on, this pastiche overdrive.
Perhaps the central piece within the exhibition, After the Crash (2009) took an airplane scrap yard in the California desert as its starting point. Shells of planes stood about, dejectedly but expectantly. Some we saw demolished by a rusty tractor claw. It wasn't clear where the planes were from or what brought them to this empty land. The proprietor of the scrap yard was interviewed in front of the planes, but the interview wasn't presented in linear fashion; his scenes were edited in a way that had him jumping frenetically from one topic to the next, from the Chinese who buy scrap metal to renting planes out for movie shoots. Brian Eno–esque music accompanied these segments, adding to the eerie ambience of the ghostly desertscape. The film's unpredictable (and extensive) soundtrack, which also included the 5th Dimension, was muddled, given the gallery's poor acoustics, resulting in moments of incomprehensibility and sensory overload. At one point, Jeff Bridges and Rosie Perez were glimpsed (from the airplane disaster film Fearless), as was Bruce Willis (from a movie I couldn't identify) along with airplane safety videos and planes plummeting to fiery deaths. As a result, After the Crash felt like a bold movie trailer, a hysterical mash-up of vaguely familiar sounds and images, performing a circle of consumption and use, supply and demand, entertainment and real-life drama.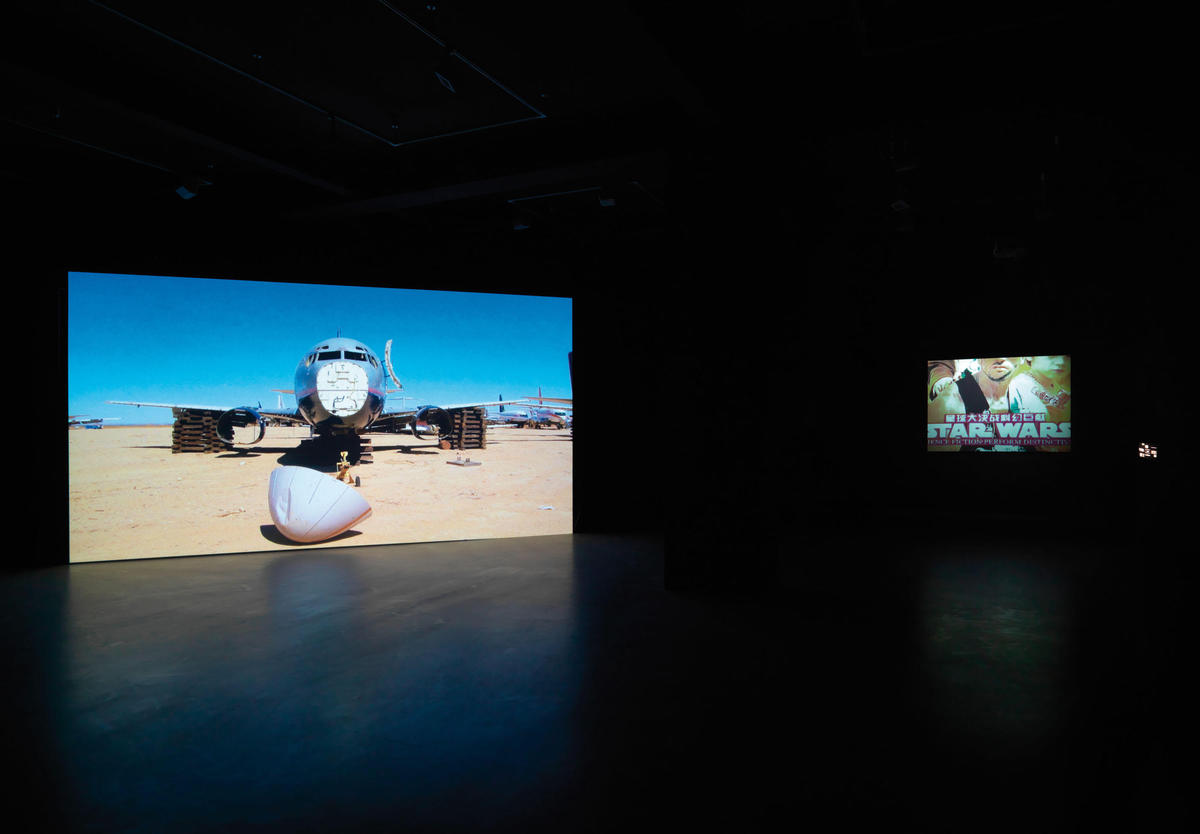 In the work Do You Speak Spamsoc, Steyerl photographed bootlegged Chinese DVD cases. Misspellings and general glaring errors (Contra-era Arnold Schwarzenegger was the main character on the Star Wars cover) were fodder for easy, satisfying laughs, but may sometimes have hinged upon viewers knowing enough about pop culture and the English language to get the joke. Still, the mistakes pointed to a global mass-media primordial soup — such images, movie reviews, stars, and plots have become ubiquitous and interchangeable in the black market, generating a new language of sorts. Adding to the feeling of rough pastiche around the work, Do You Speak Spamsoc appears to have been edited with the simplest digital editing software.
In an adjoining space, Red Alert 2 was a slide show of digital images Steyerl found on the internet of Red Alert, one of her three pieces featured in Documenta 12. In that work, three red flat-screens were lined up next to each other, referencing Aleksandr Rodchenko's constructivist work about the end of painting, and also, ostensibly, the Office of Homeland Security's highest terror warning. The piece became one of the emblems of Documenta 12, capturing a contemporary fixation on terrorism and the associated politics of fear. Red Alert 2 wondered aloud what that original artwork came to mean as it took on a life of its own. A picture of the three red vertical rectangles was static and minimal. Other photos showed visitors trying to peer behind the screens or tilting their heads in unexpected ways. In some photos the red blocks looked orange, and the images were rapidly animated together like a flipbook on the verge of becoming a film.
Two of Steyerl's other works, the essayistic documentaries November and Lovely Andrea, were shown one after the other on the same large screen. Both films were investigations, detective stories that unraveled transnational tangled knots of fact and fiction. In the former, Steyerl narrated the story of her childhood friend, the star of her first feminist martial arts film, who was killed in the Nineties as a member of the PKK (Kurdish Workers' Party) in Turkey and whose image then became a revolutionary icon for Kurdish independence groups. In the film, Steyerl journeyed through various levels of iconography, meaning, and production of truth.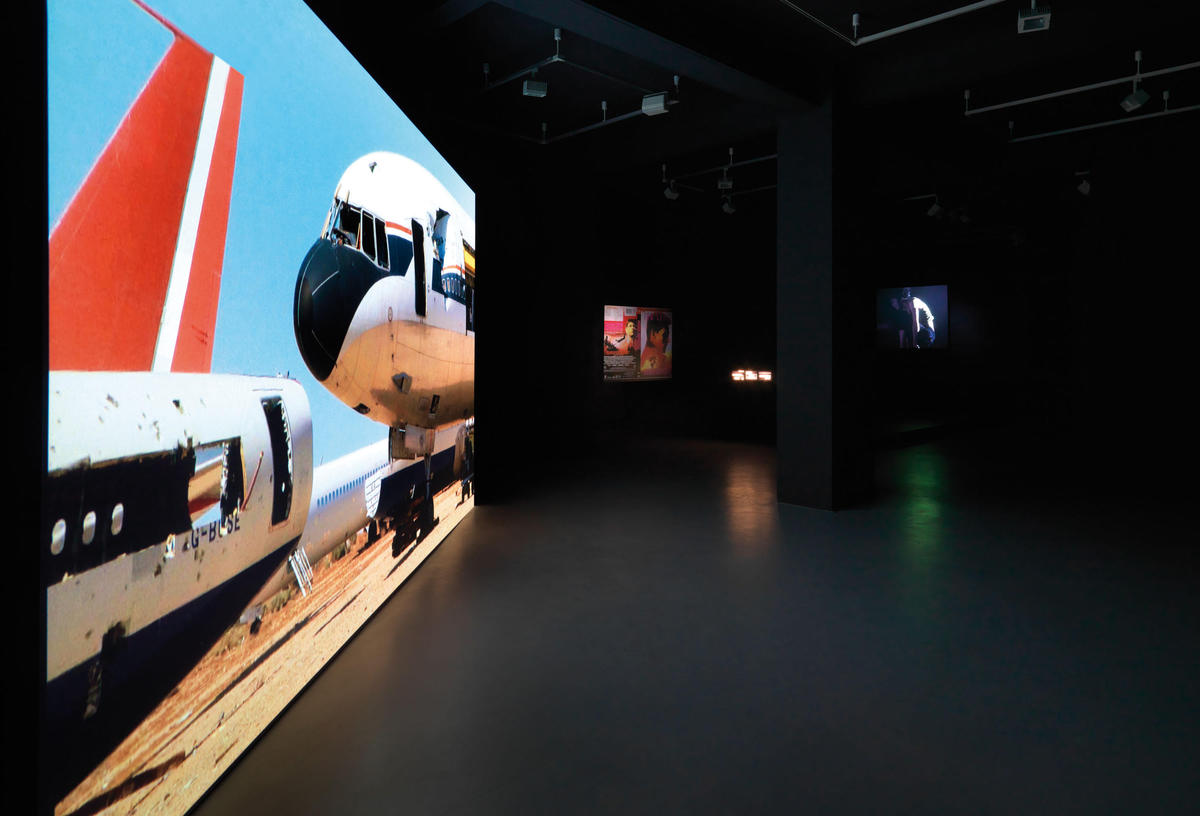 The second film was about another Andrea icon (Steyerl assumed the name when she posed for a bondage photo shoot in Tokyo in 1987). In the film, Steyerl went on a search for this lost photo, helped by the self-suspension performer Asagi Ageha, her translator and Virgil in the underground world of sex archives and bondage photo studios, as well as the star of In/Dependence, another projection on display, a representation of self-suspension as a conflicted, superhuman act. Lovely Andrea's technique was rough, but corresponded somehow to Steyerl's enigmatic performance of self in her quests. Her voice in the first film was deliberate yet stilted; in the second, she was rarely seen, and when she was, it was with a controlled look of self-irony, half amused, half irritated.
---
The longer films were messy and overwhelming, made even more confusing by After the Crash's excessively loud soundtrack on the other side of the wall (thankfully, a large number of the films were subtitled). But they captivated nonetheless. Just when she might have gone too far with theoretical postulating, jarring musical selections, or rapid editing, Steyerl emerged with a line like, "I didn't understand anything," or a rough Adobe After Effects moment, where she'd edited her bondage photo into a 1970s Spider Woman cartoon, a moment that was playful about feminism, pornography, and popular media all at once.
The Building, the most explicitly political and historical work within the exhibition, was also the most conventionally institutional, and maybe for this reason was located in its own well-lit space. Steyerl organized this project of chipping out a map of the deportation routes of people related to the Nazi-era building — which was built by Czech forced laborers — on its facade. But rather than just ironing this complicated history into a flat image of deportation and loss, four other videos followed different aspects of the building's construction, from portraits of the laborers, to the Jews who were expelled or exiled, to the companies and material that made up the building's construction. Plainly, Austria is still in the process of acknowledging its role in WWII, and this project may very well have been part of its historical processing. These were new, rare images, and in turn were more carefully treated than those in the main gallery. How they were shown complicated the archive — and it was there that we perhaps more fully understood the peculiar ways in which media circulate.