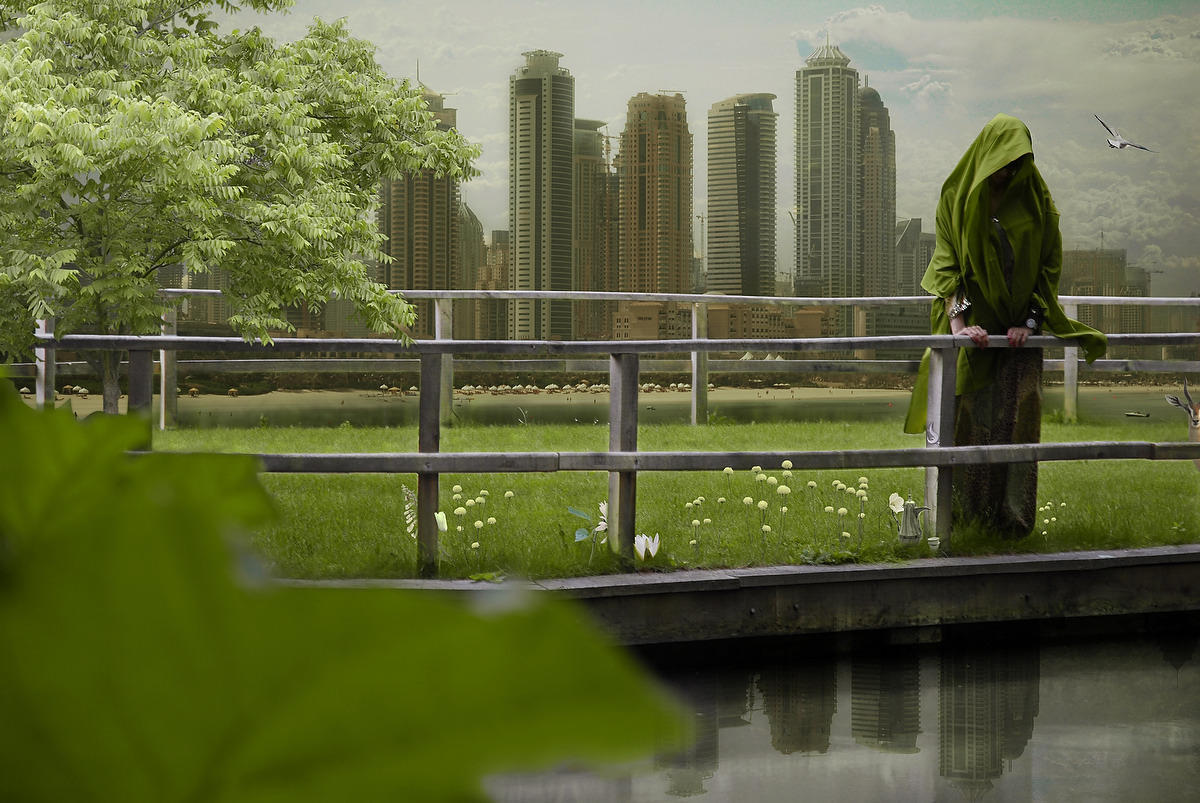 Abu Dhabi
Emirati Expressions
Emirates Palace Hotel
January 20—April 16, 2009
The cultural scene of the UAE is more often than not described by visiting critics in patronizing terms, reminiscent of how one might speak of an adolescent. A little like a precocious teenager, the story goes, this nascent art scene is immature, prone to bouts of risk-taking, and occasionally rather brilliant.
In this context, it's interesting to consider Abu Dhabi, an emirate that has been especially active on the arts front, announcing ambitious plans to build branches of the Guggenheim and Louvre on an island called Saadiyat ("happiness," in Arabic), along with a handful of other museums, universities, and cultural institutions at large. Hoping in part to foster local audiences in the period before these mega-projects materialize, the two lead institutions in the cultural realm, the Tourism Development and Investment Company (TDIC) and the Abu Dhabi Authority for Culture and Heritage (ADACH), have staged a number of exhibitions over the past year, including collaborations with the Musée National Picasso, Paris, as well as with noted Islamic art collector Nasser David Khalili.
The exhibition 'Emirati Expressions,' which opened this past winter, set out to privilege the best in local arts production and began as an open UAE-wide call for works to be curated by Anne Baldassari, director of the Musée Picasso. Along with the London-based museum designer Colin Morris, Baldassari conceived of a reverent "black box" to contain the (mostly two-dimensional) works within the bounds of the opulent Emirates Palace Hotel.
The work exhibited was as diverse as any national survey might be, especially one that ran the gamut from student commercial digital photography — including accomplished work by Wafa Sultan Al Olama and Salah Al Marzouqi — to established abstract painters Abdul Qader Al Rais and Abdul Rahim Salem, sculptor Mohammed Youssef, and calligrapher Mohammed Mandi.
Presented in a long, narrow gallery, with works hung close together and dramatically spotlit against black walls, floor, and ceiling, many of the works were dwarfed by the theatricality of their surroundings. Group survey shows nearly always suffer under the weight of great expectations; inevitably they expose gaping holes and reduce artists to footnotes in a larger national story. Most of the artists — one can assume that they agreed to take part and supplied the work — were depicted at the show's entrance by black and white poster portraits; inside the exhibition, the nuances in their works were flattened by the broad umbrella of shared ethnicity.
That said, some of the curatorial choices — this being a curated survey show, rather than an informal, artist-led open call — seemed especially bizarre. The exhibition included one figurative painting by veteran conceptual artist Hassan Sharif, whose work in performance and installation, much of it examining trade routes and networks, has been seminal for a group of younger artists, among them photographer Lamya Gargash, whose last two series of work showed to acclaim at the Bastakiya Art Fair 2008 and Sharjah Biennial 9, yet here was represented by student work from 2005. Other conceptualists from the groundbreaking Group of Five, founded in the mid-1980s by Sharif, including Abdullah
Al Saadi, Mohammed Ahmed Ibrahim, and Mohammed Kazem, were not included at all. Ebtisam Abdul Aziz's Autobiography 03-06-2007, a seminal video and stills project that stringently critiqued consumerism in the UAE, was stuck in a corner near the emergency exit. Physicist Jamila Al Suwaidi's documentary photos of the moon were accompanied by shoddy sticky labels that listed her email address.
Some artists did overcome the limitations of the venue and presentation, albeit with older works: in Held Back, a series of large-scale manipulated photos from 2006, Reem Al Ghaith placed herself directly in Dubai's fringe landscape of cranes, fences, and pale, reworked sand; she also showed a multimedia wall installation from Dubai: What's Left of My Land. (A far more ambitious and effective version was on view concurrently at Sharjah Biennial 9.) Lomographer Hind Mezaina, artist Lateefa bint Maktoum, and Sheikh Salem Al Qassimi all showed intriguing, narrative photographs — the latter's Ineffable Reality (2004) was a storyboard series of images in and around a building site, starring a block-jawed, papier-mâché anti-hero. Kholoud Sharafi, another artist associated with the dynamic Dubai studios of Tashkeel, was represented by collaged etchings drawn from iconic images of Umm Kulthum.
Crucially, the exhibition was accompanied by a website, book (in English), and well-made film (of woven-together statements by the artists) that all contribute to the UAE's scarce resources regarding local artists. There was also a comprehensive lecture program that featured art-world luminaries such as Jeff Koons, Anish Kapoor, and Mona Hatoum alongside local practitioners Jalal Luqman and Abdul Aziz, organized with local institutions as well as the Royal Academy of Arts, London.
Inside the exhibition catalog, Baldassari linked the Emirati exhibition to the Picasso showcase at the Emirates Palace, claiming that the "twin projects" aimed to "change the way we look at modern and contemporary art history," and that this "place at the frontier between Orient and Occident," Picasso's adoption and analysis of the "sign," and the eighth-century "controversy between iconoclasts and iconodules," all found an "echo" in the Emirati exhibition.
Situating the last few decades of the Emirati art scene within the sweep of European art history was an odd premise for a local survey. Leaving aside questions of whether the works chosen could even be contained as a "scene," given that they hailed from all over the Emirates, encompassing several generations and many styles, the presentation of the work as defined by its place at "the frontier" — of development, of change, of that Orient/Occident axis — risked rendering it one-dimensional.
The desert, wrote Baldassari, is now a place of "catastrophe" for many of these artists. "[The] feeling of desert perdition lies at the heart of the poignant nostalgia that ripples through the works in the exhibition, like the tremors that herald an earthquake."
Earthquake or not, for many UAE-based artists the rapid changes of the past few decades in this young country have been highly influential; perhaps there's even a show in it — but this wasn't it. Dubai-based artist Khalil Abdul Wahid, for example, is best known for videos that document journeys through the desert and suburban landscape; here, he was represented by some still life paintings lent by the Ministry.
Perhaps 'Emirati Expressions' should be viewed as just another Arab state-sponsored survey show that fell at the fence of national representation. Or, as some local commentators have pointed out, it could be seen as a necessary if confused first step, which at least offered a rare public forum for Emirati artists.
Still, such a perspective runs the risk of belittling TDIC's endeavor: 'Emirati Expressions' can only be dismissed as a sprawling, adolescent outpouring if the development of Gulf arts scenes is understood in the same linear terms as those applied to the West. Contemporary art activity in the Emirates is a jumbled-up affair (with the market and museum-building preceding the existence of an art school, for example) that presents a wholly different, even unprecedented, kind of development — one born of both the UAE's long-term trading history and its new, footloose global ambition. 'Emirati Expressions' was in many ways a missed opportunity to curate, present, and interrogate various local art practices; given the diversity and dynamism within the UAE, and the ambition and resources of the TDIC, it's not enough simply to say, "We exist."