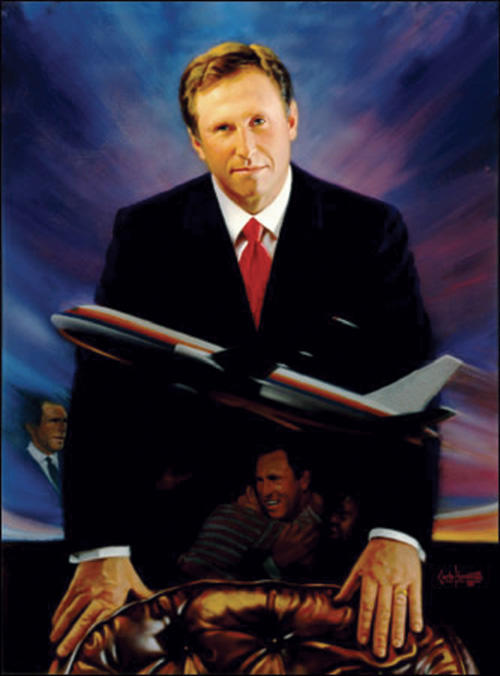 Introducing ByAir
ByAir, Biennial Airways, is the world's first official airline of the rapidly growing biennial industries. Whether you're an art tourist, a collector or a pro, ByAir brings the artworld to you, wherever you are. We go the extra mile, offering you promotions and art counseling tailored to your location, your aspirations, your living room furniture—in short, to you. We are dedicated to making every flight you take with us something special. Your safety, comfort and aesthetic convenience are our most important concerns.
We love art and it shows
ByAir is committed to flying at least once a week to worldwide biennials, triennials and quadriennials. So join us. Relax and peruse our numerous site-specific, work-in-progress, open-ended, self-reflexive, anti-imperialist collaborations with contemporary artists. All of our pillows and refreshment towels are embroidered with clever capitalist critique by Jenny Holzer; post-Marxist pens and pencils are by Carey Young. Our in-flight musical entertainment is curated by Phil Collins, and the cabin crew is paid one symbolic Euro below minimum wage, courtesy of Santiago Sierra. Every aircraft is named after an artworld pioneer, and our cabin crew uniforms are designed and tailored by Momo, a metrosexual Iraqi who lives with his single mother in a small and completely dangerous suburb of Fallujah (go Momo!). By the way, if you open a ByAir vomit bag, you might just find a tiny sculptural surprise by our friend Paul McCarthy. Collect all matching pieces of plastic vomit debris and win a trip to visit Momo and his mother with Paul Chan next Christmas!
Artists need travel, travel needs art
In June, ByAir and several other important artworld institutions are holding an international seminar. On a transcontinental flight aboard the Okwui Enwezor Boeing 777, speakers Sally Struthers and Bob Geldof will help heighten public awareness about contemporary art, unearthing its deep historical roots in tourism, adventure and exploration. Those artists who continually discover more places to go and things to do on this rapidly shrinking planet of ours will be appropriately acknowledged.
Be creative? Be critical!
Despite our growing success, we haven't forgotten that critical feedback is not only welcome but necessary. On all ByAir flights, please make a point of filling out the multiple choice questionnaire in our Radical Critique Pamphlet (printed on recycled paper). And don't forget: our spring/summer bonus miles program allows you to acquire a Hans Haacke work at half price. Please contact ground staff for details.