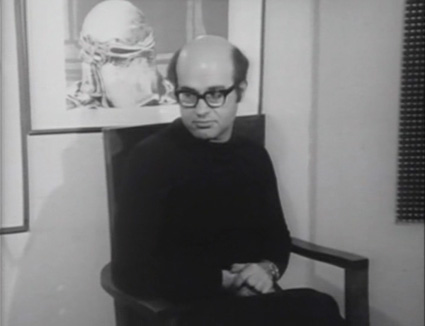 Wednesday June 8, 2011
7-9pm
Free!
Centre for Possible Studies
64 Seymour Street
London W1H 5BW
In conjunction with our residency at the Centre for Possible Studies, the Bidoun Library will present a program of two films drawn from our collaboration with the online archive UbuWeb.
The program will be introduced by Masoud Golsorkhi, editor of Tank magazine.
Bahman Maghsoudlou
Ardeshir Mohasses & His Caricatures ,1972
20 min
A short documentary about Ardeshir Mohasses (1938-2008) featuring rare footage of the Iranian artist in his studio in Iran before his self-exile in New York which was to last over thirty years. Mohasses' anti-shah and anti-Islamic Republic cartoons used settings and costumes of the Qajar dynasty of 1794 to 1925 — a misdirection that fooled nobody. The film features commentary from Iranian intellectuals of the time including Houshang Taheri, Javad Mojabi, and Fereidoun Gilani whereas Mohasses, a man of few words, is noticeably mute throughout.
Kamran Shirdel
The Night It Rained ,1967
35min
In northern Iran, a schoolboy from a village near Gorgan is said to have discovered that the railway had been undermined and washed away by a flood. As the story goes, when he saw the approaching train, he set fire to his jacket, ran towards the train and averted a serious and fatal accident. Kamran Shirdel's film The Night it Rained does not concentrate on the heroic deed promulgated in the newspapers, but on a caricature of social and subtle political behavior — the way in which witnesses and officials manage to insert themselves into the research into this event. Shirdel uses newspaper articles and interviews with railway employees, the governor, the chief of police, the village teacher and pupils — each of whom tell a different version of the event. In the end, they all contradict each other, while the group of possible or self-appointed heroes constantly grows. With his cinematic sleights of hand, Shirdel paints a bittersweet picture of Iranian Society in which truth, rumor, and lie can no longer be distinguished.
Upon completion the film was banned and confiscated, and Shirdel was finally expelled from the Ministry. It was released seven years later in 1974 to participate in the Third Tehran International Film Festival, where it won the GRAND PRIX by a unanimous vote, only to be banned again until after the revolution.