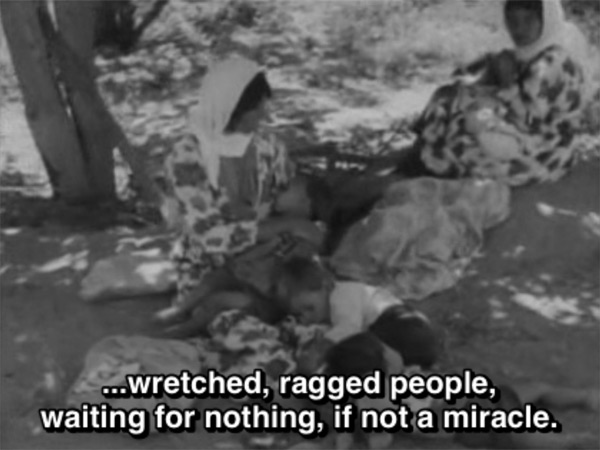 Seeking Locations in Palestine for the Film "The Gospel According to Matthew" (Sopralluoghi in Palestina per il film "Il Vangelo secondo Matteo")
Pier Paolo Pasolini.
1963
52 min
In 1963, accompanied by a newsreel photographer and a Catholic priest, Piero Paolo Pasolini traveled to Palestine to investigate the possibility of filming his biblical epic The Gospel According to Matthew in its approximate historical locations. Edited by The Gospel's producer for potential funders and distributors, Seeking Locations in Palestine features semi-improvised commentary from Pasolini as its only soundtrack. As we travel from village to village, we listen to Pasolini's idiosyncratic musings on the teachings of Christ and witness his increasing disappointment with the people and landscapes he sees before him. Israel, he laments, is much too modern. The Palestinians, much too wretched; it would be impossible to believe the teachings of Jesus had reached these faces. The Gospel According to Matthew was ultimately filmed in Southern Italy. Mel Gibson would use some of the same locations forty years later for_ The Passion of the Christ_.
More here: http://southissouth.wordpress.com/2010/04/15/pasolini-filming-palestine/