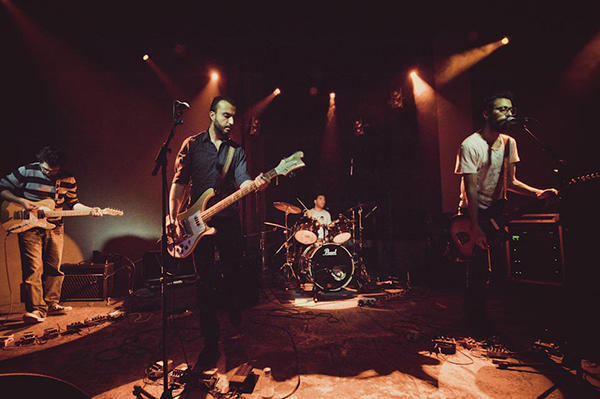 Untitled Tracks: On Alternative Music in Beirut
Edited by Ziad Nawfal and Ghalya Saadawi
Photography by Tanya Traboulsi
2010
According to Untitled Tracks, Beirut's music scene was dead — a smattering of derivative metal outfits, rock bands playing Nirvana covers, jazz combos stuck in the 1950s, pop musicians parroting the most typical of Arab ballads and other schlock — until the end of the millennium, when a generation of young experimentalists who had come of age during the civil war began to make an irrepressible amount of noise. This creative efflorescence was perhaps best documented by the 2001 compilation Beirut Incognito, which introduced listeners to the various, if still not numerous, players who comprised the city's musical underground.
Photographer Tanya Traboulsi's striking images provide an intimate, understated portrait of that scene, which has since emerged; Scrambled Eggs, Lumi, Tarek Atoui, Raed Yassin, and Mazen Kerbaj, among others, now have large followings. Some are even fixtures on the international festival circuit, playing to large crowds and at prestigious cultural institutions, from Paris to Berlin to New York. That strange success, too, is the subject of Untitled Tracks, which situates musicians who have become globe-trotting performers back in the context — the clubs, stages, living rooms, and, in some cases, refugee camps — that spawned them.
Rather than construct a singular iconography of the Beirut scene, Traboulsi sketches its contours. This is not Jim Marshall deifying Hendrix, Dylan, and Joplin, nor Glen E. Friedman lionizing Black Flag and Public Enemy; outsize personalities give way to tableaux of mixers and effects pedals, closeups of fingers gripping knobs and needles on records, spectral impressions of a hand flitting across the neck of a guitar. Traboulsi's camera seems to cover the middle distance between foreground and background, neither intruding on the performance in progress nor revealing what lies beyond the stage.
Still, despite her restraint, personalities emerge from her blackened backdrops: a breakdancer spins his legs while a DJ scratches records atop the broken-down stove of a derelict, graffiti-tagged kitchen; the members of Scrambled Eggs pose in a bookshelf-lined bedroom, sporting Converse sneakers and sunglasses and smugly sucking on cigarettes; the rapper I-Voice sits on the far side of a flowery couch pressed against an egg-crate wall at Burj al-Barajneh refugee camp, looking pained; the dance-rock group Lumi appears bathed in purple light, the singer, wearing a reflective dress, vamping for the crowd.
The accompanying texts, which detail the overlapping histories of the subjects of Traboulsi's photographs, make it clear that there is no singular project being executed here, no unifying concern, no common practice shared by these musicians, beyond the ingestion and bastardization of the cultural forms on which they were raised. "This is where we hear Arabic 'tajwid,' lyrics and tunes in folk, rock, and trip hop," coeditor Ghalya Saadawi notes, "post-punk musicians in Noise and free jazz, Sex Pistols lyrics hijacked by a Lebanese rock quartet, rap beats mashed with Arabic poetry, loud riffs and funk, Armenian folk-rock, classical Egyptian cinema tracks lopped and distorted, and always, the possibilities of improvisation and Noise in testing the limits of instruments and of notated music."
Those limits are tested instinctively and considerately. The peculiar combination of education and reaction is perhaps the one thread connecting these otherwise disparate artists, and nowhere is it more evident than in the juxtaposition of photographs of Katibe Khamseh, a Palestinian hip-hop group from Burj al-Barajneh, and a translation of Nizar Mroueh's 1968 essay, "The Legitimacy of Noise: A Personal Opinion." In it he proposed that we reconsider the boundary between music and noise, asking, "Shall we uphold one established standard like a sieve through which the absurd in music is sifted from the salutary?" Untitled Tracks suggests that in Beirut the absurd trumps the salutary and, in groups like Katibe Khamseh and Scrambled Eggs, it has found its proper form.