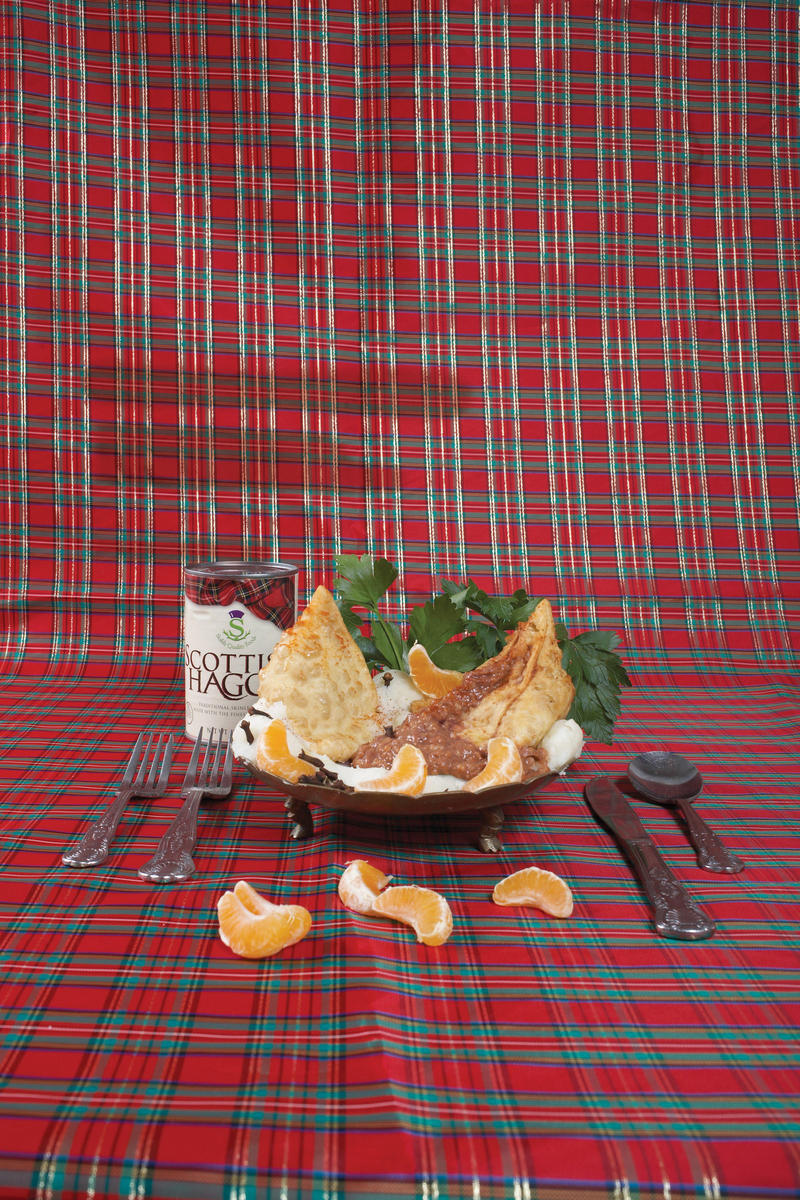 Sushil K Dade, better known as Future Pilot AKA, is not an obvious candidate to helm a celebration of Scotland's national poet, Robert Burns. But the 2007 Burns Mela (the word is Hindi for "fair" or "gathering"), held in Glasgow's Old Fruitmarket, is an exercise in genre-mashing and stylistic frottage as adventurous as the musician's own records. Raga rubs up against dub, Celtic folk, and bhangra. The great septuagenarian novelist Alasdair Gray reads aloud anti-war verse. Reggae versions of Scottish ballads are sung. Indian vocalist Sheila Chandra delivers a version of Auld Lang Syne. Together with a buffet supper that includes haggis pakoras and neep'n'tattie samosas, it's an evening to make any cultural purist weep.
It's also an evening that would surprise those who think of Scotland in monochromatic terms — especially those neo-Confederates who like to celebrate at Hibernian melas across the American South. But the country has hosted migrants since the turn of the twentieth century, including garment peddlers from India. "My dad came to Glasgow in the 1950s," says Dade. "He was a draper and a salesman. When I was a kid in the 70s, I used to help out at his Sunday Market stall, selling body-warmers, flares, pin-striped jeans. It was a more sociable way of selling things. The environment was full of banter and of talking to people. I've carried that over into my music. I've always wanted to use a wide palate both of sounds and of people — to create infinite shades. Future Pilot AKA is a celebration of that infinity."
Scotland is changing. Despite devolution, its population is shrinking. In recent years, UK immigrants from Africa and Kurdish Iraq have been resettled in Scottish cities major and minor. And there is a bevy of secondand third-generation brown Scots, including Dade, novelist Jackie Kay, and actor Atta Yaqub (star of Ken Loach's Ae Fond Kiss). Among the most prominent of these is Luke Sutherland, the Afro-Scottish writer. His latest novel, Venus As a Boy (2004), is set in Orkney, the remote, ruin-filled islands north of Scotland where he grew up with his adoptive white parents. Sutherland is a musician, as well; recent releases as Music AM have married his weakly gendered, hyperliterate musings to pleasing German beats, though he first came to indie fame as the leader of Long Fin Killie, an art-rock band who welded folk to dub and jazz in the mid-90s.
Like Sutherland, Sushil Dade has followed his own singular vision, spurning the strutting, R&B-lite posturings of the "desi beats" brigade, whose post-bhangra stylings have become the authentic expression of British Asian youth, at least if you listen to the BBC. Instead of seeking mainstream success, Dade has stayed loyal to the independent music sector. (He got his start as the bassist for the indie-pop quartet The Soup Dragons.) He often collaborates with other left-field Asian outfits, including Cornershop, White Town, Black Star Liner — ferociously maverick talents who have at least as much in common with Morrissey as with Jay-Z or Talvin Singh.
His four albums, from A Galaxy of Sounds (1999) to the recently released Secrets From the Clockhouse, are best seen as one sprawling devotional space: safe havens where the artistic and spiritual resonances between Glasgow and Gujarat, Loch Lomond and the Lower East Side, can be discerned and elaborated. They're testimonials to cross-cultural collaboration. Past albums have featured Alan Vega, vocalist for pioneering electropunks Suicide; Damo Suzuki, Japanese singer of the legendary krautrock band Can; and minimalist composer Philip Glass, reminiscing about meeting Ravi Shankar in the 1960s.
The Scottish music scene has been a nurturing ground for Dade's talent. A seemingly infinite number of groups with jangly or skittish guitars have made Scotland a kind of Mecca for obsessive New Wave and post-punk fans. Glasgow, where Dade lives, was the birthplace of Postcard Records in the late 1970s — a legendary independent label and home to Orange Juice, Josef K, and Aztec Camera. The city is still renowned for the fervor with which it upholds indie ideals.
It's no surprise that Dade, who sees himself in part as a curator and bringer-together of disparate traditions, has managed to persuade Stuart Murdoch of Belle and Sebastian to sing a ten-minute version of "Om Namah " as well as luring The Go-Betweens, a revered Australian band who recorded for Postcard back in 1980, to collaborate with him on his latest album. Dade's eulogy for Grant McLennan, the Go-Between who passed away last year but who is featured on the new record, also speaks to what is distinctive and winning about Future Pilot AKA's music. "Grant McLennan had a cubist approach to melody," Dade says. "His lyrics were so un-macho. Very sensitive and heartfelt. There's too much ugly music in the world. There's so much ugliness in life as well. I don't understand why anyone would want to add to that. Darkness can be a great color, but I wouldn't want to suffocate in it."