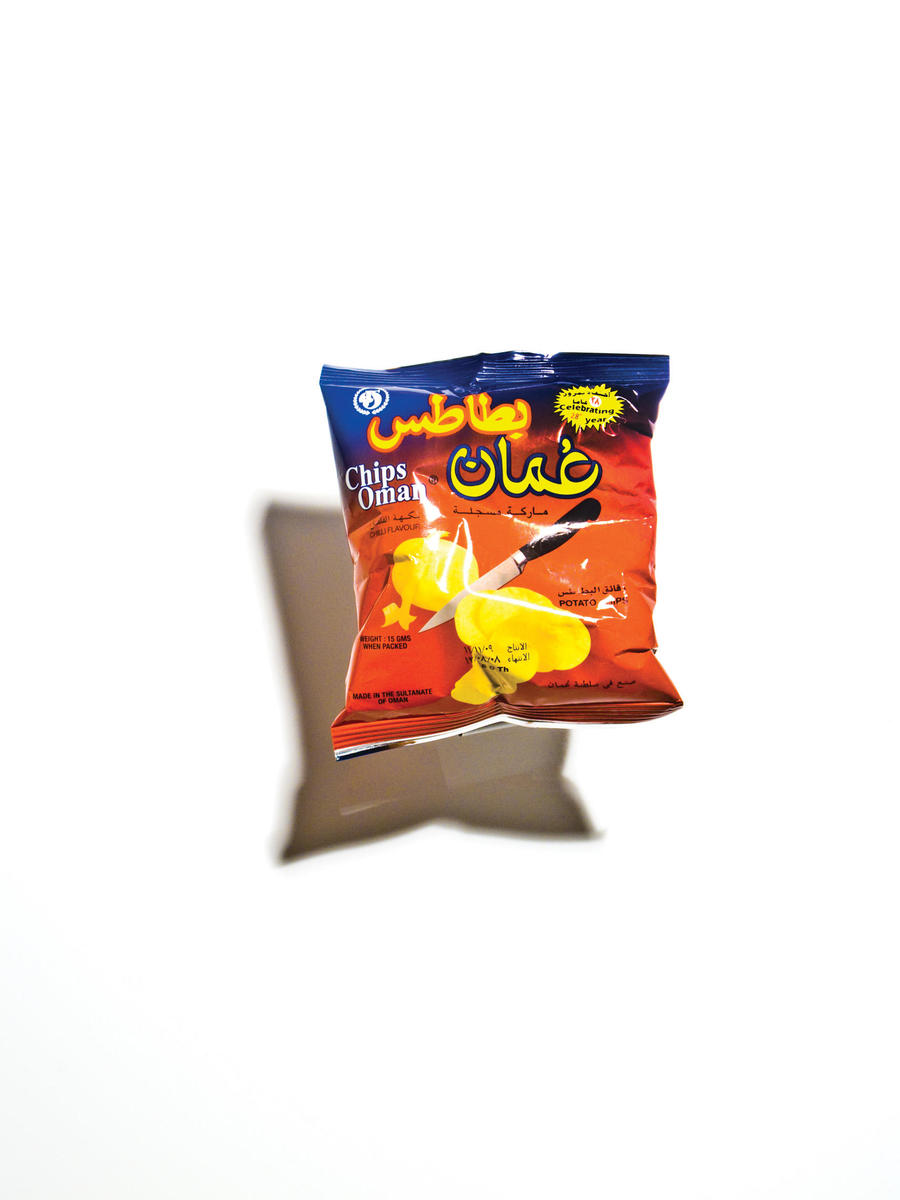 Crisps or chips? It's a question of taste. Or is it? If you blindfolded your average shopper and fed them a Walkers Crisp from the UK and a Lay's Potato Chip from the USA, would the difference be more legible than the miniscule difference in brand logos?
We don't have a dog in that fight. In the Gulf we say snacks.
In the Arabian Fishbowl (sorry, Persian Gulf) (sorry! Arabian Gulf), the cultivation of potatoes is a comparatively recent development. (Slightly more recent than the nation-state, but not by much.) In 1976, the SPDP (Saudi Potato Development Programme, of course) established a co-operative with the Netherlands to grow trial crops of Spunta, Ajax, and Diamante from Ha'il to Hufuf. Until then, the only tuber known to the Arabs had been Fugaa', or desert truffle, an elusive but tasty treat. (Especially, it turns out, when roasted and salted.)
The graft took, and the taste for potato crunchies in the Gulf was stoked. Decades on, there are dozens of brands arrayed around the region, each with its partisans and apologists stoking national pride or exciting international longing, packing their spuds with flavor-crystal combos and sealing them into the shiniest foil laminates from Qingdao. Soft power with a crunch, you might say. (And a sprinkling of flavor-dust.) As a tween in Doha the only thing I knew about Oman was that they made the best potato snacks. Indeed, it's difficult to imagine cracking a carton of Laban Up without a bag of Chips Oman.
Bidoun asks a not-so-random control group to taste-test a selection of potato snacks (and an arresting panoply of corn products) hand-picked from a variety of Arabian Gulf states.
We wonder:
Are Kuwaitis as naturally nice as their NICE brand natural potato chips?
Why do Saudi's XL-brand salty snacks sport a distressed blue-jean theme?
Do discerning Qataris prefer "Mexican Cheese" or "French Cheese"?
And what do Hot & Sour BOY chips really tell us about Oman?
Let's find out.
—Sophia Al-Maria
#1 — NICE: NATURAL POTATO CHIPS in CHICKEN and PAPRIKA FLAVORS, from KUWAIT
Michael C. Vazquez
The Chicken does not inspire confidence.
Anna Della Subin
It smells like barnyard.
Yasmeen Alsudairy
It tastes like a bouillon cube.
Vazquez
I think it smells like a potato chip.
Sarah Fan
It smells like a barnyard further away from your nose, and then when you get it in the nose it smells like a potato chip.
Sukhdev Sandhu
This presents a challenge for the researcher, because who, when they are eating crisps, puts their nose into a package of crisps? It would take a really committed, politicized, olfactory anthropologist to do that.
Vazquez
I think it may turn out that capturing the essence of a bird and putting it in a chip is not going to smell fresh, under any circumstance.
Andy Pressman
I think there is no chicken flavor at all in this.
Sandhu
It's chicken yet it has a bunny on the logo.
Vazquez
I don't taste the bunny.
Sandhu
The bunny is a kind of illegal immigrant.
Alsudairy
[reading the bag] "It's NICE to be a part of the family. It's NICE to be NICE and to be proud of it."
Sandhu
You would think, with the gold package, that it would be more succulent or lush. Instead it's kind of arid and desultory.
Alsudairy
[opening the Paprika flavor] This one smells like palm trees. It smells like home.
Sandhu
[reaching for the bag] Can I have a bit more? The colors are sort of electro-clash.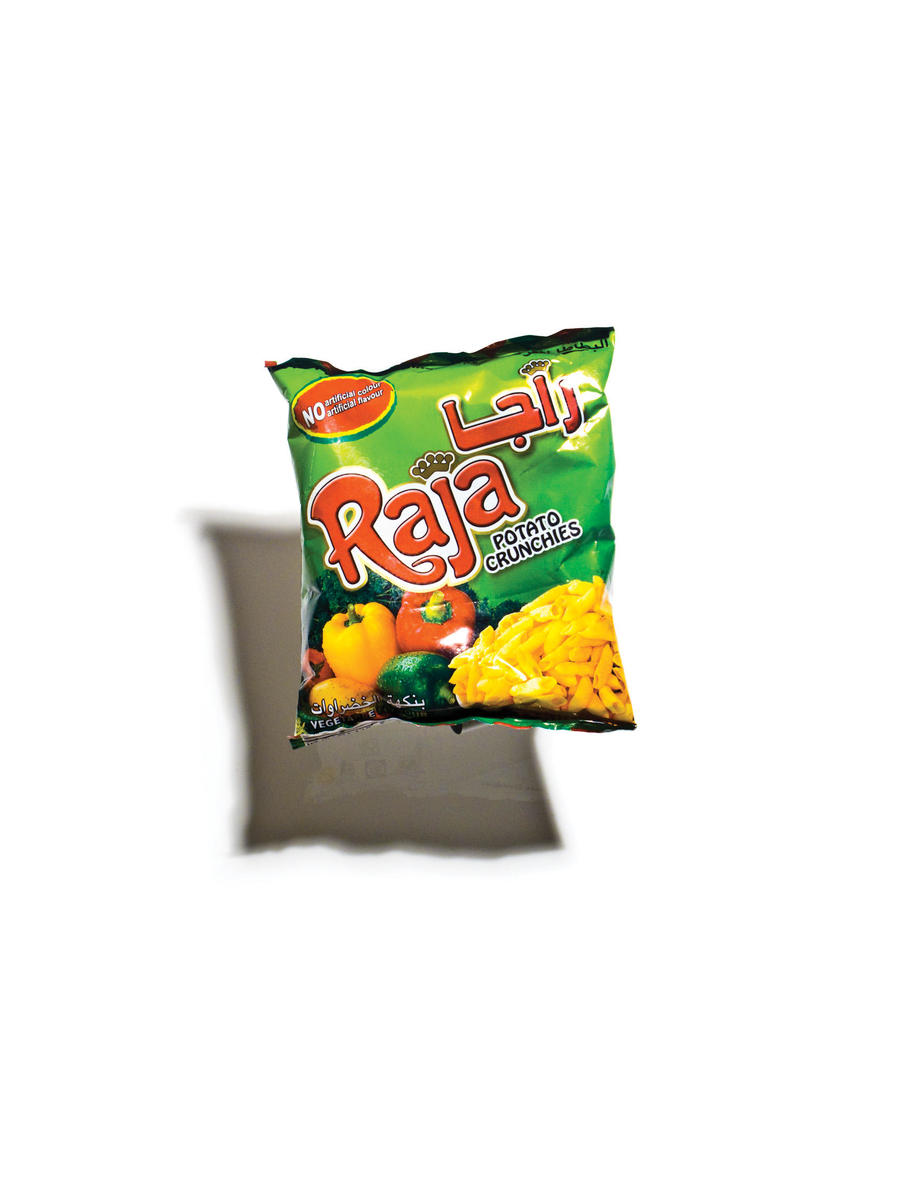 #2 — CHIPS OMAN in CHILI FLAVOR from OMAN
Fan
These are kind of delightful.
Vazquez
This whole endeavor began when Sophia al-Maria confessed that when she was a child, she knew nothing about Oman except that it is the place where delicious chips come from.
E.P. Licursi
To me it smells exactly like raw potatoes. It's nice but unseemly for a chip.
Sandhu
Look, "This product is sold by weight. A certain amount of air is packed in each bag to act as a cushion against breakage." That is like a "get out of jail free" for any crisp manufacturer. It's not that we are skimpy or mean — it's to prevent breakage.
Vazquez
But there is something quite violent about the scene on the package. [A raised knife slices through a potato.]
Sandhu
The package looks like capital punishment. With a kitchen knife.
Fan
Capital punishment begins at home!
Sandhu
The logo looks like Santa Claus on top of a sheep.
Alsudairy
No, it's the Sphinx and Big Bird.
Vazquez
The magic combination is supposed to be Chips Oman and some yoghurt drink? Laban Up?
Alsudairy
Oh, that's so good.
Vazquez
Wait, these are chili flavor! It just hit me.
Pressman
I taste it.
Sandhu
The initial descent, because I think that is the technical word when you bite into a crisp, is a bit like opening up a battered old suitcase belonging to your grandparents. Old smells emerging, even though the clothes are sort of skanky and stinky — it's a loving descent.
Vazquez
I think that's another way of saying it smells like a potato.
Licursi
Exactly.
Vazquez
It's a bit early, but I'm nearly ready to say, "Sorry Kuwait."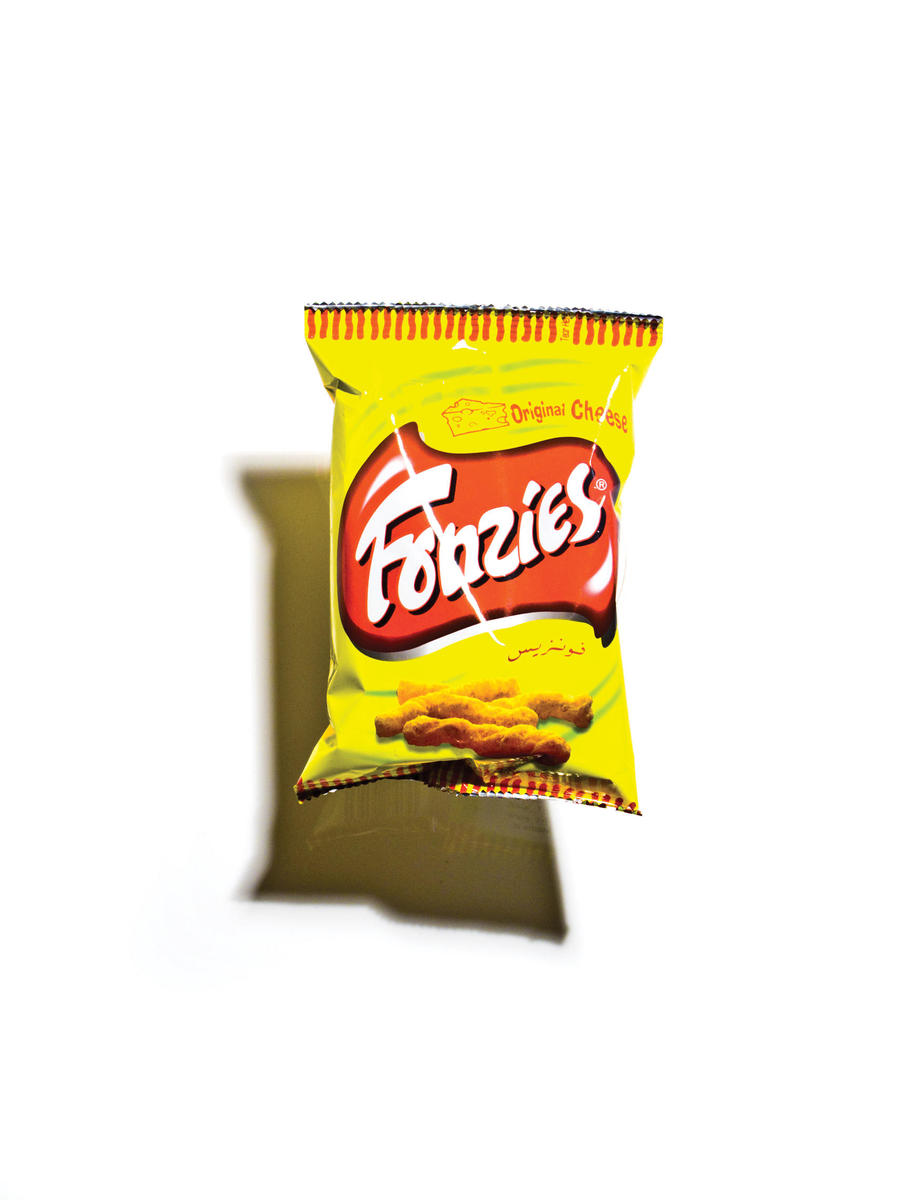 #3 — XL: FRESH POTATO CHIPS, SALTED and HOT varieties from DUBAI
Alsudairy
Wow. They're made in Ha'il, a Bedouin city close to Iraq.
Sandhu
It conveys the sense that it's the early days and there'll be oil forever. But you know, it's just going to get depleted really quick and there will be a sense of real sadness very soon.
Vazquez
Is your point that we should go buy some American potato chips right now to cushion the blow?
Pressman
I love how this package is designed to look like the back pocket of a pair of blue jeans.
Vazquez
One flavor for when you're wearing green jeans and one for when you're in your blue jeans.
Pressman
What I like is that it's not the bag that is in the pocket, but the chips themselves. I am actually meant to stuff these in my back pocket and just pull them out throughout the day.
Vazquez
You could never sit down.
Pressman
The flavor profile is flattened in all these chips, actually.
Vazquez
When you say flattened do you mean nuanced or lame?
Pressman
Just flattened.
Sandhu
Are you saying these are MP3 chips, with a kind of taste compression?
Fan
And you only want lossless chips?
Pressman
I do. But what is Antioxidant TBHQ? [Reading the list of ingredients] The cognitive gap between what this wants to tell me and what it tastes like is as far from what it offers as possible. That really could be a bag of potatoes.
Sandhu
If this is natural, it makes you pine for artificiality.
Alsudairy
There is nostalgia for greenery, which the country lacks. This is something you would never find this scene. This is deception. Trying to be hip — no one would ever wear this in Ha'il. No one would wear denim and just walk around. This is like utopia for them… or dystopia, I don't know. But I know this is not Ha'il, this acid-washed denim.
Sandhu
What areas of the world would you say this reminds you of?
Vazquez
Let me smell it again.
Sandhu
It's a bit like airport breath, isn't it? You've been traveling many hours, you have a stopover, you come back and you stink in a boring way, and you have to go to a bathroom and brush up. These are crisps that have not had toothpaste.
Licursi
One thing I noticed in all of these is that each chip has a different distribution of powder: the second one tasted completely different from the first.
Vazquez
That happens with Doritos, sometimes you get a really orange delicious Dorito and sometimes you get a shitty nothing Dorito.
Sandhu
Is it like the veil? It seems conformist on the outside but underneath there is far more tang and vitality going on.
Vazquez
Are we talking about Doritos?
Sandhu
No, about the Phenomenon of the Second Crisp.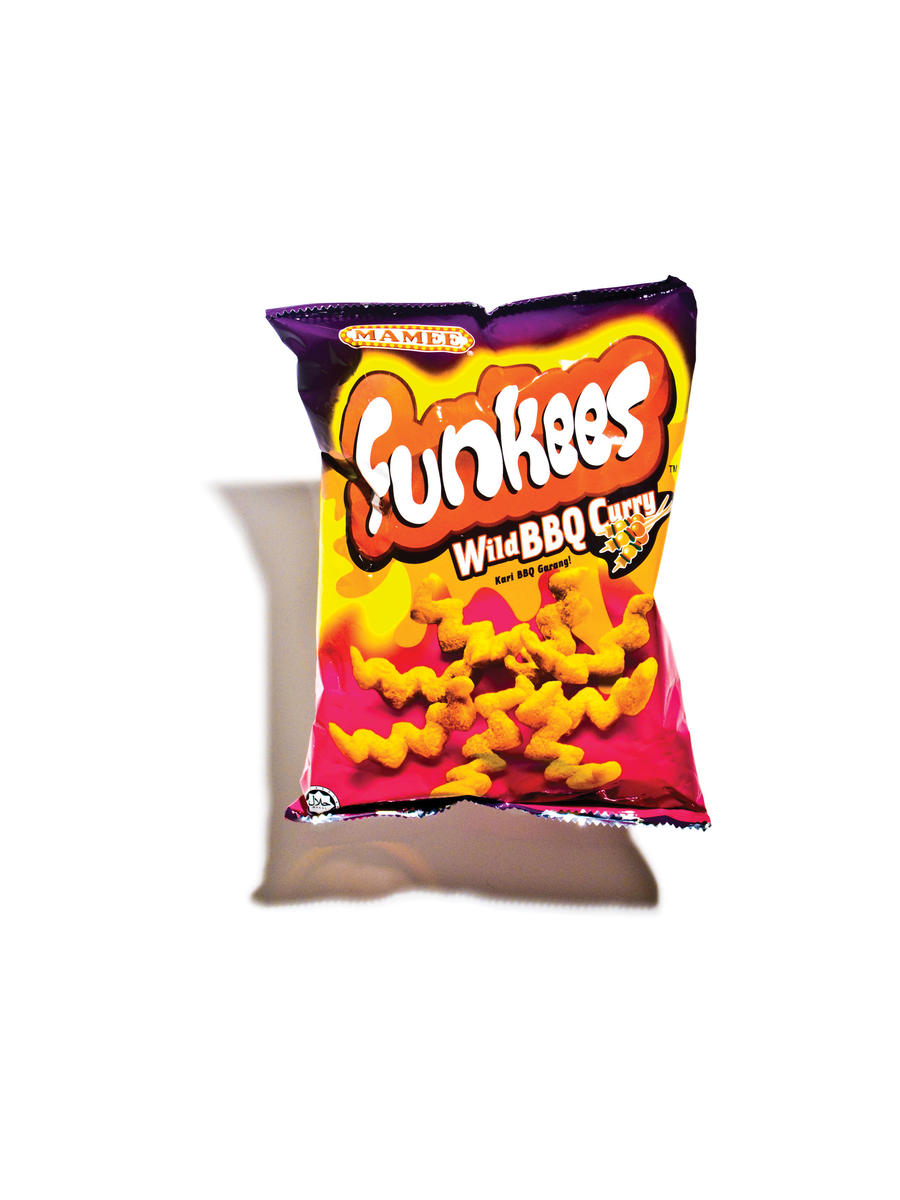 #4 — SALAD SNACK from the UNITED ARAB EMIRATES
Vazquez
[reading packaging] It's for an Emirati audience, the flavor is salad, and they asked the Koreans to manufacture it? I'm a little afraid.
Sandhu
Can tape recorders record radical skepticism? Because he looks…
Licursi
Have you ever had those dreadful healthy puffs… not the Pirate's Booty but the Veggie Sticks? It reminds me of that in terms of blandness. Vague saltiness and texture.
Sandhu
The vegetables on the bag look like a child's safety poster.
Pressman
What I want is for it to absorb more of the moisture in my mouth.
Sandhu
It's not Pirate's Booty, it's Accountant's Booty.
Alsudairy
The packaging looks honest.
Sandhu
The instructions speak with a forked tongue…
Licursi
Is it secretly Beef Fondue flavor?
Vazquez
Wait, they are good at that in Korea!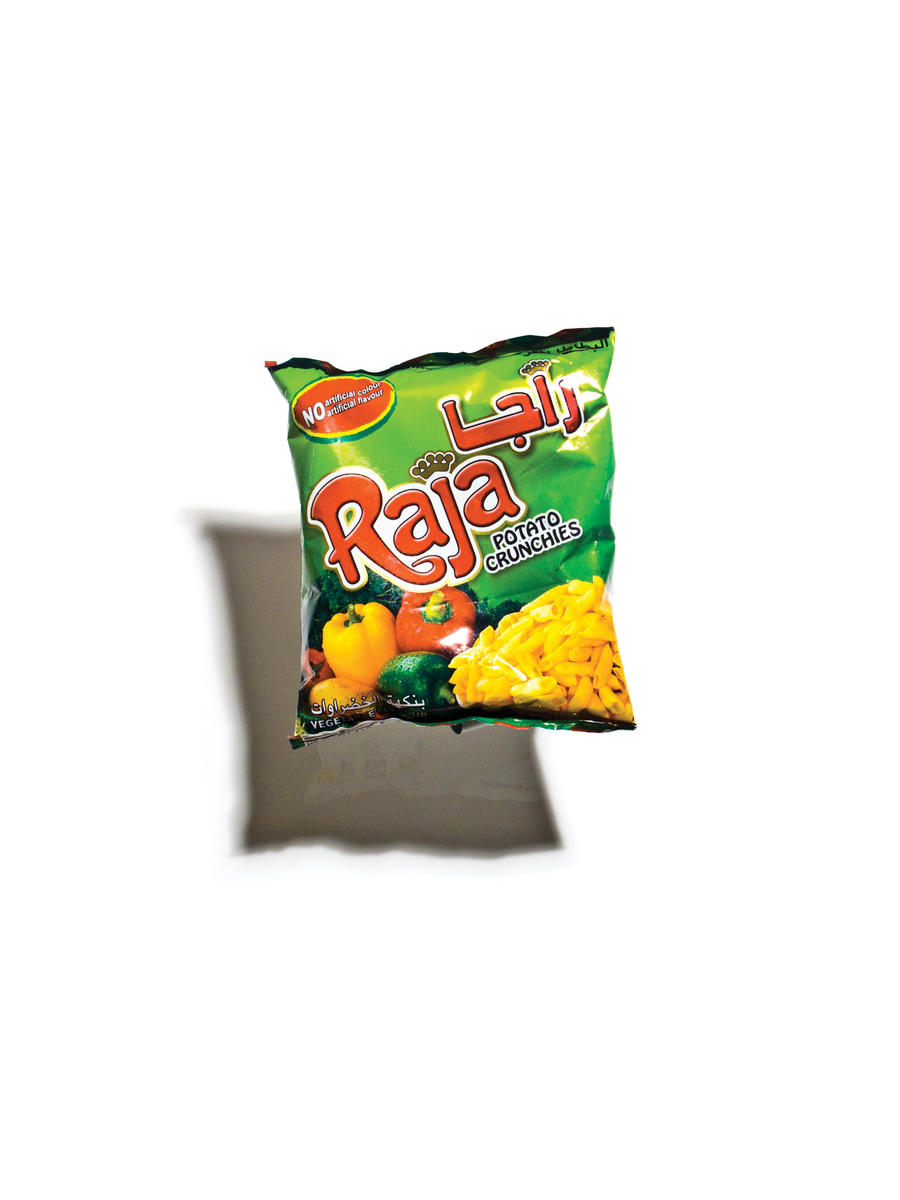 #5 — RAJA POTATO CRUNCHIES in VEGETABLE and SALT & VINEGAR flavors from the KINGDOM OF SAUDI ARABIA
Subin
They look like decomposing penne.
Vazquez
This looks like you turned over a rock.
Subin
It's larval.
Vazquez
They say they are the number-one potato crunchie, but it turns out words have no meaning.
Sandhu
The expression on your face says "mass grave."
Vazquez
These snacks are extruded.
Sandhu
Failed infrastructure.
Alsudairy
Peter, your face!
Sandhu
It's like a really expensive shopping mall.
Vazquez
Please: everyone try one. So we can all be on the same page.
Pressman
It is not unlike an uncooked ramen noodle with the packet stuff spread on it.
Fan
I'm tasting salad.
Licursi
I'm tasting cheap salad dressing.
Vazquez
I'm sorry, what's the difference between salad and cheap salad dressing?
Licursi
You're right, you're right.
Sandhu
It's like a massage.
---
#6 + 7 — EMIRATES POFAKI versus QATAR PAFKI
Subin
Emirates Pofaki: "Cheese Coated Crispy Corn Curls. Winner of the 17th International Food Award in Barcelona."
Sandhu
It's almost like a cheesy ball.
Vazquez
It's a Cheeto.
Fan
It's a Cheez Doodle, my friend.
Vazquez
This is unfortunately as close to packing material as it is to a treat.
Sandhu
It's like the taste of indifference.
Vazquez
Qatar Pofaki — these are the worst.
Sandhu
These are the taste of the new economy.
Licursi
Weird corn flavor.
Sandhu
I think it tastes like golf.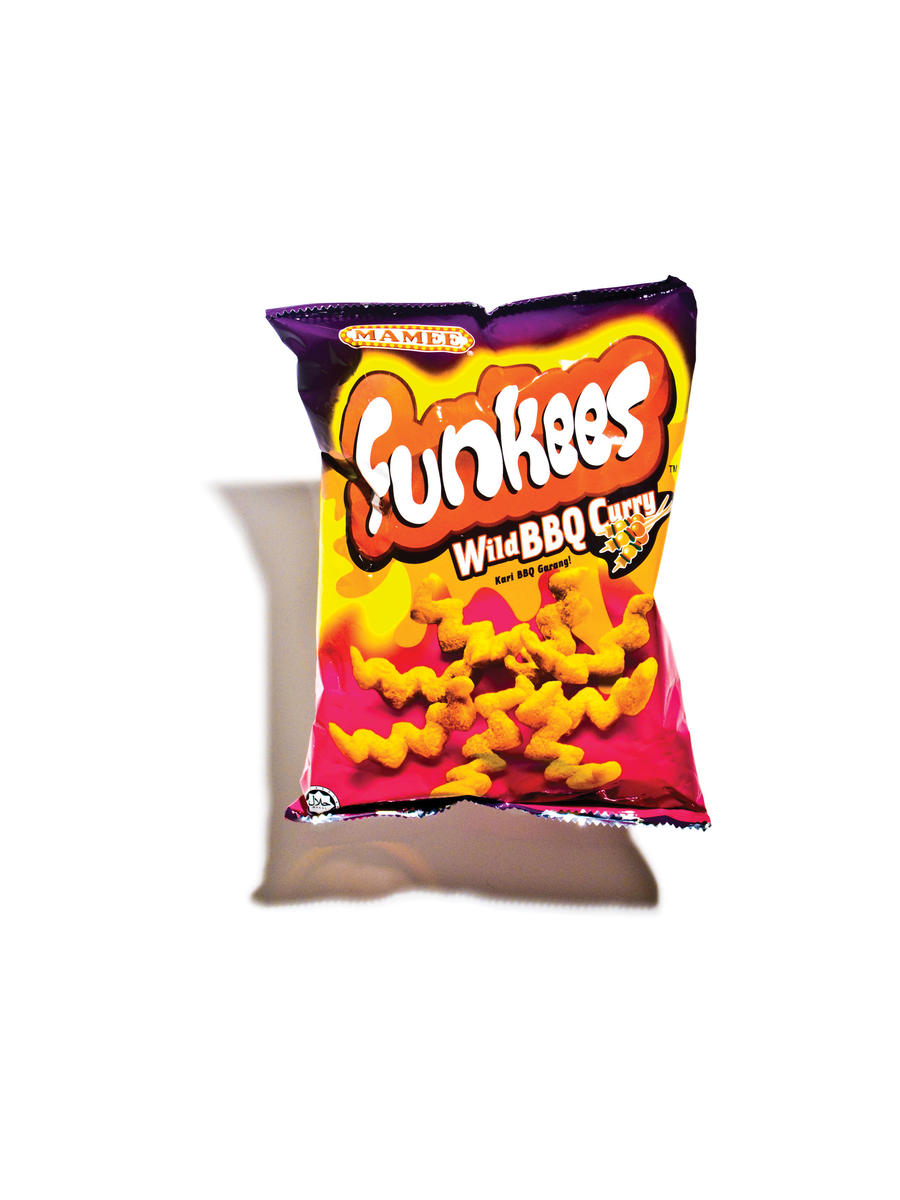 #8 + 9 — FUNKEES Wild BBQ Curry and FONZIES Original Cheese Corn Snacks, both from Malaysia
Subin
Now we have two Malaysian imports, Funkees and Fonzies.
Sandhu
So far I feel like we have not encountered any fundamental otherness of crisp. There has basically been no topography.
Pressman
You haven't been startled, is what you are saying.
Vazquez
I was startled by how good the Chips Oman were.
Pressman
But was that the startle of familiarity?
Vazquez
It didn't taste like anything else I knew…
Alsudairy
Oman has always been ambiguous. Look at its First Lady…
Vazquez
The wild in Wild BBQ Curry is cumin, I think.
Licursi
I don't taste cheese at all.
Vazquez
Maybe it's mislabeled?
Pressman
Oh it's terrible! The aftertaste of this thing is actually wet sock. (I'm going to have one more.)
Alsudairy
It's like the evil sister of blue cheese.
Fan
The word gout is here on the bag.
Licursi
Funkees — A+ for shape.
Alsudairy
It's so eighties.
Sandhu
I wonder — if MIA had her own fashion label, would she design something like this?
Vazquez
This is the first snack we've tried that I think could make me sick. It has too much going on, in a way. It could be toxic.
Sandhu
Like globalization. Oh, they also have Funkee Chicken.
Alsudairy
This is the naughty chip.
---
#10 — SAFARI GRILLS from DUBAI
Subin
These claim to be one of the oldest but most beloved flavors. Since 1985.
Alsudairy
The literal translation from Arabic is meshes of potato.
Pressman
Safari grills? All this time I was waiting for safari girls.
Sandhu
Sephardic girls? [laughter]
Vazquez
Are they meant to look like the front of your Jeep when you're on Safari?
Sandhu
No, no. I think they're a bit like burqas.
Vazquez
I cannot even imagine what you are seeing right now.
Sandhu
By eating this we are helping to conserve nature. There is an abandoned elephant telling YOU to keep YOUR city clean.
Pressman
It tastes less like potato than anything else we have eaten today.
Sandhu
Post-potato?
Pressman
This image looks like something I would have drawn when I was thirteen.
Sandhu
It's like a UFO in the shape of a saltshaker. No! It's like a thought bubble.
Fan
Is this an existential question, like, which came first, the saltshaker or the chip?
Vazquez
It is! I would like to think it's the chips dreaming of being salted, since they've clearly not been salted enough. If I can say one thing about the entirety of all these chips: the stuff is not seasoned well.
Sandhu
There is a sort of genetic fundamentalism…
Fan
Dubai has so many British ex-pats, you would think they'd have livelier crisps market.
Vazquez
You know, as PR for a region, this is terrible.
---
#11 — ALADDIN PIZZA CRUNCHIES from DUBAI
Subin
The pizza on this package comes complete with nightmarishly dripping cheese.
Pressman
On that green background to make it look… Oh wait, that's lettuce!
Licursi
I thought it was some kind of weird, cosmic, planetary swamp.
Fan
It's shaped like a lotus root.
Vazquez
It tastes like frozen pizza.
Pressman
This is a very Lovecraftian pizza. Look at its dripping. WOW. What they did is incredible! They traced the outline of the pizza and then in Photoshop — they extended it for the drip. They would have been better off using yellow crayon.
Sandhu
It's awful!
Pressman
Its most potent moment is when there is nothing left, and all you have is a presence that is not a presence.
Sandhu
It's melancholia…
Pressman
It haunts the edges.
Vazquez
It tastes dead but dreaming.
Sandhu
The mourning lasts longer than the relationship.