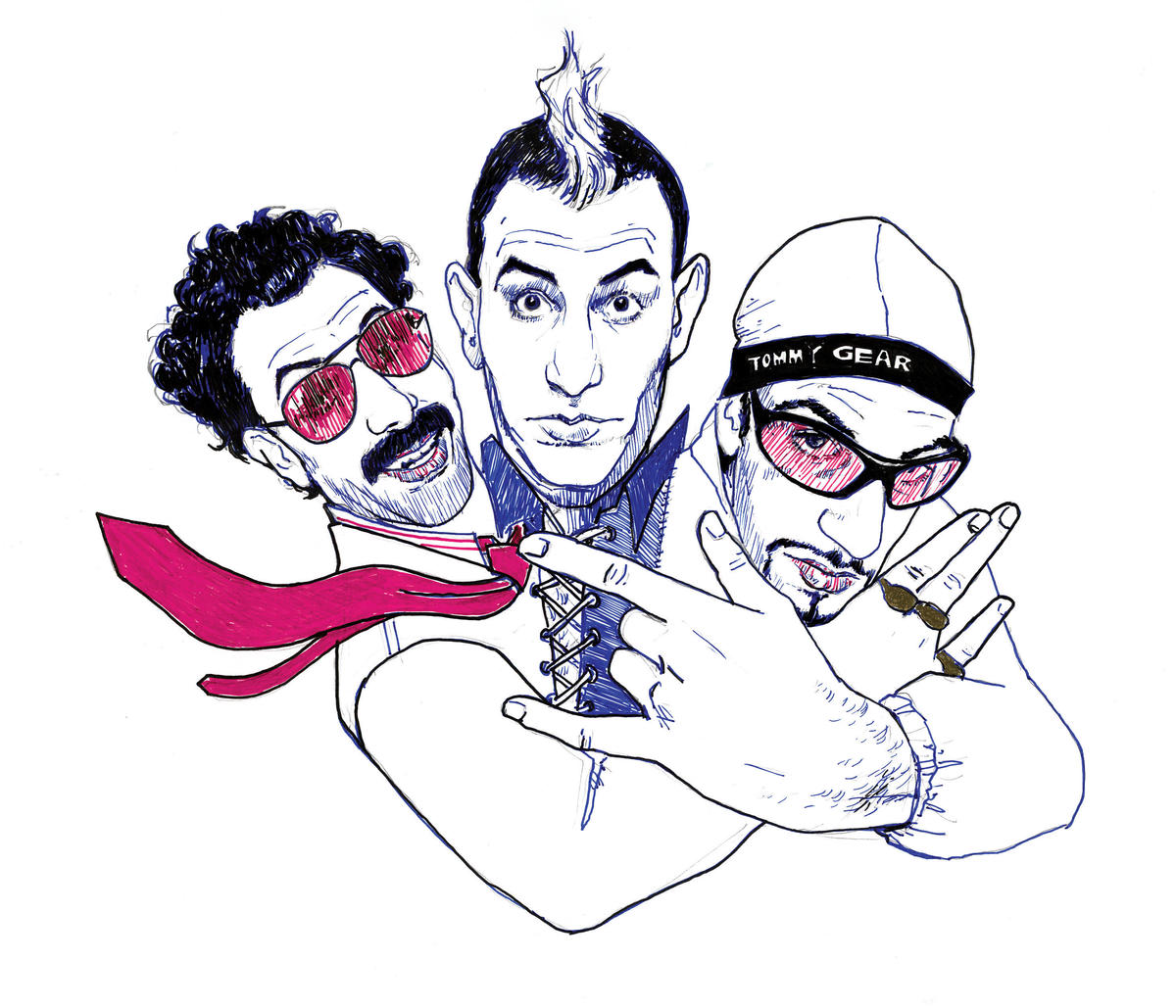 If you're not a fan of endless semi-arid steppe and decaying industrial cities, Kazakhstan may seem bleak, but those who enjoy remoteness, wide open spaces, lunar landscapes, long hypnotic train rides and horse sausage will definitely be in their element.
—Kazakhstan "At a Glance," www.lonelyplanet.com
If Kazakhstan has a reputation, it is one of being random. The country is cursed with a name that, for reasons that are buried in linguistic evolution, sounds foreign to the Anglo-tuned ear and gets thereby lumped with the other "Stans" of the region. If you were to ask just about anyone anything about Kazakhstan he or she would likely draw a blank. Accordingly, if you were to present someone — say a tall, spastic television reporter — as a Kazakh, they would have no reason to believe that he was not a Kazakh. Enter Borat Sagdiyev.
Borat is ostensibly the number two television reporter working for a Kazakhstan state-run network on assignment to report on life in the UK and later in the "USandA." The man is outrageously backward. His other job is gypsy catcher; he is a card-carrying anti-Semite, and he explains his world thus: "In Kazakhstan, we say: od, man, horse, dog, then woman, then rat, and then small 'kruksolli,' like a little 'tck tck tck.'" In fact, Borat is the comedic creation of Sacha Baron Cohen on his satirical Da Ali G Show.
The character is a mishmash of signifiers that in one way or another point to the idea of "foreign." The transformation into Borat starts with Cohen growing a shaggy mustache and donning an unfashionable suit that, apparently, lends him an overpowering odor as it's never been washed. Vaguely Eastern European-sounding catch phrases such as "Jagshemash!" and "chenqui" (almost "How are you?" and "thank you" in Polish) pepper Borat's heavily accented speech. And to deflect any stray glances at his notes during his interviews, Borat writes them in Hebrew. A peculiar awkwardness also marks his character, coming across as a cultural difference via his exuberant high fives and thumbs up, or the way he can never quite navigate crossing a busy street.
On paper it may sound like a pretty flimsy ruse, but by combining the force and totality of his performance with the hypnotic qualities of a TV camera, Cohen is able to bulldoze his unsuspecting interviewees into going along with anything that he says. They calmly nod their heads at such revelations as "in Kazakhstan we have many hobbies: disco dancing, archery, rape and table tennis" and entertain Borat's inappropriate questions. Their polite interest and earnest answers are a foil to his buffoonish antics. Borat blends the ubiquitous television interview, the classic comedy formula of straight man and clown (think Dean Martin and Jerry Lewis), and a twist of reality TV (no one except for Cohen and his television audience are in on the joke). The show plies the power that television has over people; they dutifully confide in whoever sits next to the camera pointing at them. Swept up in the absurdity of conversing with someone who's ignorant and secure in the knowledge that it will only be aired in far-off Kazakhstan, people often let their guards down even more than usual.
In the best bits, Cohen works this combination of camera lust and condescension to elicit candid responses that reveal an underlying abomination, usually racism or anti-Semitism. In Borat's interview with US Congressional candidate James Broadwater, a far right Christian conservative. Broadwater states that because Jews do not follow the Christian Bible, they will go to hell when they die. In another story, about the lifestyle of southern gentlemen, Borat, bumbling, pretends to be unable to understand how to hold a wine glass for almost two minutes, then proceeds to gulp down glass after glass while the others swirl and sniff. Later, a black waiter delivers a fresh bottle of wine, and Borat asks one man, "He is your slave?" "No, no, no. We don't have slaves here anymore." Which sets up Borat to ask, "Why you stop?" The response:"Well, it's a law that was passed that they can no longer be used as slaves. Which is a good thing, for them." Borat pounces on the slip: "But not so much for you." And the gentleman concedes, "Right."
Lambasting the contradictions and exploiting the xenophobia of Americans is all well and good, but is it done at the expense of another culture? The government of Kazakhstan thinks so, and as Borat's popularity increases they become more and more serious about taking Cohen on. The tensions began after the show moved from the BBC 4 in the UK to HBO in the US, where the freedom afforded by premium cable enabled the Borat segments to become even more lewd, racist and manipulative. Kazakh government officials first responded negatively to a sing-a-long filmed at an Arizona country-western bar that featured a catchy tune called "Throw the Jew Down the Well," which Borat claimed was popular in Kazakhstan. Now, with a movie in the works and Cohen's recent hosting of the entire MTV Europe Music Awards as Borat, the Kazakh government is feeling increasingly victimized by Cohen's character. They have begun a campaign to counter the image of Kazakhstan that Borat presents by threatening legal action against Cohen and pulling the plug on the Borat website, www.borat.kz (which they apparently had the authority to do based on his use of the ".kz" designation). In a press conference last January, Foreign Ministry spokesman Yerzhan Ashykbayev even went so far as to suggest that Cohen is "serving someone's political order designed to present Kazakhstan and its people in a derogatory way." Borat's website immediately resurfaced as www.borat.tv with a video in response to the charge, in which Borat claims to have no connection with Cohen and states that he "fully supports my government's decision to sue this Jew."
Yet as the Kazakh government's fear and paranoia increases, Borat himself seems to be at a crossroads. With his audience broadening and the scale of his antics expanding, he is beginning to move away from the surreal situations that he can control using the hypnotic camera, his magnetic personality and accommodating stupidity. There have been several events in which his satire has been drowned out by the reaction to Borat himself. No longer just a smelly, awkward television journalist whose offensiveness can be explained as "cultural difference" (because, after all, he seems to have good intentions), he is now a symbolic representative. Within this new dynamic he is codified for his fans, yet in accessible to those he is trying to entrap. Playing to the knowing MTV crowd, who are ready to laugh at every last "Wawa wee waa" and "I like," he is all shtick and catch phrases. But commending the US's war on terror by declaring, "may George W. Bush drink the blood of every man, woman and child in Iraq" to a stadium full of rodeo fans in Virginia last year missed the mark and provoked immediate anger that could easily have escalated into violence. The original edge of the satire has worn down, making it less effective, both for those in on and those outside the joke.
The government of Kazakhstan might rest easier if only it were to examine the trajectory of Cohen's career. The character won't have much of a future after the Borat movie comes out, and there will be few left who take him seriously. After all, Sacha Baron Cohen is headed for bigger (if not necessarily better) things, such as a movie about NASCAR racing coming out this summer, in which he plays a flamboyant French driver challenging co-star Will Ferrell, followed by a role portraying the real life Hasidic Jewish punk rocker from Williamsburg, Brooklyn, named Curly Oxide. And there is an upside to the controversy: Borat's publicity has opened up a forum for the Kazakhs to set the record straight and promote their national heritage. They are able to tell us that kumys, the national drink made from fermented horse milk, is delicious, and that, yes, Kazakhs still enjoy a good round of kokpar (goat polo played on horseback, in which the object of the game is to capture a headless goat carcass). The ancient tradition of bride kidnapping, however, is now illegal.