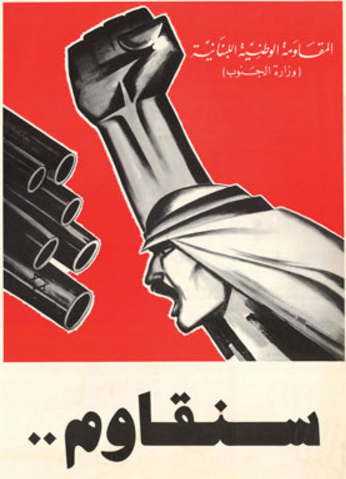 Off the Wall: Political Posters of the Lebanese Civil War
By Zeina Maasri
IB Tauris, 2008
Zeina Maasri's off the wall: political posters of the Lebanese Civil War is based on a collection of some seven hundred political posters that the author, a graphic designer and professor, culled from the American University of Beirut's archives and then complemented with materials found in the media offices of various political parties, among the personal effects of former partisans, and amid the portfolio of artists, illustrators, and designers whom she interviewed over the course of her research.
In April 2008, Maasri shared the visual component of her project in a meticulously installed exhibition titled 'Signs of Conflict,' which was produced by Ashkal Alwan for the fourth edition of the Home Works Forum in Beirut. Eight months earlier, the artist Rabih Mroué had staged the hometown premiere of his performance piece How Nancy Wished That Everything Was an April Fool's Joke, which narrated an episodic history of Lebanon's civil war through the experiences of four fighters, using manipulated versions of Maasri's posters projected on four screens to illustrate the tangle of loyalties and lies the characters tell onstage.
In the five years since she began her research, Maasri has been collecting, documenting, and digitally archiving her poster collection, and she brings to her work a designer's touch for making the material accessible and interactive. Anyone can visit AUB's website and spend time with the posters online. But it's the arguments she makes and the conclusions she draws in print that set Off the Wall apart from other iterations of her project.
Maasri's book has its share of weaknesses. Like several tomes published by I. B. Tauris, it is relatively expensive, extremely specific to Lebanon, and lacking the heavy editorial hand it could have used to finesse the language in certain sections. That said, Maasri's central thesis is a valuable one, and her book is an important contribution to both art historical studies and political analyses of Lebanon, because Off the Wall combines the best of both disciplines. Maasri argues confidently and convincingly that Lebanon's political posters do not constitute propaganda campaigns but rather form symbolic sites of hegemonic struggle. She reads the signs, symbols, texts, and images of the political posters that were produced during the civil war as evidence of how different communities and factions fought to define, articulate, and assert themselves on Lebanon's social, cultural, and political landscape.
Off the Wall considers the political posters of Amal, Hizbullah, the Syrian Social Nationalist Party (SSNP), an assortment of independent Nasserite movements, the Lebanese outpost of the Ba'ath Party, the Communist Party, a conglomeration of other leftist groups, the Palestinian Liberation Organization in Lebanon, the Progressive Socialist Party, the Kataeb Party, and the Lebanese Forces. Maasri groups them into themes — leadership, commemoration, martyrdom, belonging — and explores the visual iconographies and textual strategies at play.
She examines several instances in which different posters wrestled to vest meaning from the same event. She uncovers a caché of SSNP posters in which partisans who had signed on for "martyrdom operations" took photographs of themselves and wrote down a few final words before blowing themselves up (the appearance of their posters on the streets of Beirut signified the sad, sordid execution of their missions). And she explores the role artists played in the war for visual dominance on the streets.
Because Maasri approaches political posters through visual culture and cultural studies, she grabs hold of an argument that art historians would likely dodge and political scientists would likely dismiss — namely, that artists are not apart from politics, that their work is not merely responsive but actively engaged, that the aesthetic object is not isolated but rather is implicated in conflict, and that artistic practices are not necessarily removed from the waging of wars. If the political posters of Lebanon's civil war informed the construction and articulation of political identities and positions, then the artists who made them bear some responsibility for shaping that discourse. Artists, in this regard, were partisans rather than bystanders. Even if they did not fight themselves, they helped to mold the minds of the subjects who did.
The only really questionable part of all this is that when you burn through Maasri's book, you might end up thinking that Lebanon's secular leftist political parties won the war. They certainly made the best posters. But they are overrepresented in Off the Wall, as are posters made before 1982 that were more about Palestine than Lebanon per se. Maasri acknowledges at least one reason for this. Right-wing Christian parties fought out their images and identities primarily on television. But if they were battling it out in other media, then perhaps Maasri should have either broadened the scope of her book to include TV, dreadful as it may be, or reduced it to focus on just a piece of Lebanon's political spectrum within a tighter temporal framework.