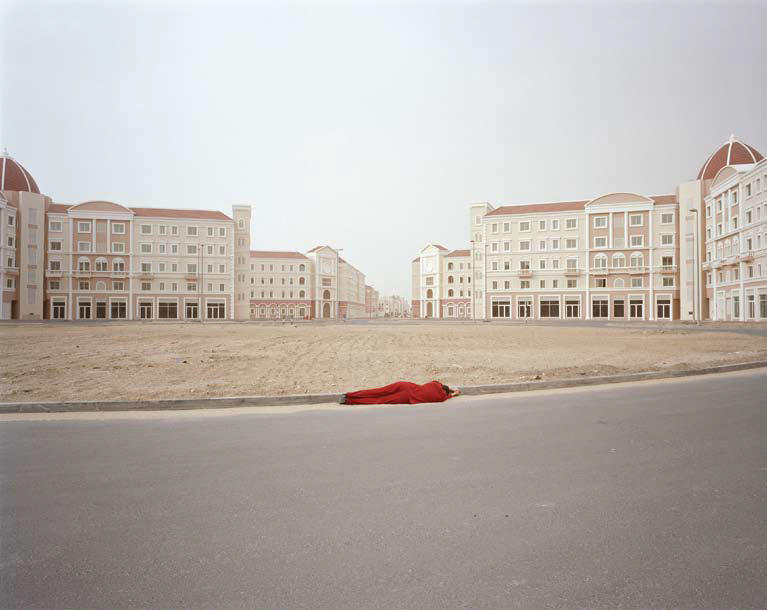 New York
Carey Young: If / Then
Paula Cooper Gallery
December 1, 2007–January 12, 2008
Carey Young's performance-based art visualizes "impossible" overlaps in political spectrums. First focusing on the curious ways in which the countercultural aesthetics of the '68ers have been inspirational to the right-wing "avant garde" of global corporatism, Young began doing performances such as I Am a Revolutionary (2001), in which she just couldn't get the words "I am a revolutionary" quite right during a business-presentation-skills training session. This performance was filmed in an office that seemed to float in a grid of identical glass cubes surrounding a factitiously glorious atrium.
In her recent gallery exhibition at Paula Cooper, Young extended her line of inquiry into specific art-historical referents, bringing feminist and Marxist aesthetics into a speculative dialogue with corporatism. In a series of largescale photographs, Young, dressed in her signature gray power suit and sensible heels, re-created iconic performancebased artworks — by Bruce Nauman, Mierle Laderman Ukeles, Valie Export, Ulrich Rückriem, and others — amid construction sites in Dubai and Sharjah. The photographs framed the landscape in a way that emphasized the virtuality of a megalopolis springing up so quickly in the middle of the desert. They recalled both the wide-open landscape of the colonial imagination and the fantasies afforded by computer-based architectural rendering.
Indeed, the virtuality of the landscape and the way her body was miniaturized in it made it seem like our protagonist, "Carey," was somehow trapped in a video-game version of 1970s performance art. In one game level, she was required to craft what looked like a UFO circle (after a performance by Rückriem) in the middle of the desert, with a row of six identical mini-palazzos in the flattened-out distance, each painted different shades of Miami pink, yellow, and beige. In one of the Export levels (there were two), Carey, lying in the gutter, molded her body into a perfect arc around a circular plaza in a postmodern village reminiscent of the Disney-owned Florida town Celebration; she earned bonus points for bringing the red that Export used to highlight the curve of the gutter in the original photograph onto her gray suit. In the Ukeles level, it was game over; Carey couldn't capture Ukeles's unique class consciousness and performance affect and ended up looking like she was just mopping up the construction site prematurely.
In a text-based piece, Inventory, Young gave a nod to Martha Rosler's and Eleanor Antin's well-known problematization of scientific and artistic objectifications and fragmentations of the female body. Young smoothed over the psychological and emotional disruption of these feminist classics by subbing out an explicit second-wave-feminist ideological analysis for a simple economic one. She gave the statistics of her body to two university scientists, who figured out the actual net worth of the chemical elements of her material being: carbon, £12,329.960; oxygen, £35.972; samarium, £0.000; etcetera. Total current market value (and the sale price of the artwork): £13,003.23. The Marxist proposition that money is the ultimate abstraction led Young logically into the commodities analyst's snuff fantasy.
The back room of the gallery featured a new performance video, Product Recall. There, as in her strongest performance work, she produced a disorder in the ordering systems that make us complacent. After Young had entered into an haute-bourgeois psychoanalyst's office and planted herself on a Le Corbusier chaise longue, the analyst read a list of well-known advertising slogans and asked her to recall the attached brand. Some, such as "Knowledge without boundaries" (HSBC), Young quickly identified; others, such as "Ideas you can't live without" and "Where imagination begins" were "gone" from her memory bank. The scenario highlighted a curious overlap in advertising and therapeutic lexicons and aligned the simple logic that advertisers use to create a sense of belonging and transcendence (fulfillment through shopping) with trends in therapy among the rich that favor hypnosis over deep analysis.
While much of the work in 'If / Then' bordered on a sort of absurdist science fiction that could leave the viewer with a quickly forgotten awkward smirk, the exhibition held the potential to stir up something beyond a trendy critical ambivalence. In certain sectors of the New York art world, an antimarket-versus-pro-market dialectic — a Marxist understanding of the dematerialization of the art object versus a naive marketing strategy — has become increasingly dodgy and often downright delusional. What 'If / Then' demanded of its viewers was an acknowledgment that art's primary contribution to the global economy has nothing to do with the production or suppression of luxury commodities; it's the radical gestures, the transcendence, the rethinking of the body's threshold, that inspire "us" and "them" to "Think different" (Apple).