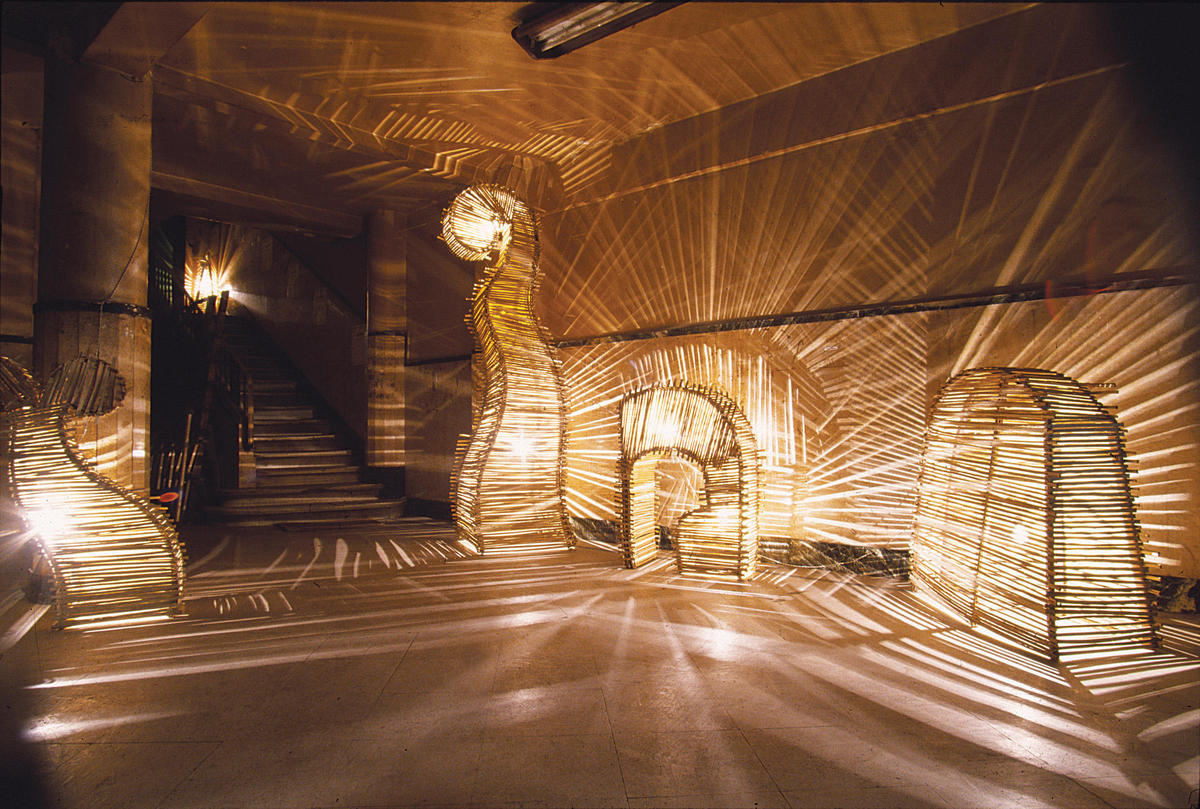 Cairo
Form Through Light
Palace for Art Galleries (Ministry of Culture)
October 30–November 25, 2004
Menawwareen!
Mashrabia Gallery Goethe Institute Champollion Street (outdoors)
October 24–November 12, 2004
Lights are perhaps the ultimate form of vernacular expression during Ramadan — as manifest in their awesome use to decorate streets, buildings and beyond throughout the holy month. Even typically draconian government bureaucrats are more sympathetic to the masses' will to celebrate and less inclined to press for municipal violations en masse. It is the one time of the year during which the street is the space, and parochial notions of art as championed by the Ministry of Culture and their ilk slowly fade away.
In September 2003, artist Mohamed Abou El-Naga proposed holding a forum on "form through light," an artistic event that would adopt light as a core value, to be held during Ramadan each year. The forum would be a venue for artists, both local and international, to present expressions related to light.
A classic clash over the ownership of the lights concept left Cairo with two smaller-scale shows, wholly separate — one in the private Mashrabia Gallery, and the other in the Ministry of Culture's Palace of Arts. Unfortunately, both exhibitions failed to capitalize on the possibility of using the street as a venue.
Mashrabia's context for its light installation show, Menawwareen, is the Noubar Project, an initiative that seeks to question the value of contemporaneity in an urban context like Cairo — a pool rich in abrupt changes that stimulate a mishmash of individual responses despite a city which is, in many ways, a collective experience. "The urban space with its democratic nature is a privileged field for non-elitist confrontation," reads the initiative. Menawwareen is the third episode in this experiment, following Anne du Boistesselin's Pop-Up (May – June 2004) and Pascale Favre and Mahmoud Khaled's Two Single Rooms (September – October 2004).
An extension of past projects, Menawwareen brought together nineteen artists presenting more than fifteen original works. For Stefania Angarano, Mashrabia director and Noubar initiator, the artists managed to speak to a broad Cairene audience. "There was a deal of coziness, a coziness that addressed itself to the audience. There was no coldness or incomprehensibility. Instead, there was a dialogue, an intimacy with an audience that has not necessarily acquired basic notions of contemporary art," she said. Indeed, the show did manage to penetrate a wider audience through its use of popular visual codes.
Dialogue was also Naga's word of choice in describing his show, Form Through Light, held in the Palace of Arts under the auspices of the Ministry of Culture. Naga's dialogue was more related to nuanced notions of culture, where art is at once exposed and hidden, both explicit and embedded in the world around us. The Palace of Arts's show assembled sixty-nine artists, most of whose work was specifically commissioned for the event. In a few cases, existing works were recycled — or in Naga's words, "rediscovered in a novel context."
Space remained a point of contention. While the initial aspiration was to take the art community to the streets, both shows remained indoors — with the exception of two installations of Menawwareen, built in the vicinity of Mashrabia. While the use of alternative space was not privileged, the use of the spaces in question was relatively original. Installation at large is rather new to the Palace of Arts, which has tended to stick to more traditional mediums such as painting. The space is conventionally torn by a classist division, in which better-known artists' works were shown in the outer halls, while lesser-known works would be concealed inside. This time, artifacts were unreservedly spread around the space, challenging its confines and inviting the visitor to meander through its most mysterious corners. In Mashrabia, the charm of the space emanated from the contrast between its darkness and the light rising out of the objects, an immersing quantity of light that vanquished the prime obscurity.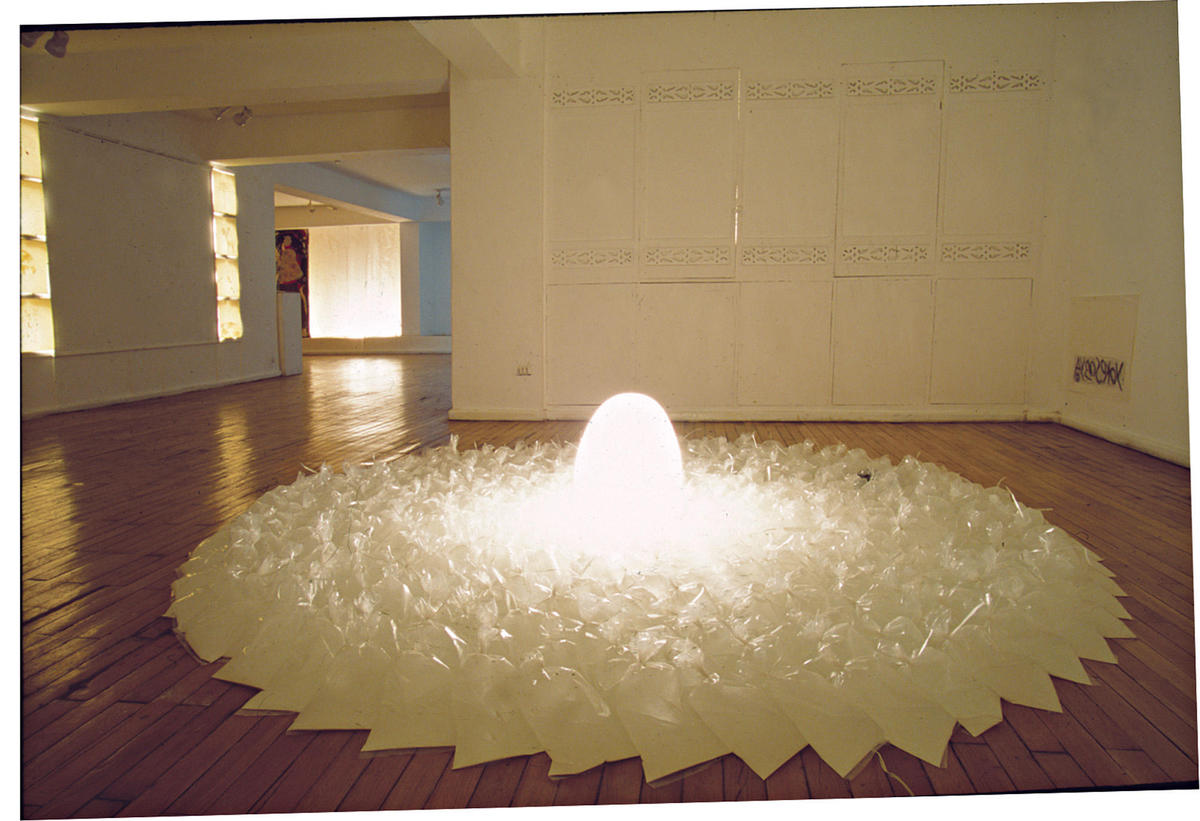 Light, the raison d'être of this artistic demonstration, was not always used interestingly. Its presence was sometimes reduced to a sidebar of a pre-existing form, where precious little fusion took place. In other cases, light presented an array of themes. Mohamed Salem's lustrous book and Naga's luminous strands of paper pastries were explorations of the metaphysical relationship between knowledge and light.
Light's relationship to spirituality and the universality therein was the preoccupation of Amr Abdul Qawy in his Pulse of Essence installation. Two sides of a black cubicle presented spiritual verses on light, collected from the Book of Genesis, the Qur'an and Buddhist scripts. Genesis's "let there be light" materialized, as sparkles of light hit the opposing wall on and off. Perhaps a more compelling take on spirituality and light was manifest in Hayyam Abdul Baqi's work. In a pitch-black room, a short detour lead to a rounded spot of tens of shimmering rosaries. Combining light with rosaries, customary in religious rituals, served as expression of (admittedly trite) notions of spiritual welfare.
In the Goethe space, Huda Lutfi further explored the relationship between light and spirituality, with a specific view of Islam. Her five doffs (local traditional drums) were painted with camels, referencing Sufi values of endurance and patience. But her use of light to insinuate the camels' movement could have used more development — an opportunity lost.
In the end, themes of light as manifest in memory, constructions of outside and inside, identity and beyond were explored in myriad ways by the artists in both shows. Nevertheless, it remains unfortunate that we did not end up with one cohesive show. How the initiative evolves in the next year is a mystery, though we can hope that event organizers recognize the value of the city itself as a space in their conceptualization.