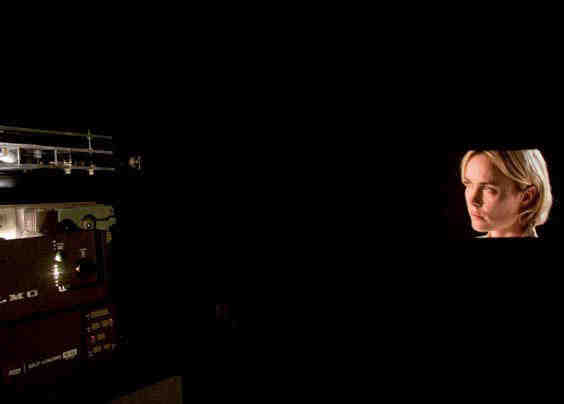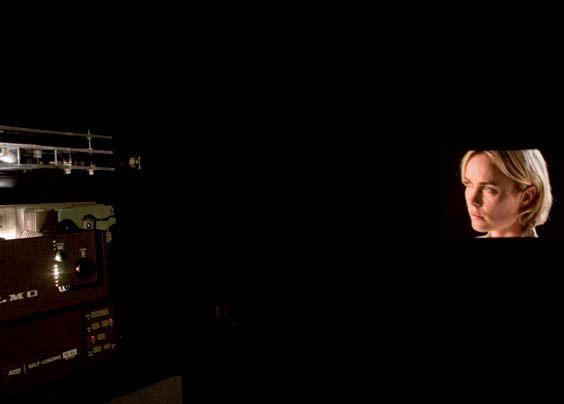 New York
Elad Lassry: Three Films
Whitney Museum of American Art
January 22-April 19, 2009
Elad Lassry's first museum exhibition in New York brought three of the Los Angeles-based artist's 16mm color films together in a compelling triptych. Organized by Gary Carrion-murayai, senior curatorial assistant at the Whitney, the films were presented as loops, with each projector positioned atop a pedestal in a simple blackbox setting. The low whir and modest scale of teh projections made for an immediately sculptural presence.
Derived from an array of textbooks, magazines, and photography books, Lassry's films originate in still images, often taken contradictory contexts, and their translation into moving images. Untitled (Agon) (2008), for example, appropriated visual cues from a 1958 manual called The Art of Making Dances, published by choreographer Doris Humphrey. A pioneer of modern dance — who, like Martha Graham and Louise Brooks, got her start in the popular traveling shows of the 1920s Denishawn Dance Company — Humphrey's instructional photodiagrams proposed a formula for breaking down traditional dance movements and forms with the use of still photographs. By transposing selected images from the manual with a pas de deux passage from George Balanchine's neoclassic ballet Agon (1957), Lassry imagined a collaborative moment that never existed, displacing the austere lyricism of Balanchine's balletic forms with how-to imagery, and vice versa.
In each of his pieces, Lassry explored the relationship between photography and film, theatricalizing their overlap through the formal tropes of filmmaking. Borrowing from structuralist film tactics of the 1960s — fixed camera positions, predetermined sequencing, and simplified action — Lassry articulated the limitations of the film camera's frame within a lexicon of staged gestures and mannerisms taken from theater, advertising, fashion photography, and, in the case of Untitled (Agon), dance.
Employing professional dancers Megan LeCrone and Ask la Cour, Lassry recreated the last minute of Balanchine's seminal work in a New York City Ballet rehearsal space, beginning each shot from a predetermined vantage point and posture borrowed from the Humphrey book. As the dancers broke their poses and crossed before the camera, repeatedly filling the frame with fragments of studied movement, the man and woman ceased to be merely performers embodying a duet and became the subjects of an elaborate study in contrasts. The gridlike outline of the barre, Balanchine's trademark black and white costuming, and the immediate legibility of the neutral dance studio were offset by the dancers' awkward bearing just prior to repeating the routine.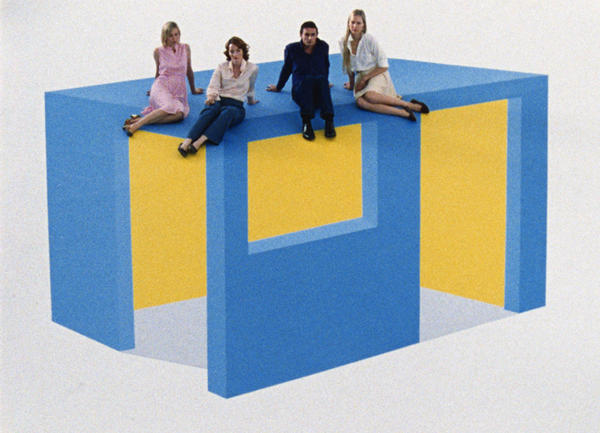 Zebra and Woman (2007) similarly engaged a conventional scenic device, in the form of a black backdrop that effectively erased depth of field and accentuated gesture and motion — a tactic used to emphasize the act of viewing that extends back to early photographic motion studies and time-lapse films of plant and insect behavior, but also to W.K.L. Dickson's first experiments in Edison's Black Maria laboratory and anthropological and ethnographic films. That this neutral backdrop would also become a standard mis-en-scène for film and photo shoots — from Warhol's screen tests to countless music videos and fashion spreads — was evoked in Lassry's dual portrait. Comprised of a slow left-to-right panning shot, the film started with the twitch of a zebra's tail, proceeded along the black and white sheen of the animal's flank, past its muzzle and skittish glance, to end on the smiling profile of an attractive blond woman. An exercise in the most basic principle of cinematic montage — the bringing together of contrasting or seemingly out-of-sequence images as an associative prompt to the viewer — Lassry's use of the steady pan distorted our perception of the unexpected woman while also fluently referencing what film historian Tom Gunning has termed "the aesthetics of astonishment," which characterized so many spectators' incredulous response to early moving pictures.
In the most involved scenario of the trio, Untitled (2008), the artist departed from a trompe l'oeil photograph found in a 1971 science textbook, intended to show how visual perception works. Lassry replicated the floor diagram of the houselike structure — painted in a Josef Albers-esque combination of light blue and yellow — and engaged three young women and a man to interact with the optical illusion. Negotiating their positions in order to maintain the illustrative effect, the models held poses and repeated gestures for the camera in scenes that resembled a commercial audition.
Employing again what appeared to be industry professionals, Lassry accumulated gestures and highly staged interactions in durations that disrupted their potential use-value as commercial images: a windowpane framed a man and woman mouthing melodramatic dialogue; a woman struggled to hold her pose in the illusion's doorway, falling in and out of character; while another model flashed her perfect smile over and over. Perhaps the least amenable to the triptych format, this piece nonetheless intimated the possibility of a more overt, sustained engagement with theater in future projects.