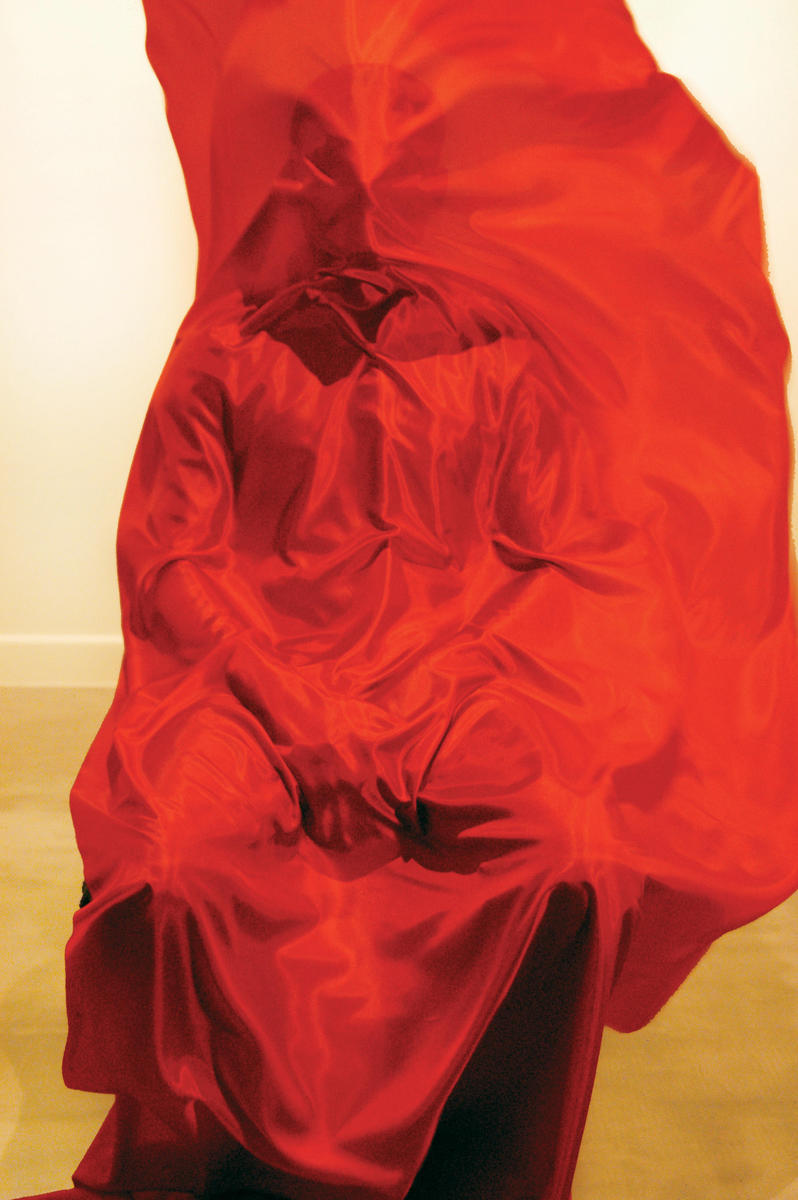 Ripe with possibility, sweetened by kitsch, the United Arab Emirates should be an ideal muse for artists of the post-ironic kind. However, most local and ex-pat practitioners — perhaps inspired by palace and museum collections of Orientalist art — tend to hark back to romanticized, pastoral scenes of dunes, camels, wizened old faces, and shiny-nosed, glossy-eyed horses. Even the flashiest of urban malls feature lines of "galleries" peddling tourist-oriented nostalgia.
Dubai, despite its rampant development and global aspirations, has no public arts space; it does, unusually for the UAE, support a clutch of private galleries that mostly exhibit contemporary Arab and Iranian artists. Abu Dhabi has its Cultural Foundation, but the galleries tend to lack a clear curatorial policy, showing amateur local craft one week and Andy Warhol prints the next. Sharjah bears the mantle of being the most culturally minded of the seven emirates: Its heritage and arts area includes the Art Museum, home to the Sharjah Biennial. In 2003, this artists' gathering, under the direction of Sheikha Hoor Al Qasimi, took a swift left turn, away from regional painting and into the rarefied milieu of Documentas, Manifestas, and other pageants of international contemporary art.
But for a small set of Emirati experimentalists, finally, the world had decided to join their party. "Our group of artists said 'This is our Biennial!'" exclaimed installation artist Mohammad Kazem at the time. Kazem and fellow members of the Group of Five — Hassan Sharif, Hossein Sharif, Abdallah Al Saadi, and Mohammed Ahmed Ibrahim — plus young video artist Khalil Abdulwahed Abdulrahman, held their own against the habitual biennialists.
The Biennial and the teaching and practices of Hassan Sharif, Kazem et al, are now influencing a new generation of artists. Huda Saeed, for example, plays on the aesthetics of the UAE's pastoral past and its shopping-malled present; Sharif describes her installations as "sarcastic to the bone." Nuha Hassan, a recent graphic design graduate, dwells on the Emirates' hierarchical "multiculturalism." For this year's Sharjah Biennial, she is reworking previous performance The Fan on a grander scale: Unraveling a sixty-meter roll of cloth from its base in a nearby tailor shop, she plans to cover participants standing outside the Sharjah Art Museum in the material, creating a series of ghostly, indistinct, kind of anybody-everybody profiles.
Despite making some of the most compelling work in the Emirates, this clutch of artists remains somewhat anonymous — neither the glorified art marts nor the white cubes tend to display their non-commercial work. As Mohamed Ahmed Ibrahim has said, "In our own society, art is still young; few people could communicate with it. [It doesn't] go beyond a natural scene, silent nature, a facial drawing in the classical manner. And any other production or creation…creates a shock to the naïve viewer."
In an interview with Gerhard Haupt and Pat Binder of web journal Universes in Universe last year, Hassan Sharif was more direct: "We are not arrested or censured; we are respected, but our art is misunderstood and that's why we're not properly supported." Sharif acts as the father of the local, as he puts it, "pluralist" art movement; he was awarded a prize at the 2003 Sharjah Biennial but has yet to have a major solo show.
In direct contrast to the shiny new Dubai, defined by its panache for positive PR, Sharif's work is gloriously messy, asking questions rather than delivering neat answers. He describes his work as "one ongoing experiment." Studying art in London in the late 1970s, he cofounded the Emirates Fine Art Society in 1980 and returned to Dubai in 1984, establishing his Group of Five shortly afterwards. Before shows in the Sharjah Art Museum, Sharif staged exhibitions with fellow poets and artists in souks and other public places.
Continually in progress, his current work revisits packaging materials that he collected from the streets but he now focuses on the brand names. Recent installations are a study of the relationships between commodity and community; these brands, as they go in and out of shops and houses, form a universal connection in UAE society.
Local theorist Talal Moualla notes Sharif's "extraordinary condensed language that relates his open challenge to the art scene, the viewer's culture and meaning structure in his visual language." Sharif himself writes at length about the need for a truly local art movement, one that takes in international influences but makes them their own.
It's Mohammad Kazem who has really taken up Sharif's challenge. He came to wider attention during the 2003 Biennial, when images from a performance, Autobiography, were used on promotional posters. Selected from a series of over forty photos, these images depicted Kazem standing next to flags that developers had placed around Mamzar (an area between Dubai and Sharjah), marking out future roads and buildings. In each image, Kazem has his back to the camera, forcing the viewer to look out on his vista, a view continually on the brink of change, and reflect with him on what was there before. Asked to describe his practice, Kazem states, "We as artists try to find concepts that fit with this changing world"; his body of work forms an analysis of the artist's (and local's) place in today's UAE.
This enquiry also forms a central tenet in Khalil Abdulwahed's work. Like Kazem, he turned away from painting to focus on other media, and began working in video during a workshop he attended in Eindhoven, the Netherlands, in 2002 as part of a long-term exchange program organized by the Arctic Foundation. The young artist, who's also employed by the fledging, government-backed Dubai Cultural Council, marked his switch from painting to video by attaching a paintbrush to a camera, and "painting" a pile of sand; the resulting DVD, exhibited at the 2003 Sharjah Biennial, is swirling, disorientating, yet delicately abstract.
In a recent series of three works looking at road trips, a video studies the mutations in the fog on a journey from Dubai to Al Ain. "Is the desert just hot, dry, dead?" asks Abdulwahed. "It's life, but not seen as such now. I looked at the movement of the sand, the details, it's dancing, alive." Not that this is misty-eyed nostalgia: "[The development] is a positive thing — it encourages me to work. You see something like [vast theme park development] Dubailand…" He tails off before reconfirming his allegiance: "You have to live your moment, go with it. We are the first generation that grew up with this city, so we're making sense of it as we go along."
Similarly, Sharif points out that Kazem's work is "more of a 'longing' for the future than for the past"; "longing" here can be interpreted as exploratory rather than melancholic. Kazem often uses Global Positioning System (GPS) statistics, playing with the notion of exact geographical and social place; in several recent installations he has set the numbers and letters in large, three-dimensional displays, often lit up for further gravity, on the gallery floor. Meanwhile, accompanying videos or actions undo the science, and play on the indeterminate shifting sands of time and place. In documentation accompanying Directions (2000), Kazem throws wooden boards inscribed with GPS numbers into the sea, exploring the "inter-relationships between identity, alienation and geography." He lets these specific points float out as jetsam — possibly to wash up on distant shores or, presumably, on a man-made island in the making.
Kazem's most recent project homes in on his immediate environment. Over the past few years, he's photographed and videotaped the building of the Shangri La Hotel on Dubai's Sheikh Zayed Road from the window of his apartment block opposite. Successive pictures show the building taking shape from afar, while other photos and video capture the daily lives of the South Asian laborers. Most recently, he's moved in on the hotel itself, capturing the elegant yet characterless interiors.
In August 2004, Kazem had an exhibition at the Sharjah Art Museum with Ebtissam Abdulaziz, an upcoming artist who works in "system art" as well as installation and photography. For Number and Lifetime Abdulaziz photographed the hands of a diverse group of friends and passers-by, including laborers, aiming to show the "effects of everyday life on every cell in the human body." Richly detailed, the images became autobiographical statements, describing the life dealt to each person.
In an essay that accompanied the Emirates Fine Art Society exhibition Interchange, in February at the Sharjah Art Museum, Sharif questions whether life is becoming "a walking, talking, living commercial," describing the exhibition theme as "a cultural duty that will allow us to know who we are, and prevent us from losing our identity." In effect, he makes a plea for a closing of the gap between artists and audiences, and for art to play a more central role in the UAE's development. In a land dominated by a self-censoring, anesthetizing local media, their analytical, exploratory voices are exceptional.
But there's some way to go. When I ask Kazem what his family and friends make of his work, he chuckles: "Well, our group [of artists], we're kind of like immigrants here too."
www.hassansharif.com
www.sharjahbiennial.org