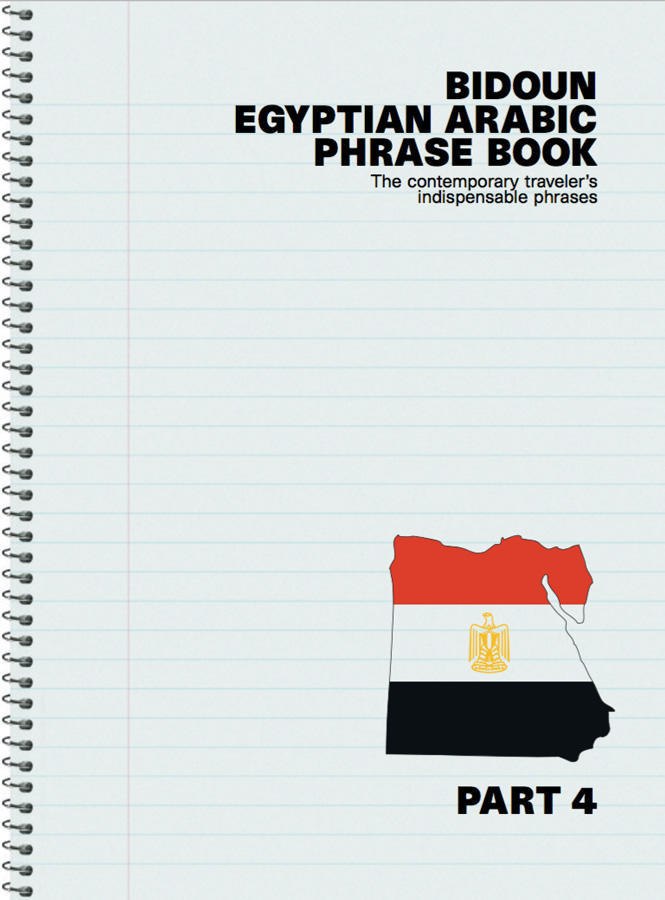 Forbidden Mamnou'
To get the best deals you have to go to Khan El Khalili.
'Ashan tila'i ahsan si'r, lazim tiruh/i Khan al-Khalili.
What do you mean by "hereditary dynasty"?
Asdak/ik eh bi "el tawrith"?
You mean you have a Beverly Hills in Cairo? And your name is Ahmed and you're married to Mona?
Yani 'anduku beferli hilz fi Masr? Wa inta ismak Ahmed, we metgawez Mona?
It's so noisy and crowded here but back in Saudi Arabia it's so much cleaner and quieter.
Al-dunya dawsha wa zahma awi hina, innama 'andina fil Saudiya andaf wa ahda bi-ktir.
What is this "high-grade Johnny Talker Black Table" that you are giving me?
Eh Azayez Al Jony tokar illy inta/i 'amal/a bitsharrabi-ha-li/hu-li?
It's so impressive the amount of police stations you have for each street corner.
Ana munbahir/a bi kamiyat nu'at al-bulis illi 'anduku 'ala kull nasiya.
Is this the Kifaya Demo? Could you direct me to the foreigner's section please?
Heya Deh Muzaharet kifaya? Mumkin ti'ul/i-li fein al-qism al-agnabi min fadlak/ik?
Your minister of culture is such a good painter.
Wazir al-saqafa bita'ku fannan kwayis awi.
Where is John CIA's party in Garden City?
Fein haflat John CIA fi Garden Siti?
I am enjoying the Greek Club, but where are all the Greeks?
Ana bahibb al-nadi al-yunani, bas fein kull al-yunaniyin?
This is the boat on which Nan Goldin had sex with her cook. Hiya di al-'awwama illi fiha Nan Gulden wa al-tabbakh bita'ha 'amalu wahayid.
You have a great civilization.
'Hadaretkom hadara 'azima