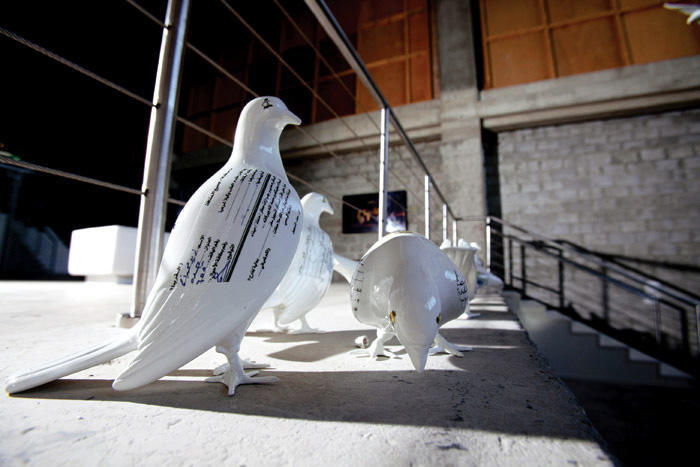 Dubai
Edge of Arabia: TERMINAL
Dubai International Financial Centre (DIFC)
March 14–April 15, 2011
In a fitting prelude to Osama Bin Laden's assassination by US Navy SEALs in the mountainside village of Abbottabad, Pakistan this past May — undoubtedly marking a milestone in OBL's post-9/11 legacy of inspiring heightened airport security — Dubai played host to Saudi artist collective Edge of Arabia with a show it simply titled Terminal. The second stop on Edge of Arabia's Gulf itinerary after Riyadh and its fourth exhibition worldwide, Terminal explored notions of travel, security, and the intensely bureaucratic airport procedure that has become standard for persons of even vaguely Islamic and/or Middle Eastern orientation.
Back in 2003, in Abha's Al Miftaha Arts Village in Saudi Arabia, artists Abdulnasser Gharem and Ahmad Matar joined forces with British artist Stephen Stapleton to launch an artist collective that would galvanize local artistic movements, as well as, ambitiously, demystify global misconceptions surrounding Saudi Arabian cultural life. With that, the Abha trio founded Edge of Arabia. Five years later, Edge of Arabia made its first official appearance with a show in London's Brunei Gallery, and from there it traveled to Berlin, Venice, Istanbul, and Riyadh. Dubai is its latest destination. Situated in an abandoned double-story warehouse space at the Dubai International Financial Center (DIFC), Terminal housed a diverse selection of works including installation, performance, photography, video, and sculpture. The participating artists, drawn from Riyadh, Jeddah, Dhahran, Khamis Mushait, and Rijal Alma, seemed a tribute to the country's tremendous geographic breadth. There was, too, a lone Palestinian — veritably a standard presence in any Arab society — who had lived long enough in Saudi to call it home. The show encompassed a variety of seasoned and nascent artists including Manal AlDowayan, Sami Al-Turki, Ayman Yossri, Abdulnasser Gharem, Ahmed Mater, Maha Malluh, and the show's only student artist, Hala Ali. 'Terminal' was curated by Bashar al Shroogi, a longtime Bahraini collector and avid patron of the arts, as well as the director of Cuadro Fine Art Gallery located a few blocks from EOA's Terminal — a curious nod to the legendary Bahrain-Saudi causeway.
The show itself was divided into nine sections designed to simulate a real airport, complete with smoking area, prayer room, and even a VIP lounge. The warehouse's raw, unfinished interior lent aesthetic consistency to the exhibition's transitional theme — though it may not have quite signaled "airport." Beginning at the entrance with the single most signature airport experience — the queue — visitors were required to check-in and were issued mock "passports," stamped once the destination was confirmed and streamed onto a digital info-board — a superfluous gesture that summoned up a Times Square billboard "moment of fame."
Visitors were then directed through a loose chronology of pseudo security, immigration, departure and boarding gates that were flanked with artworks thematically corresponding to these spatial sections. Ahmed Mater's Boundary, for example, consisted of an ornamented mihrab structure with an integrated infrared sensor counter that welcomed passersby as they made their way to the security check. Lit up as it was, Mater's sculpture evoked the religious orientation — pun notwithstanding — that so visibly dictates invasive security precautions. A similar orientation could be found in Maha Malluh's Screened series; photograms laden with highly referential objects, like keychains inscribed with Quranic verses or the Saudi flag icon — each no doubt an emblem of a sinister agenda.
Some of the most thoughtful moments in the show belonged to Manal AlDowayan's Suspended Together, an impressive flock of fiberglass pigeons suspended in midair. Laminated beneath each piece was the customary male guardian permit every Saudi woman requires in order to travel. A poetic piece illuminated by the light coming in from the clerestory windows, AlDowayan subtly elicited solidarity with the scores of Saudi women — scientists, professors, professionals — denied autonomy for a right as basic as movement (evermore striking now in light of news coming out at the time this was written, of Saudi citizen Manal al-Sharif's detainment for defying the driving ban imposed on women in the Kingdom).
Still, other works in Terminal seemed to be informed by more literal interpretations of the institution of travel. Abdulnasser Gharem, for instance, explored the bureaucratic implications of the rubber stamp and its mundanely routine association with authority through three works in the form of a desk, a wall installation, and a concrete barrier. Placed in the "Immigration" section of the show, the letter-inscribed tabletop referenced the infamous immigration desk and its overlong tales of rejection. The wall installation crafted with the same technique paid a visual tribute to the World Trade Center towers exploding in alphabet smithereens across the piece. The concrete block — an impressive vertical slab emblazoned with famous JFK quotes — stood in what constituted the Boarding Area, insolent and foreboding.
Inscribed on the Declaration Page on a Terminal passport is the promise of "a real-life airport experience, from check-in, through security, and on towards the departure gate, [in an] exhibition [that] will explore the experience of travel in an increasingly interdependent world." With such a predetermined pledge looming, one is occasionally led to wonder how the literal simulation of a physical airport environ allows for a robust engagement with the notion of obstructed movement or, simply, travel — itself a rich theme. Sometimes, one hoped — perhaps ironically — for a little more freedom in playing with the very compelling themes at hand.