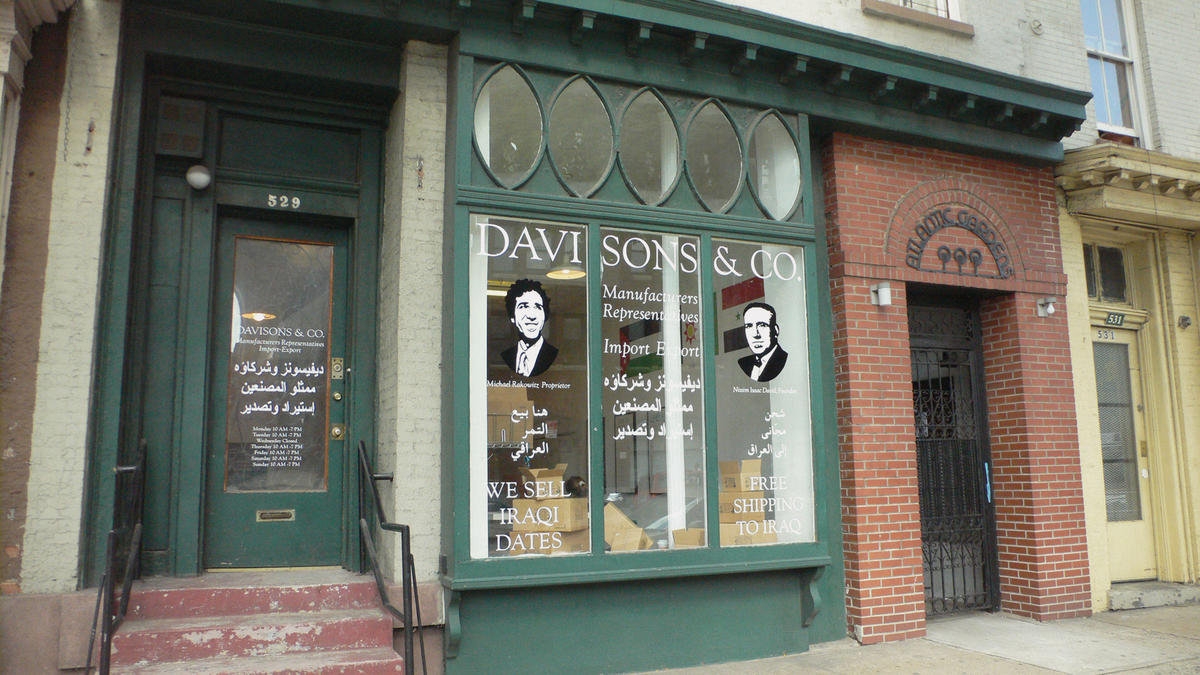 In 2006, the New York–based public arts collective Creative Time launched Who Cares, a series of discussions and projects taking on the state of social activism in the arts. 37 artists, curators and scholars came together to discuss the viability of counter-cultural practice within the visual arts today. In the end, the conversations born of Who Cares were recorded in a book by the same name, while four artists — Coco Fusco, Jens Haaning, Michael Rakowitz, and Mel Chin — produced works in relation to the issues discussed in the forum. 
Rakowitz, who is of Iraqi origin, re-opened Davisons & Co, based on the import-export business his family once operated in Baghdad. Located in a standard storefront on Brooklyn's sprawling Atlantic Avenue, the project provided free shipping for the Iraqi Diaspora community, as well as for families who may have military personnel stationed in Iraq.
Davisons & Co was originally opened in New York by Rakowitz's grandfather when the family was exiled from Iraq in 1946, leaving behind a legacy that spanned centuries. In this incarnation of the business, Rakowitz has attempted to import Iraqi dates and other products, despite prohibitive import charges and restrictions that remain years after the Gulf War embargo was lifted in 2003. Such restrictions have kept Iraqi products from legally entering the United States, with catastrophic repercussions for the once thriving date industry in Iraq.
Rakowitz's Sovereign Rumors series featured here was born of discussions with Bidoun staff in his Brooklyn store-front space. Here, Rakowitz engages in a mapping of the curious and often circuitous route that Iraqi dates may take in the packaging realm — wrapped, renamed, transformed and reborn en route to the markets of the west. By most accounts, the importation of an Iraqi product actually labeled as "Product of Iraq" has not occurred in the United States in over twenty-five years. The absence continues, for "Made in Iraq" exists as a cultural impossibility. 
An extension of his ruminations on cultural impossibility and, by extension, concretizing the invisible, Rakowitz has also initiated a project he calls Enemy Kitchen. Collaborating with his mother, Rakowitz compiles Baghdadi recipes and teaches them to various public audiences, including youth at the Hudson Guild Community Center in Chelsea, New York City. The project also plans to incorporate a series of lessons for chefs in New York City's public school cafeterias, so that they may serve Iraqi food as part of their everyday menus.   The recipes presented here represent three of the eight different dishes that Rakowitz and the teens at Hudson Guild prepared during May–July 2006. For further information as to Creative Times's Who Cares program, see www.creativetime.org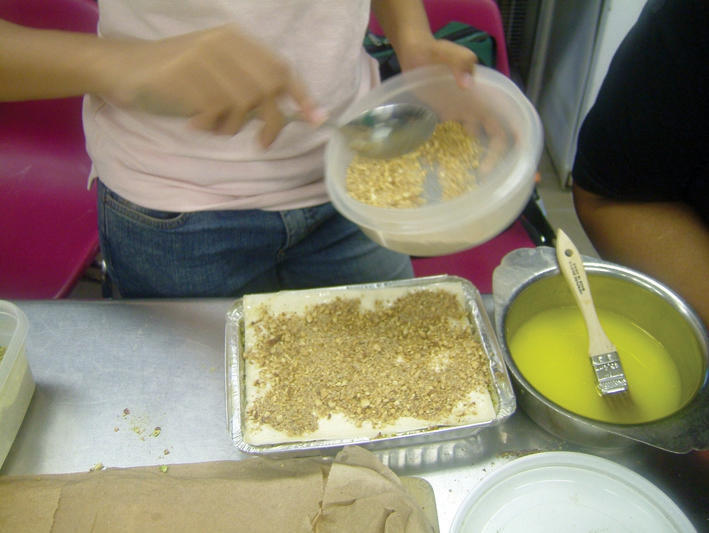 ---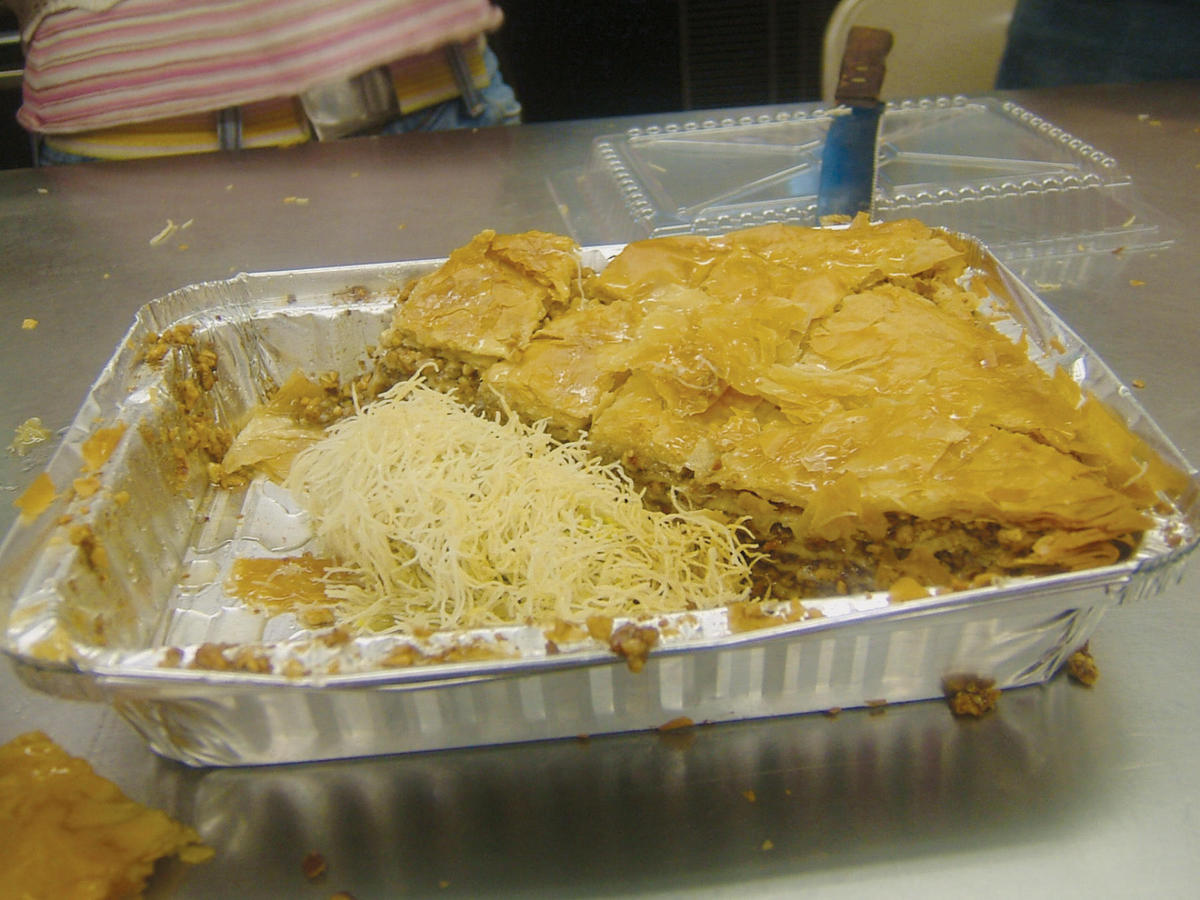 Iraqi Baklawa
2 pounds phyllo dough
1 pound butter
3 ½ cups sugar
6 cups almonds or pistachios (unsalted)
2 teaspoons ground cardamom
2 teaspoons lemon juice
1 pound butter, melted
1 cup honey
2 tablespoons rosewater
1. To make the syrup, in a medium-sized pot pour 3 cups of sugar, lemon juice, 2 ½ cups water, and honey. Bring to a boil and stir, making sure that all the sugar crystals have melted. Add the 2 tablespoons of rosewater and mix thoroughly. Refrigerate to cool.
2. Next, chop the pistachios and/or almonds in a food processor set to pulse. Transfer to a bowl and then complete the nut mixture by mixing in the three teaspoons of cardamom with the remaining half-cup of sugar.
3. Melt the 2 pounds of butter and apply with a brush to the bottom and sides of a pan measuring at least 2 inches deep and approximately 14–16 inches long. Open the box of phyllo dough and carefully lay out on a cutting board and keep covered with a moist towel. Lay 7 sheets of phyllo in the pan, and alternate so that the excess hangs evenly over both of the pan's two narrow edges. Brush the phyllo with butter and sprinkle about ¼ cup of the nut mixture. Fold over the excess dough at the edges so that the ends will meet or overlap and cover the filling. Brush the top with butter and sprinkle with nut mixture, and repeat the same process with 7 more sheets. Continue until 7 sheets remain, and butter each of these sheets as you lay them on top (this will give you a crisp and golden top to the pastry.)
4. Preheat the oven to 300°F. Score the top of the sheets in order to divide the baklawa in the shape of your preference (squares, triangles, etc). Bake for 1 hour or until top is golden brown.
5. Let sit for 10 minutes, then cut through the pastry using your score marks as a guide. Pour the refrigerated syrup over the entirety and tilt the pan so it distributes evenly. This should yield between 40 and 50 servings. Can be served warm or cold and can be stored at room temperature.
Iraqi Kataifi (another variety of pastry)
1 pound kataifi dough (shredded phyllo dough)
½ cup sugar
1 pound chopped pistachios or almonds
2 teaspoons cardamom
1 pound butter
Syrup:
2 ½ cups sugar
½ cup honey
1 ½ cups water
2 tablespoons rosewater
For the syrup and the nut mixture, follow the same steps as with the baklawa recipe.
Brush the bottom of a lasagna pan with the melted butter. Open the kataifi dough, and divide into 5 parts, approximately 6 inches long each. Take one part, loosen the dough and fluff. Spread on the bottom of the pan. Sprinkle the nut mixture on top of the kataifi dough. Then, carefully roll the dough so that the kataifi represents a "log" with the nuts inside. Repeat this step for the other five sections. Pour butter with a spoon evenly over the pastries. Cut into pieces (like maki) if desired. Preheat oven at 375˚F and bake for 35 minutes until the dough is golden brown. Let the pastry cool for 10 minutes. Slowly pour syrup over the kataifi, letting it soak in before pouring more.
---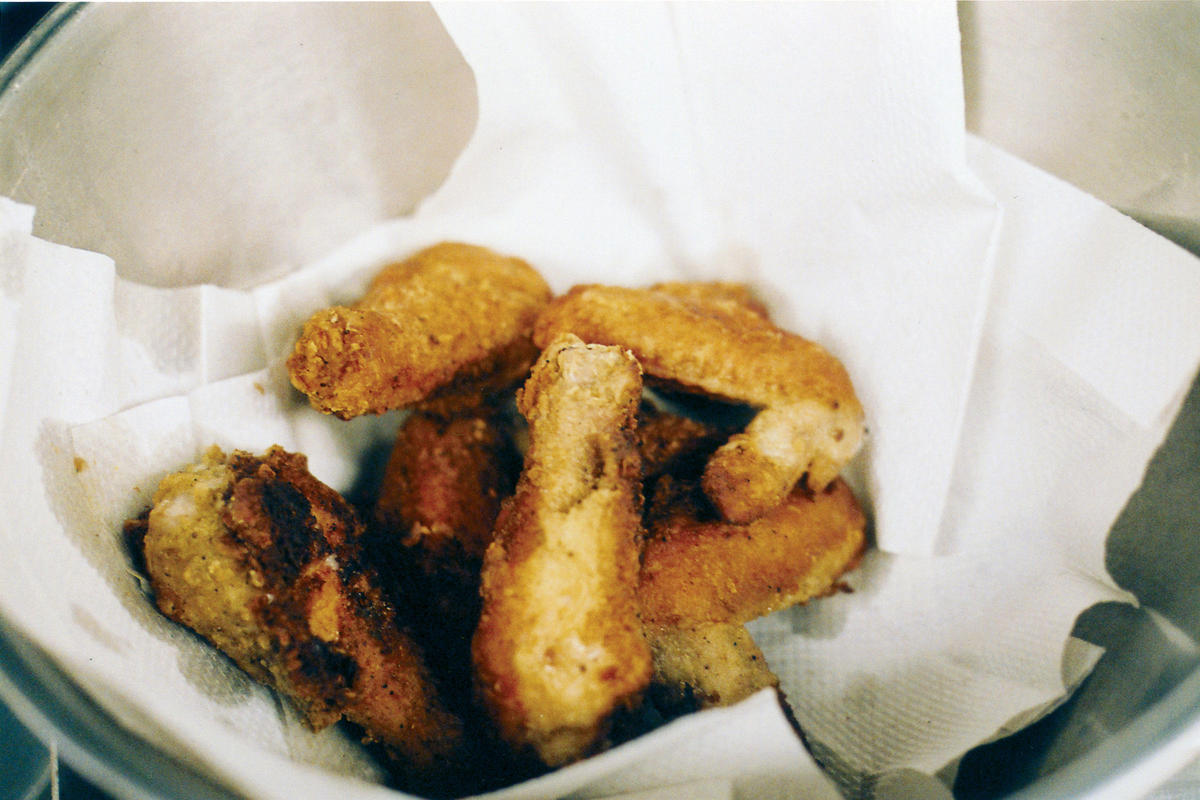 Iraqi Fried Chicken
After eight weekly sessions learning how to cook Iraqi food, the students at the Hudson Guild Community Center proposed they teach me something about their families' recipes since they now knew so much about mine. One of the students, Hyasheem, asked, "Do Iraqis make Southern fried chicken?" I answered that no, to my knowledge there was nothing like it in Iraqi cuisine. So why not, we wondered, invent it?
2 pounds chicken wings (or parts of your choice)
2 pounds chicken legs (or parts of your choice)
3 cups flour
6 eggs
1 tablespoon salt
½ breadcrumbs
2 tablespoons cumin
2 tablespoons sumac
1 tablespoon allspice
1 tablespoon Syrian zaatar
1 bottle olive oil
Break eggs into a bowl and beat the eggs to even consistency. In a plastic bag, mix the flour, salt, spices and breadcrumbs. Dip a piece of chicken in the egg batter and place in the plastic bag. Repeat until about six pieces of chicken are in the bag. Close bag tightly and shake vigorously, so that the mixture of flour and spices covers each piece.
In a deep pan, pour enough olive oil so that it is about ¼" deep. Place on oven burner and let heat for 2 minutes. Place the six pieces of chicken in the pan and fry, turning often, until each side is medium-brown.
Repeat these steps until all the chicken is cooked.
Serve with a side of yellow rice and Amba (pickled, curried mango.)
---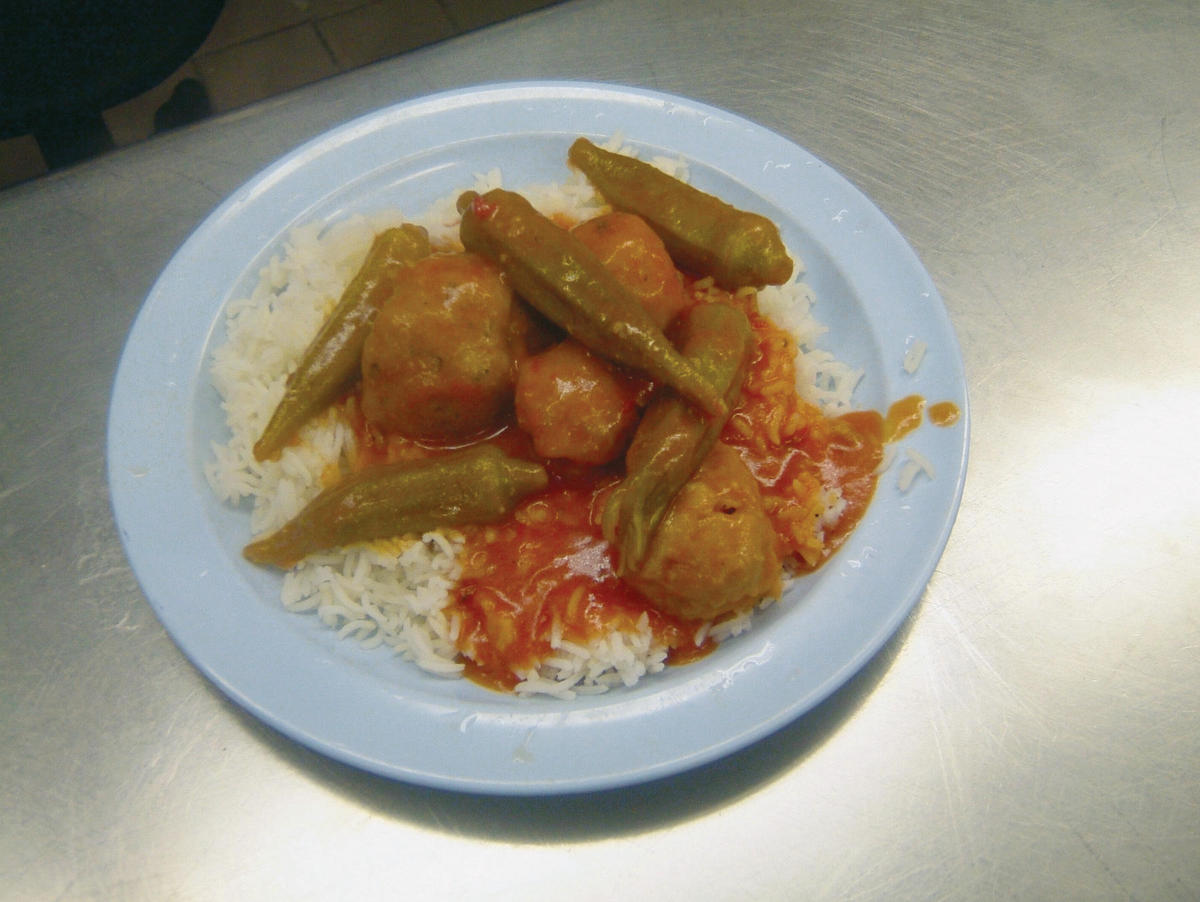 Kubba Bamia
Kubba or kibbeh is a dish found throughout the Middle East and North Africa, most commonly cooked as spiced meat mixed with pine nuts and onions stuffed inside a bulghur wheat shell. It is usually fried and served with sesame paste.
Kubba Bamia is a traditional Iraqi dish in which the kubba is also made of spiced meat, but stuffed inside a rice flour-based dough, giving it a soft, chewy texture like a dumpling. It is cooked in a stew of tomato stock with plenty of fresh okra, called bamia in Arabic.
1 ½ pound lean lamb or beef, ground
2 cups natural rice flour
1 box (10 ounces) frozen whole baby okra, or 1 pound fresh okra
two 8 ounce cans crushed tomatoes
1 small onion, chopped fine
salt
1 tablespoon oil
¾ cup lemon juice
½ teaspoon ground turmeric
½ cup minced parsley leaves
1/8 teaspoon pepper
4 tablespoons sugar
3 ½ cups hot water
First, prepare the meat mixture, the filling inside the shell. Mix 1 pound of the meat with ground parsley, a teaspoon of pepper and ¼ teaspoon of turmeric (go easy on the tumeric as it can leave the meat tasting too bitter). Add 1 ½ tablespoons lemon juice and some salt. Mix all ingredients together.
Next, mix 2 cups of natural rice flour with ½ pound of the meat to create the dough that forms the outer shell of the dumpling. Water should be added gradually to keep the dough smooth. Keep a saucer of water nearby to keep your palms wet. Break off small pieces of the dough and roll them into spheres smaller than a golf ball.
To make the dumplings, pinch each piece of dough with your fingers (remember to keep them wet), to make a hollow. Fill the resulting "crater" with ½ teaspoon of the meat filling. Then close the ends together, pinching firmly to ensure a good seal. With your wet palms roll the kubba and shape into a round ball. Place in refrigerator when done.
In a large, deep pot, sauté the onion in the olive oil, adding ½ teaspoon of pepper and ¼ teaspoon of tumeric. Next, add the crushed tomatoes. Fill the two empty cans of crushed tomato with water and add (this gets all of the remaining tomato out of the can in the process). Bring to a boil and let cook for 15 minutes. Reduce heat, simmer for about 7 minutes, and then add the okra (fresh or frozen) along with a teaspoon of salt and the remaining lemon juice. Introduce the kubba into the simmering mixture by dropping them in carefully, two at a time. Distribute evenly around the pot. Allow it to cook for 15 minutes, then add the sugar and let simmer for 10 more minutes. Serve with plain rice.
Makes 3 servings.
Based on my mother and grandmother's Kubba Bamia recipe, with additional information from The Best of Baghdad Cooking by Daisy Iny.