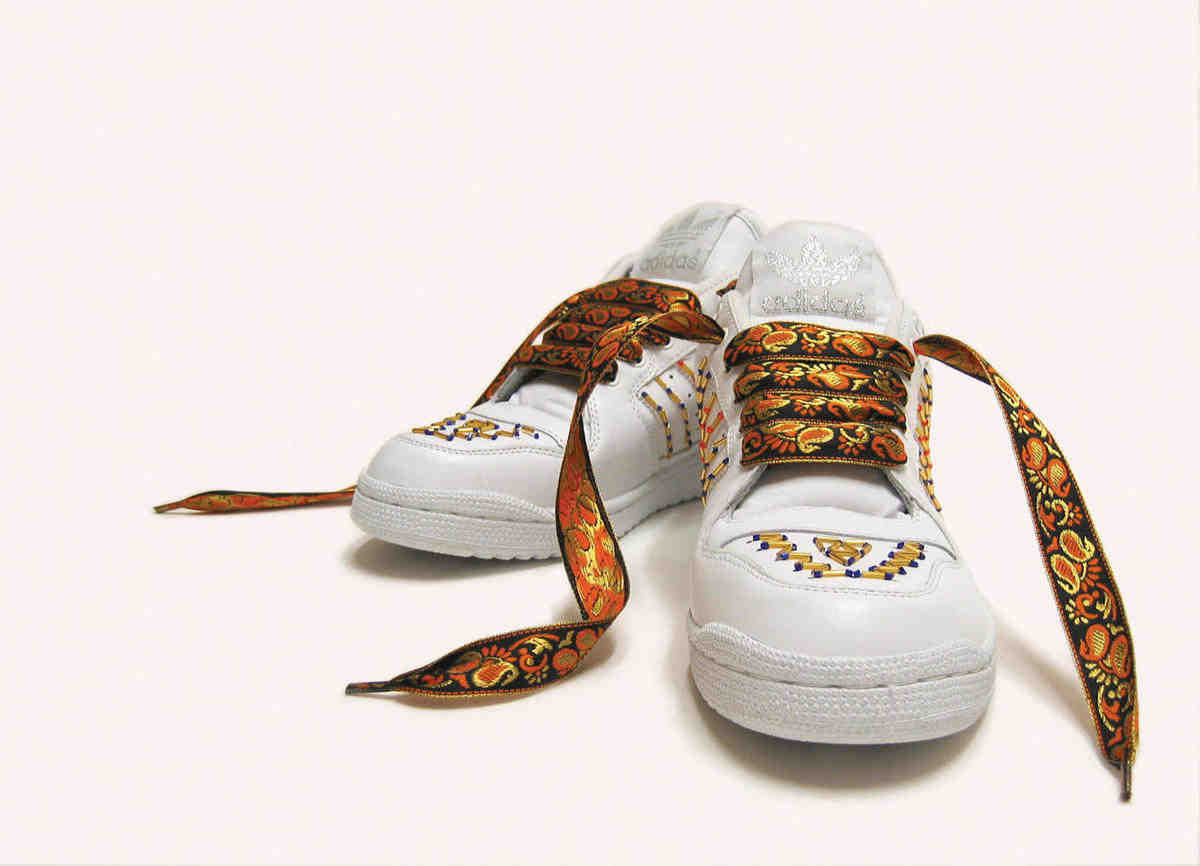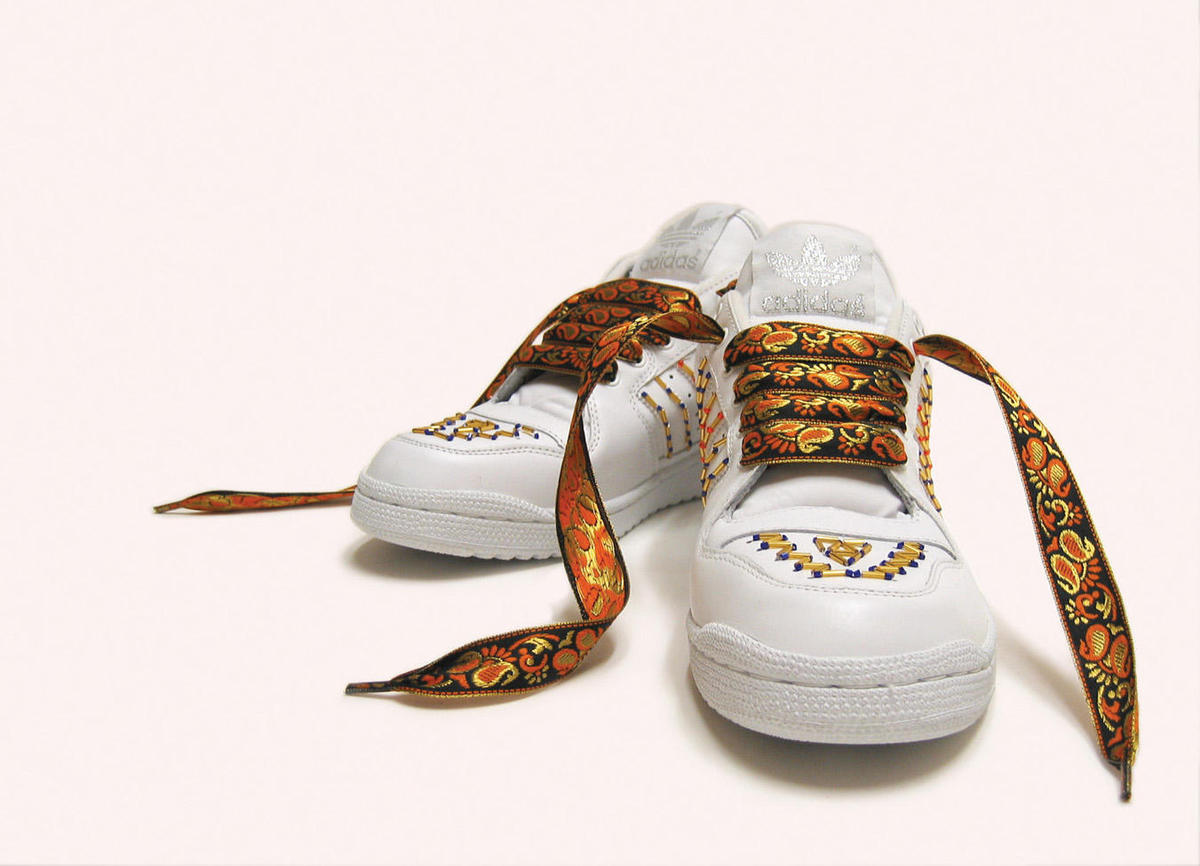 San Francisco
Ala Ebtekar
The Gallery at the Intersection for the Arts
June 16–July 31, 2004
Ala Ebtekar's artwork is illuminating in more ways than one. Take for starters A Breath of Air, an antique Persian prayer manuscript Ebtekar elegantly illuminated with heavenly stylized clouds and hellish cartoon bombs. Ebtekar captures the instant before the missiles hit, giving us pause to consider where we place our faith: Is it true that in God we trust, or has our faith been led astray, like so many supposedly smart bombs? This delicate image raises a delicate question that reverberates with the force of a booming megabass throughout the gallery, into the streets, and across the longitudes and latitudes that link East and West. This is Ala Ebtekar's particular talent: No matter where you stand as you look at his work, you'll get the picture, and feel it too.
Sampling
Ebtekar's imagery is tantalizingly tough to place, because it belongs everywhere. Ebtekar was already a precocious graffiti artist of growing renown in Berkeley, California, where he was born and raised, when a trip to Tehran to visit his parents' relatives broadened his artistic horizons. "I was studying under a miniature painter in Iran when I saw a coffee-house painting and said, 'I want to try that style, with mustaches askew,'" he recalls. "The miniature painter said, 'Nah, that's coffeehouse painting.' It's not considered particularly refined. Coffeehouse painting was a reaction to miniature painting, much like hiphop was a reaction to disco: it's the common culture's comeback to a highbrow art form. The attitude of coffeehouse painting spoke to me it was more loose, expressive, and dynamic."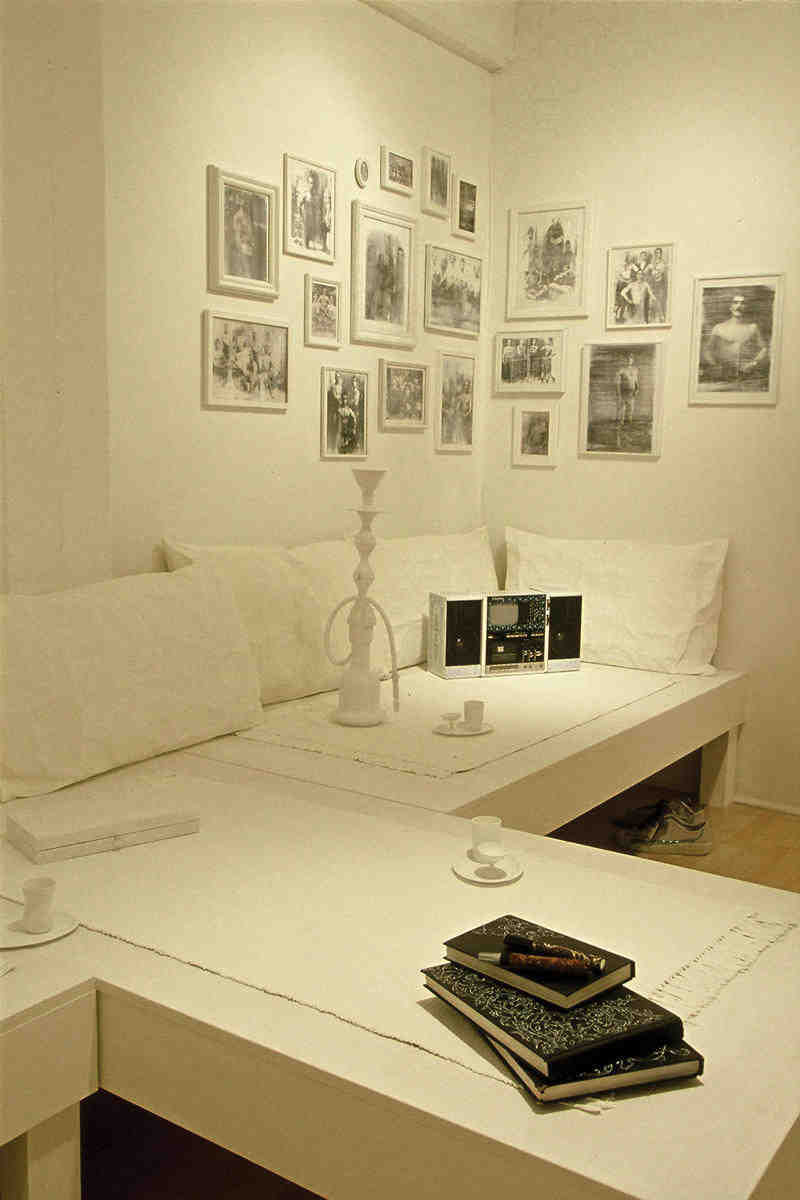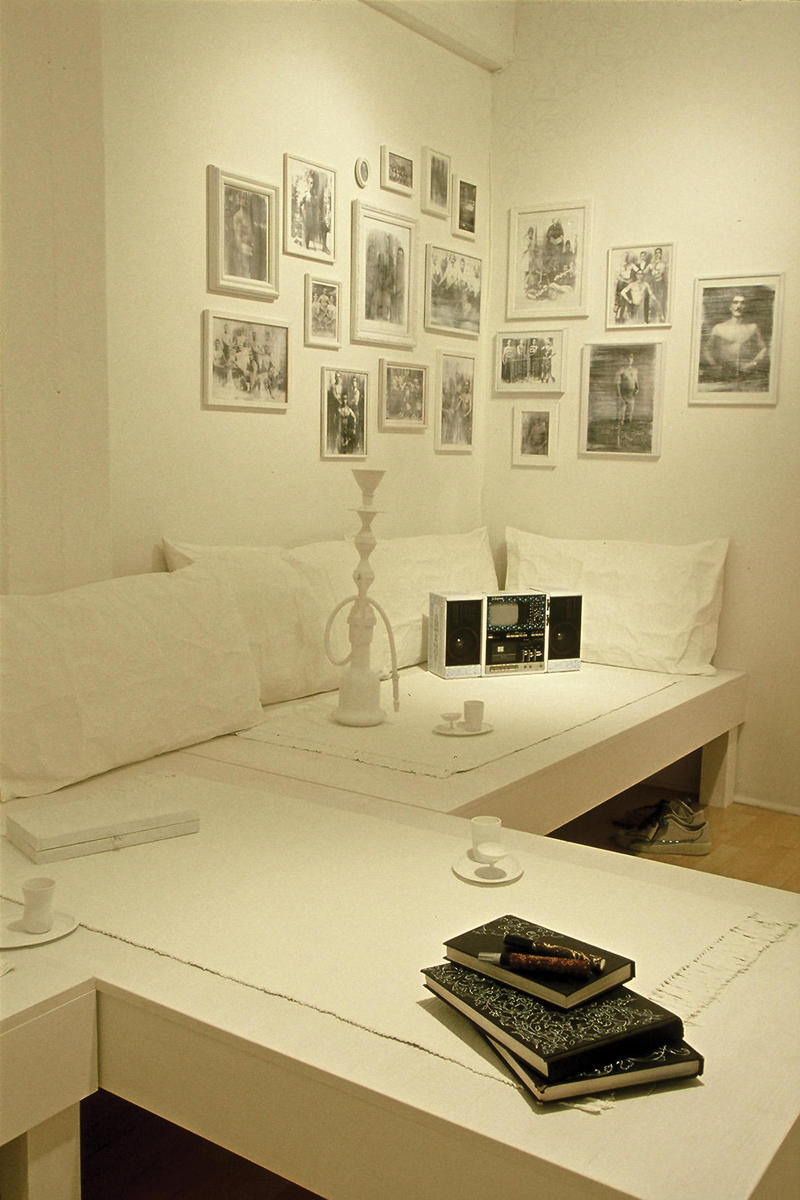 Freestyling
The more time Ebtekar spent in Tehran coffeehouses admiring paintings, the more connections he recognized between Iranian coffeehouse culture and the four elements of hiphop: graffiti, DJing, MCing, and breakdancing. To Ebtekar, coffeehouse paintings sampled and retold legends as fluently as any DJ, using fluid lines that reminded him of graffiti. But he noticed other parallels between the two popular traditions, too: Breakdancers admired for their physical agility are a fixture on the hiphop scene, much as respected strongmen from the adjacent zurkhaneh, or gymnasiums, once were in coffeehouses across Tehran. After workouts, these local heroes would stop by for coffee, conversation, and poetry. "Traditionally coffeehouses featured a naghali, who recites poetry describing the stories in the paintings," Ebtekar explains. "Naghali are almost like MCs in how they set the scene and act out characters."
But while he is inspired by the Tehran coffeehouse scene, Ebtekar is troubled that much of its colorful vitality seems to be draining away. "There's only one place you can hear naghali in Tehran, at Azari coffeehouse," he says. "It's also one of the only coffeehouses that still has photos of strongmen on the walls." So when he was offered a solo show at San Francisco's Intersection for the Arts, Ebtekar knew just what he wanted to do with the platform he'd been given: To turn the gallery space into a traditional coffeehouse interior that doubles as a hiphop hangout, where East could meet West and the next generation could pay respects to generations past. The result was Elemental, a coffeehouse interior with its traditional furnishings eerily whitewashed. But while the sardam platform seating, hookahs, and mythological paintings seem to be fading before our very eyes, a tenacious Persian floral motif appears to be taking root on turntables, across a linoleum breakdancing floor, and onto track suits and Adidas sneakers. Here Ebtekar seems to be throwing down a challenge to his audience to make traditional culture their own, and wear it with pride.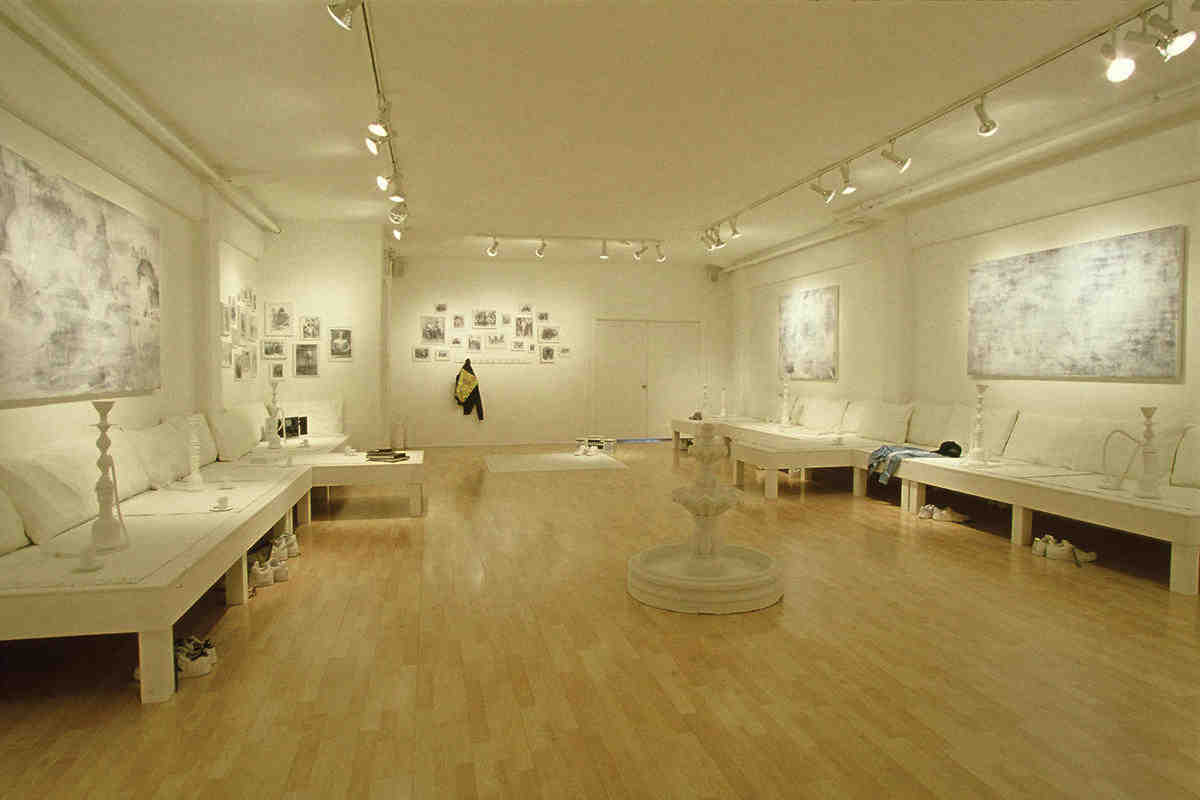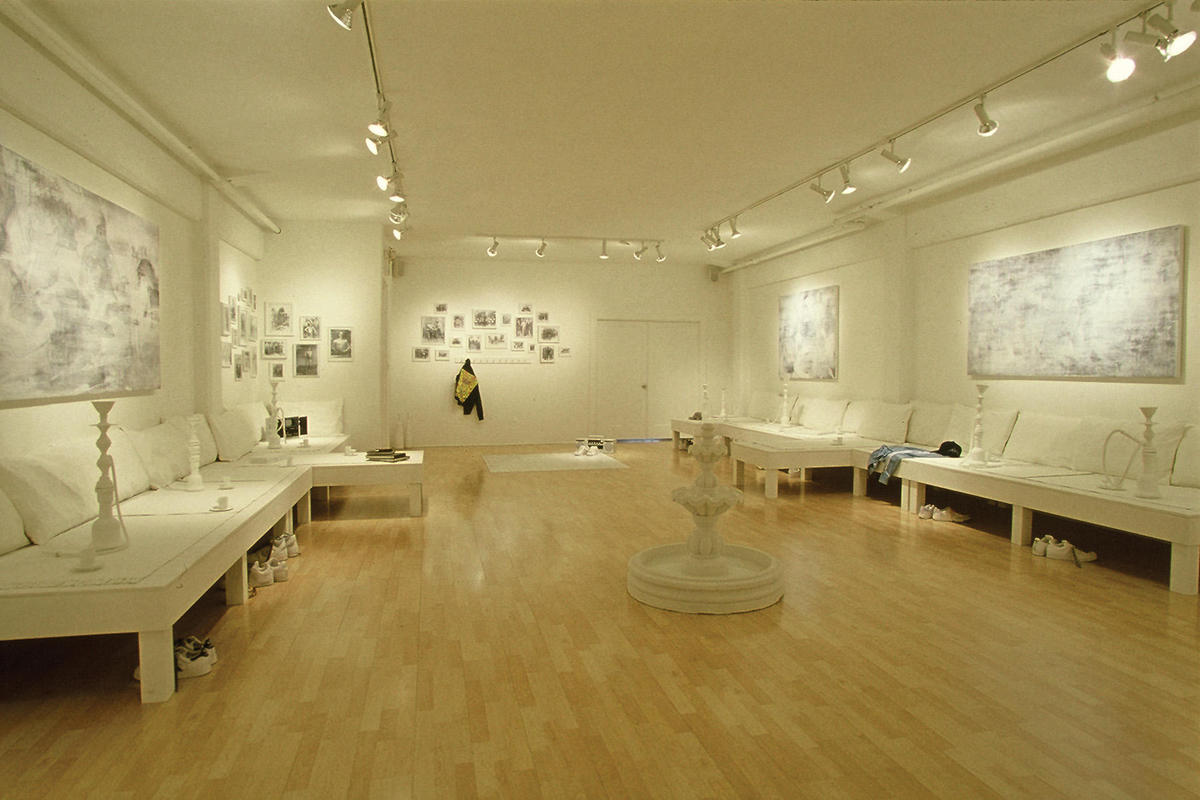 Pass the mic
Rather than staying within the lines of class and culture, Ebtekar creates provocative artwork with the graphic impact of graffiti, the delicacy of Persian miniatures, the storytelling of Iranian coffeehouse painting, and the social commentary of such painter-provocateur mentors as famed Mexican-American artist Enrique Chagoya. In works on paper and in Elemental, Ebtekar invites us in with his evocative imagery – and then gives us the floor to respond to the pressing questions it raises. "What I wanted to find out with Elemental is: Who's going to fill those shoes with the fat paisley laces? What kind of music is going to come out of that Persian ornamented boombox?" he asks.
If this sounds like a dare from an MC to the next in line, maybe that's because it is. At 26, Ebtekar is acutely aware that he lives in an American society swayed by its youth culture, and that Iran's future will also be determined by the bulk of its population under 25. "It was wonderful to see older Iranians at the opening of Elemental, since many of them have nostalgia for coffeehouses and could explain them to their kids," he says. "But those kids knew all about the wide-tipped markers and the linoleum dance floor, so they have an understanding to offer too." With every connection Ebtekar draws across cultures and generations, he is widening the circle of cultural conversation. So look closely, and look sharp: Ala Ebtekar is keeping the mic warm for you.
www.theintersection.org