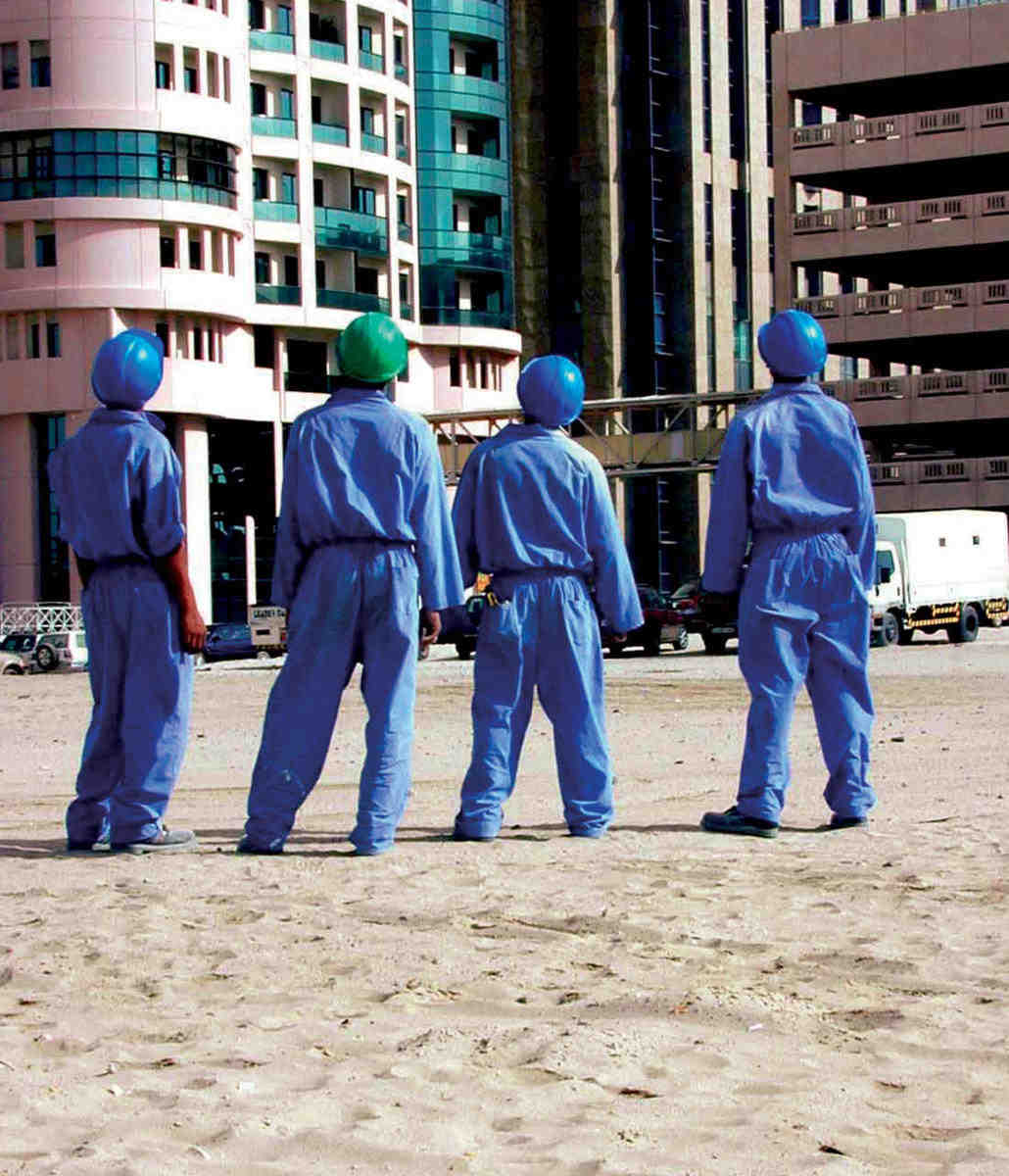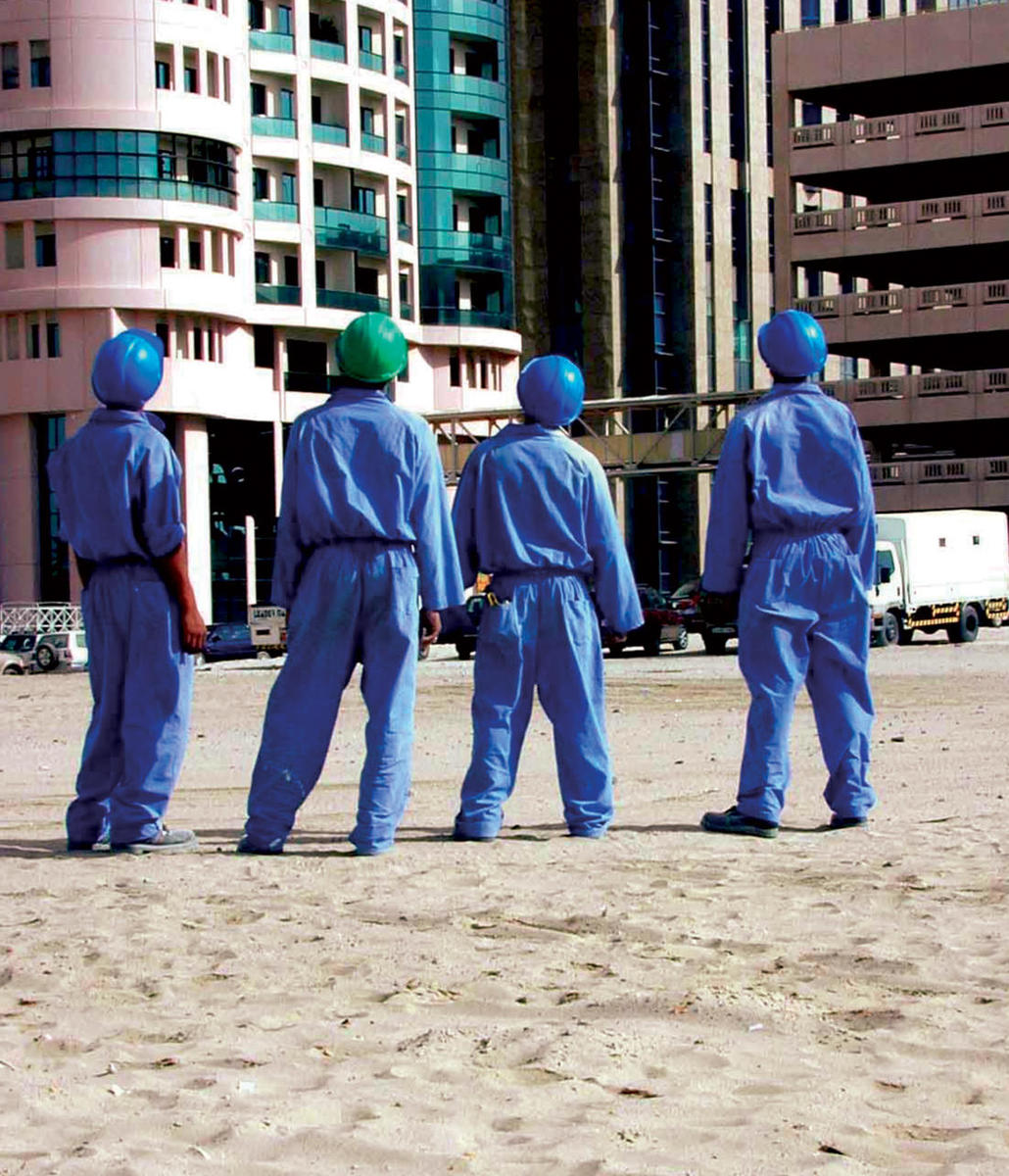 Dubai
7UAE Contemporary Art
Dubai Community Theatre and Arts Centre
July 25–September 2, 2007
Dubai's art scene has grown at such a pace that it's easy to be dazzled by its ambition. This summer's show at the Dubai Community Theatre and Arts Center served as a reminder of the city's curatorial vacuum; it also, however, exposed the long-term efforts of a group of Emirati artists who — and this is unusual in the Gulf — attempt to analyze their changing social and physical environment. Rejecting the gloss of the commercial gallery and auction scene, their work remains resolutely in-progress.
Hassan Sharif, a father-figure for UAE-based conceptual and installation artists, showed a mixed bag of work — images documenting actions and performances from the 1980s and examples of the installations of squashed, bundled, and tied cardboard and other found materials that have comprised his oeuvre since the 90s. Sharif is overdue a full-scale retrospective that properly analyzes his individual, experimental practice. His work, which he describes as "redundant repetition…a direct reaction to the increased omnipresence of consumerism," has not been lauded by the state-run museums, nor does it fit with Dubai's commercial gallery scene.
But Sharif has exerted considerable influence over artists' groups in Dubai and Sharjah for a decade or more, and his 1970s-influenced legacy was evident in the installation by his brother Hussain Sharif and the land art-inspired desert interventions of Mohammed Ahmad Ibrahim and Abdullah Al Saadi.
Ibrahim's Proposed Hole in the Mountain Project (1993) — a photo of a rocky landscape in Khorfakkan, complete with a spyhole blown out of the mountain–quietly mocked Dubai's more outrageous developments, before they were twinkles in a property magnate's eyes. Saadi, refreshingly, included documentation of a new work, The Ways (2007), delicate line drawings made in rock and sand on one of the artist's many journeys around the UAE.
Mohammed Kazem was represented by his best-known work, The Windows, previously shown at the Sharjah Biennial in 2005. This study of the development of the Shangri-La Hotel, at first documented in stills from Kazem's apartment window and later explored in photos of laborers on the site and in video of the interior, was an important, if underdeveloped, examination of a high-rise development and its impact on its surroundings and on the artist himself.
But the gathering of old favorites and new pieces — including banal doodles from the otherwise promising young artist Nuha Assad — appeared to lack a thematic approach. From its oddly worded title ('7UAE Contemporary Art') to the work on display, the exhibition exposed a dire need for curatorial expertise in Dubai — although this is more indicative of the dearth of educational and professional opportunities and critical appraisal (given the cheerleading nature of the local press) than of the failings of venues themselves. Artists, and their families and friends, have played a fundamental role in the UAE in bringing exploratory, noncommercial work to the fore, but the maturing art scene would now benefit from critical, independently crafted presentations.
DUCTAC (a horrible acronym) includes one of the very few public, community-focused exhibition spaces in the UAE. Situated in the behemothic Mall of the Emirates, it retains a cheesy mall aesthetic but its simple, minimal galleries and program of classes and events have potential.
And one artist did appear to rise above it all. Ebtisam Abdul Aziz has inherited Hassan Sharif's bold stance. She shares his performative bent and critical outlook but extends her approach through a more contemporary aesthetic and a rigorous background in science and math. '7UAE' included Autobiography 2003-2006, dozens of documentary stills and a video of a performance in which Abdul Aziz, dressed in a black catsuit covered in numbers and dates, wandered around a shopping mall, sat awkwardly in the shade with uniformed laborers, and eventually, like street detritus, was bagged up and dragged away. She made of her body a coded, autobiographical billboard and her wanderings a plea for individual visibility amid the UAE's overwhelming aspirational rhetoric.
Within the next few years, Dubai is due to become home to several museums. Despite their inevitable role in furthering the city's PRdriven image, here's hoping they might also celebrate work that explores and critiques the Dubai Dream.
www.ductac.org