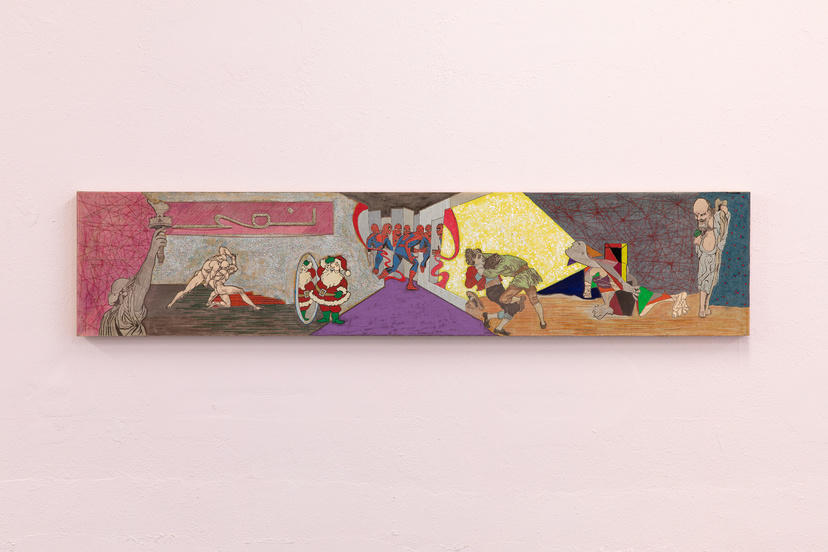 A prodigious visual artist, writer, and curator, Nicolas Moufarrege made wry, sophisticated, and exuberant work over a ten-year career that spanned Beirut, Paris, and New York. His practice rethought the Western art canon and Levantine weaving traditions through irreverent engagements with painting and sewing, graffiti and collage, Pop, and the esoteric. Having launched himself in Beirut in the 1970s, Moufarrege left shortly after the calamitous beginnings of the long civil wars and moved to Paris, where he started producing large, tapestry-adjacent works. He arrived in New York's East Village in 1981, just as an art scene was coming together amid a handful of crumbling tenements. In that city, he curated unusual, much-talked-about exhibitions, penned high-stakes essays and manifestos, and showed his own unclassifiable artworks. New York is also where he died of AIDS-related complications at the age of 37.
Moufarrege's sui generis, shape-shifting work remains largely absent from the annals of art history — missing in Lebanon, as well, despite all the illustrious efforts of the last 15 years to make sense of art from the broader Arabic-speaking region. But it is missing, too, from most retrospective looks at American painting in the 1980s or The Pictures Generation. As for the East Village scene which he was so intimately tied to, he has tended to appear as a footnote, a curiosity with a foreign-sounding name.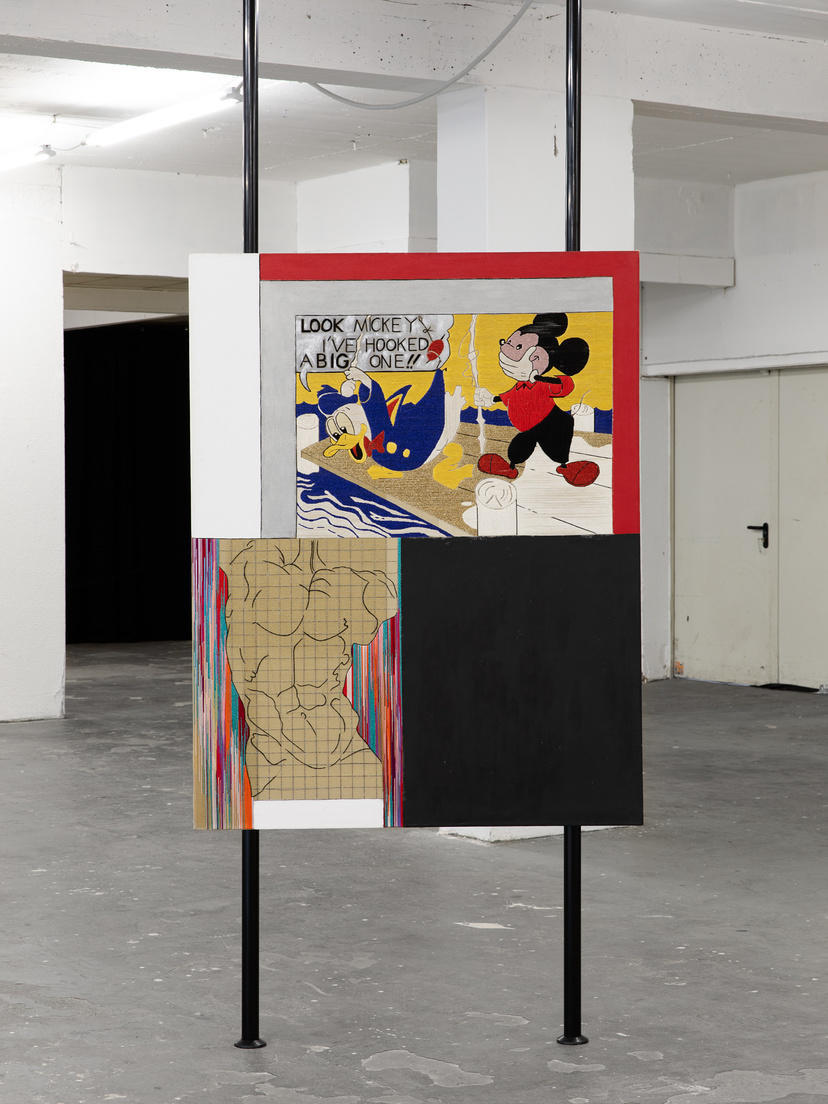 The concise selection of works — tapestries, embroidered paintings, and drawings — as well as archival documents and ephemera exhibited as part of Nicolas Moufarrege: Mutant International exposed a rich trajectory of artmaking informed by diasporic yearning and queer jouissance, and shaped through a delirious hodgepodge of references spanning Islamic calligraphy, superhero comics, cultures of advertising, and gay erotica.
Nicolas Moufarrege: Mutant International was on view at CCA Berlin from February 9 to March 25, 2023 and curated by Negar Azimi and Edwin Nasr.
The exhibition and accompanying symposium was made possible through the generous support of Mohammed Fakhro, Raghida Ghandour, Ranya Husami Ghandour, Maria Sukkar, Tony Tamer, and Sultan Al Qassemi.
Special thanks to Nabil and Hanan Moufarrege, as well as Dean Daderko.