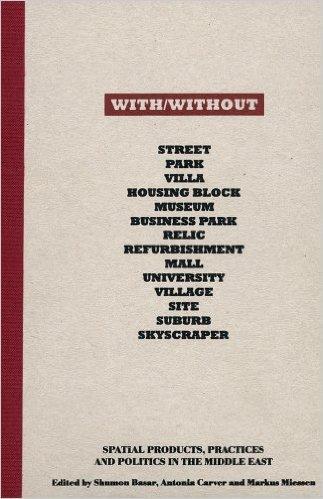 As Dubai builds unprecedented monuments to the new newness, other parts of the region grapple with physical and symbolic histories. Reinvention and revolution encounter relics of old newnesses. Meanwhile, micro-mutations in Middle Eastern politics and economics have become "local" news in media markets around the globe.
With/Without casts a critical eye across these broader swathes of the contemporary Middle East, insisting on an approach that goes beyond — or before — the media-driven calls to be for or against. Featuring an archival design, this hardback book is essential reading for anyone interested in the politics, society, design, and architecture of Middle Eastern cities.
Each of the anthology's fourteen chapters considers an architectural or institutional type (the museum, the villa, the street, the skyscraper) and illustrates it with essays, interviews, and documentary photographs.
Subjects range from the redevelopment of Martyr's Square in Beirut; gated communities in Istanbul; Dubai's mall culture; bridge building in Mecca; and the creation of a new Iraqi flag in the post-Saddam era. The underlying question in all of these inquiries is: how do spaces and territories form fundamental ideas about individuals, communities, and worlds?
Co-published by Bidoun and Moutamarat, With/Without was edited by London-based architects/critics Shumon Basar and Markus Miessen, with Bidoun editor Antonia Carver. The anthology was designed by Jana Alerting of the award-winning Dubai agency 9714.
Featuring: Mauricio Guillen, Yto Barrada & Simona Schneider, Brian Ackley, Issandr El Amrani, Pelin Tan, Richard Allenby-Pratt & Celia Peterson, Kevin Mitchell, Hugh Macleod, Deena Chalabi, Dr. Saad Bashir Eskander, Rem Koolhaas, Kai Friese, Ursula Lindsey, Senan Abdelqader, Clare Davies, Stephan Trüby, Markus Miessen, Shumon Basar, Erandi de Silva, Antonia Carver, L.E.FT, Nader Vossoughian, Keller Easterling, Lara Almarcegui, Philipp Misselwitz, Susanne Schuricht, Armin Linke, George Katodrytis, Fawwaz Traboulsi.