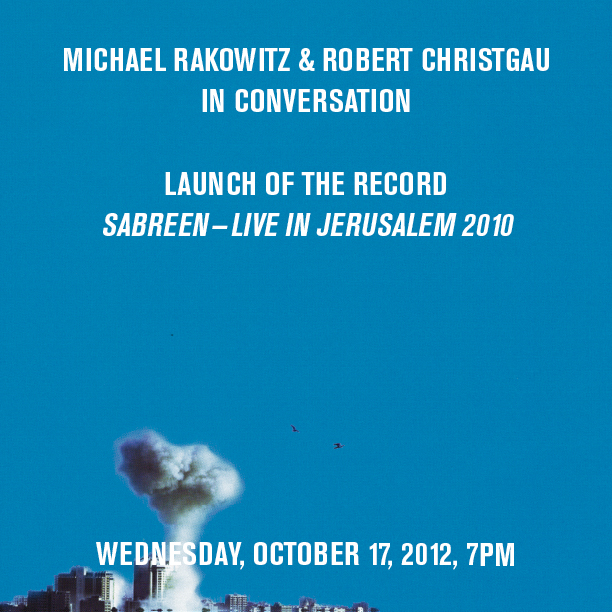 Michael Rakowitz and Robert Christgau in conversation
+ Launch of the record Sabreen — Live in Jerusalem 2010
Wednesday, October 17, 2012, 7pm
Lombard Freid Gallery
518 West 19th Street
New York, NY 10011
Lombard Freid Gallery is pleased to present an evening with artist Michael Rakowitz and legendary rock critic Robert Christgau, discussing the breakup of The Beatles as history and as metaphor, inspired by Rakowitz's "The Breakup"—a set of works that includes radio broadcasts, film, a live concert in Jerusalem, memorabilia, and a deluxe limited edition LP produced in conjunction with Bidoun Projects.
The evening will be hosted by Sukhdev Sandhu, director of the Colloquium for Unpopular Culture at New York University and author of the lead essay in the liner notes for Live In Jerusalem 2010, which will be on sale at the event and from Bidoun.
Michael Rakowitz's "The Breakup" was originally commissioned for The Jerusalem Show IV by Al Ma'mal Foundation for Contemporary Art, Jerusalem.
The 45min video of The Breakup will screen at 6pm.
Longtime Village Voice writer-editor Robert Christgau has covered popular music for many publications, including Esquire, Newsday, Creem, Playboy, Rolling Stone, and Blender. His " Rock & Roll &" column appears monthly in the Barnes and Noble Review and his " Expert Witness" blog twice weekly at msn.com. Michael Rakowitz is an artist based in Chicago and New York City. His work has appeared in venues worldwide including P.S. 1, the Museum of Modern Art, MassMOCA, Tate Modern, the 10th Istanbul Biennial, Sharjah Biennial 8, Asian Art Biennial, and, most recently, dOCUMENTA (13) . His work is in many private and public collections including MoMA, UNESCO in Paris, and the Smart Museum of Art at the University of Chicago.