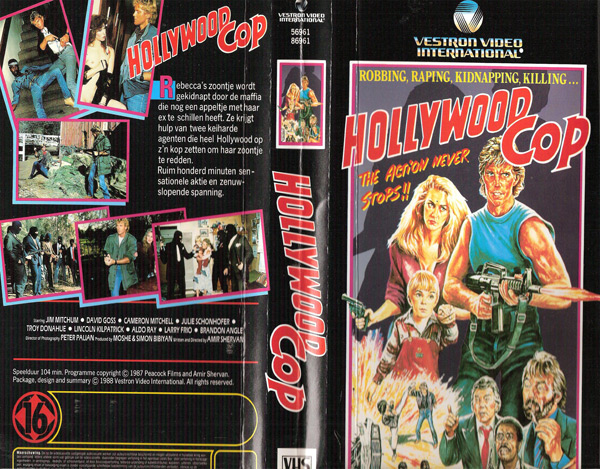 Friday Late: Record, Reframe, Resist
Friday November 30, 2012 from 6:30 – 10pm
Victoria and Albert Museum
Cromwell Road, London SW7 2RL
This Friday evening at the V&A in London, as part of its ongoing investigation of lost and/or neglected cultural artifacts, Bidoun will be presenting a selection of trailers from the little known genre of Iranian-American "B Movies." Produced mainly in Los Angeles in the years after the revolution, these resolutely un-canonical (and often un-watchable) low budget films feature mainly American casts with a few Iranian actors. They are the direct descendents of filmfarsi, the vernacular B Movie genre that dominated popular Iranian cinema before 1979, and which employed many of the same directors. Of course, with their new locale, language, and themes, much was lost in translation. These films — unlike their Iranian predecessors — have very limited potential for popular appeal.
And yet some of these films were exported to the Third World; others have become cult hits among pulp connoisseurs. Seen together, they shape a bizarre picture of what these diasporic directors once imagined the formula for a successful Hollywood action film to be — including confusing representations of self (ambiguous Middle Eastern villains, terrorists, and belly dancers in varying states of veiling) and hilariously outmoded and offensive representations of others (Arabs, Japanese, African Americans, women).

Watch trailer on youtube
Cat in the Cage
Tony Zarindast
1978

Directed by Tony (Mohammad) Zarindast, this film stars the undisputed leading man of Iranian film, Behrouz Vossoughi, in his first non-Iranian production. Vossoughi, whose accent must have been too thick for American audiences, is the only actor in the film to have his voice dubbed. The film co-stars Playboy cover girl Sybil Danning (August 1983) and Samson the Cat.

Watch trailer on youtube
Treasure of the Lost Desert
Tony Zarindast
1984

Another Zarindast film, this time starring himself as "Eagle," a freedom fighter from an ahistorical Dubai who must defeat a heroic US Army Green Beret, "Claude Servan," in order to reach the hidden desert booty he intends to barter for weapons…

Watch trailer on youtube
Hollywood Cop
Amir Shervan
1987

The first American production from the legendary trash director Amir Shervan, Hollywood Cop was followed by Samurai Cop, Killing American Style, Gypsy, and Young Rebels. Peter (Petros) Palian, who produced Bidoun favorite An Esfehani in New York (1972), acted as Director of Photography on all of Shervan's American films, as well as John S. Rad's Dangerous Men.

Watch trailer on youtube
Terror in Beverly Hills
John Myhers
1989

Produced by Moshe Bibiyan and written by his brother Simon, Terror in Beverly Hills also stars Behrouz Vossoughi, this time as a Palestinian terrorist who kidnaps the US President's daughter. The opening sequence was shot on location in Jerusalem and Persianesque pseudo-Arabic sparkles throughout.

Watch trailer on youtube

Watch trailer on youtube
The Nuclear Baby and 1999
Jalal Fatemi
1990



From the B Movie avant-garde comes Jalal Fatemi's The Nuclear Baby, a surreal video feature about a pregnant woman navigating a post-nuclear war nation called "Caspiana" while being hunted by a dream terrorist. Although Iran is never named, the village doctor has all the familiar physical trappings of a filmfarsi jaheli character, and the remaining canned goods in this post-apocalyptic world seem to consist mostly of ghormeh sabzi mix and pickles.

The short film 1999 is built upon a conceptual framework of bowel-based imagery. A US Marine with digestive problems ponders his past and future while trapped in an oil refinery on the cusp of the new millennium and the discovery of an alternative fuel source.


Watch trailer on youtube
Dangerous Men
John S. Rad
2005

It took John S. Rad, aka Jahangir Salehi Yeganehrad, about two decades to patch together Dangerous Men, which is frequently described as completely indescribable. The official tagline promises an unforgettable comedy suspense, mystery drama and Bret Berg of Los Angeles' Cinefamily passionately crowns it "THE holiest of all holyfuckingshits." In a 2006 interview with Rad, the director pondered the response of some audiences during the film's theatrical run: "They laughed, screamed, clapped, and got up and sat down, almost with any scene. I was wondering, some scenes in my opinion were not funny to laugh at or be so excited."