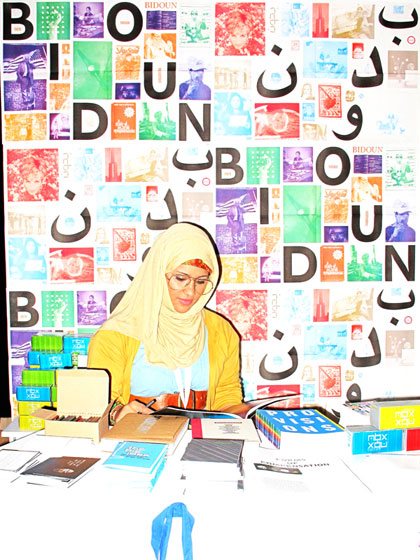 Bidoun Projects returns for its fourth year as a project partner of Art Dubai. Our 2011 programming is built around the theme of Sports: competition, stardom, the parody of sports as labor or labor as sports, the art of losing, and sports per se. Our projects include the Art Park, an underground project space for film, video and talks, that features retrospectives of two pivotal Egyptian artists, Sherif El Azma and Wael Shawky, curated by Bidoun's Kaelen Wilson-Goldie and Sarah Rifky of the Townhouse Gallery, respectively, as well as a sports-themed video programme featuring a variety of artists including Ziad Antar, Mahmoud Hojeij, Van Leo, and Marwa and Mirene Arsenios.
The Bidoun Library returns, too, featuring 'The Natural Order,' a new section specially curated for the fair that focuses on printed material on the Gulf from the past five decades. 'The Natural Order' will include corporate and state publications, as well as magazines and lay-ethnography on the Gulf published in the mid 20th century, when the region was mostly unfamiliar in the West and was becoming a source of great interest with the discovery of oil. The collective Slavs and Tatars will also make a special appearance with a new project and publication dedicated to Molla Nasreddin.
Join us at the fair on March 15th at 5 pm for a special Bidoun Show & Tell in the Art Park and on March 16th as we co-host, with The Third Line, the Sharjah Biennial After Party!
Bidoun Projects thanks the Emirates Foundation for its support in making these initiatives possible.