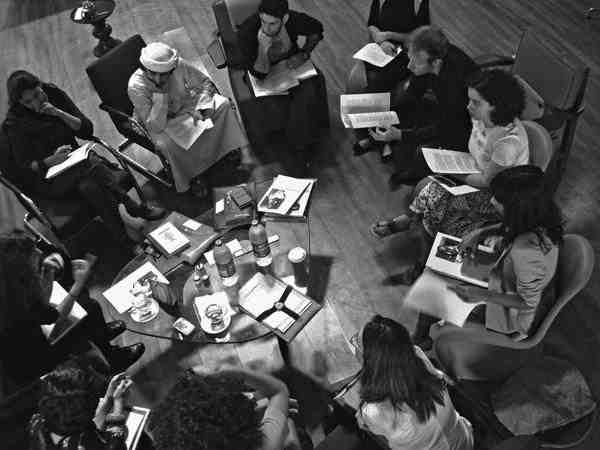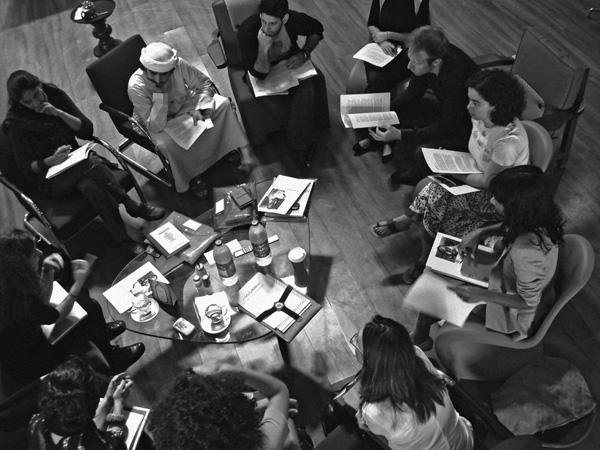 January 15-16, 2010: Hassan Khan, Kevin Mitchell, Kaelen Wilson-Goldie
February 13: Kevin Mitchell, Shumon Basar, Antonia Carver
March 20: Douglas McLennan, Murtaza Vali
April 16-17: Haytham El Wardany, Clare Davies, Hassan Khan
May 17: Negar Azimi, Murtaza Vali
In January 2010, Bidoun Projects, in partnership with the Dubai Culture and Arts Authority (Dubai Culture) launches a course of workshops that focus on writing about art and offer the opportunity for critical debate.
The monthly get-togethers will be led by renowned critics and curators from Egypt, Lebanon, USA, and the UAE including Hassan Khan, Kevin Mitchell, Negar Azimi, Haytham Al Wardani, Antonia Carver and Clare Davies. This "informal art school" provides an opportunity for debate about contemporary art, and facilitates links between artists, curators and editors based in the UAE, the region, and beyond.
The course launch weekend takes place January 14-17, 2010 at Shelter Dubai. Further day-long workshops take place on February 13, March 20, and on dates to be confirmed in April and May.
The call for applications has been closed but places may come available. For more information, please visit the Workshop's Facebook page.
Course Tutors
Sasha Anawalt is director of USC Annenberg Arts Journalism Programsat the University of Southern California, where she founded the Masters degree program in Specialized Journalism (The Arts). In October 2009, she directed and produced with Douglas McLennan the first-ever virtual National Summit on Arts Journalism, streamed live from USC Annenberg. She wrote the best-selling cultural biography, "The Joffrey Ballet: Robert Joffrey and the Making of an American Dance Company" (Scribner, 1996). Anawalt's writing has appeared in The New York Times, The New York Times Magazine, Los Angeles Times, SoHo Weekly News, Wall Street Journal (WSJ.com), KUSC and MSNBC-online sites. Anawalt served on the 2006 and 2007 Pulitzer Prize Committee juries for criticism.
Negar Azimi has contributed to the New York Times Magazine, Harper's, Artforum, and Frieze, among other art magazines and newspapers, and has been published widely in books and exhibition catalogues. A senior editor of Bidoun, Negar is based between Cairo, Beirut and New York. She is a member of the Arab Image Foundation. Recently, she and Babak Radboy curated the exhibition "NOISE," at the Sfeir-Semler Gallery, Beirut.
Shumon Basar studied architecture at Cambridge University and the Architectural Association, London. He worked for Zaha Hadid Architects, most notably as a lead designer on the acclaimed Contemporary Arts Center, Cincinnati. Since 2000, he has been Unit Master and Co-director of the Summer School programme at the Architectural Association; Co-founder of multi-disciplinary collective, sexymachinery, who make magazines, performances and exhibitions. He is architecture editor at Tank magazine; and has written for a number of publications, including Modern Painters, Blueprint and AA Files.
Antonia Carver (course organizer, with Alia Al-Sabi) is director of Bidoun Projects and editor-at-large for Bidoun magazine. She contributes to books, magazines and newspapers, primarily on contemporary art and film in the Middle East. Recent publications include PROVISIONS: Sharjah Biennial 9 (ed, with Lara Khaldi), and With/Without:Spatial Products, Practices and Politics in the Middle East (co- editor, with Shumon Basar and Markus Miessen). Antonia is a programmer for the Dubai and Edinburgh international film festivals, specializing in film from Iran and the Arab world.
Hassan Khan is an artist, musician and writer who lives and works in Cairo, Egypt, where he has instigated and directed series of "criticality workshops." As an artist, selected solo shows include Gezira Art Center, Cairo (1999),Galerie Chantal Crousel, Paris (2004), A Space Gallery, Toronto (2005), Gasworks, London (2006) Le Plateau, Paris (2007) and Uqbar, Berlin (2008). Khan has also participated in the Istanbul (2003), Seville (2006), Sydney (2006), Thessaloniki (2007),Contour (2007),Gwangju (2008) biennales as well as the Turin (2005) and Yokohama (2008) triennalles, amongst other international group exhibitions. He has composed soundtracks for theater and performed his music in venues around the world and his album tabla dubbwas released on the 100copies label. Khan is also widely published in both Arabic and English, his latest publication Nine Lessons Learned from Sherif El-Azma was published by the Contemporary Image Collective earlier this year.
Seattle-based Douglas McLennanis an arts journalist and critic and the founder and editor of ArtsJournal.com, the leading aggregator of arts journalism on the internet. Each day ArtsJournal features an array of links to stories from more than 200 publications worldwide. Douglas has written on the arts for numerous publications, including Salon.com, Newsweek, The New York Times, The Los Angeles Times, The Wall Street Journal, and the London Evening Standard. He has won several awards for arts criticism and reporting, including a National Arts Journalism Program Fellowship at Columbia University and a Deems Taylor/ASCAP Award for music journalism. He was recently named one of 100 Outstanding Graduates of the Juilliard Schoolof Music for the school's centennial.
Kevin Mitchell is an Associate Professor of Architecture in the School of Architecture and Design and currently serves as Director of Undergraduate and Graduate Programs at the American University of Sharjah (AUS). Professor Mitchell co-chaired the 2008 conference Instant Cities: Emergent Trends in Architecture and Urbanism in the Arab Worldand co-edited a volume of selected essays published by The Center for the Study of Architecture in the Arab Region. Recent publications appear in Dubai: Growing through Architecture (Thames & Hudson, in press), The Courtyard House: Between Cultural Expression and Universal Appeal (Ashgate, in press), The Superlative City: Dubai and the Urban Condition in the Early Twenty-First Century (Harvard Graduate School of Design/Harvard University Press, in press) and Dubai: City from Nothing (Birkhaüser). An essay on architecture in the Gulf was awarded a 2009 research prize by the International Art & Architecture Research Association (IAARA) in conjunction with The United Nations Human Settlements Programme (UN-Habitat).
Murtaza Vali is a Sharjah — and Brooklyn — based critic and art historian. He is a contributing editor at ArtAsiaPacific, and was co-editor of its 2007 and 2008 Almanac issue, an encyclopedic year-end review of contemporary art across Asia. He is also a regular contributor to Bidoun and his writing has appeared in ArtReview, Art India and Nukta. He has penned catalog essays on various artists, most recently Reena Saini Kallat and Emily Jacir. Also a freelance curator, his recent exhibition "Accented," was presented at BRIC Rotunda Gallery, Brooklyn, in early 2010, as part of their Lori Ledis Emerging Curator Program.
Haytham El-Wardany was born in Cairo 1972 and currently lives in Berlin. He works as an author and journalist, and has been involved in numerous cultural and publishing projects both in Germany and Egypt. As a writer, he has published two collections of short stories in Cairo, including Jama'at Al-Adab Al-Naqis (The League of Incomplete Literature) known for its innovative approach, covering a range of styles from reportage to formal experimentation.
Kaelen Wilson-Goldie is a writer who lives and works in Beirut. She has contributed numerous essays on contemporary art and visual culture to catalogues, anthologies, and journals, including texts on the work of Akram Zaatari and Walid Raad, experimental music, urban intervention, video, and performance art. Over the past decade, she has written for_ The New York Times, _The Times of London, and The Village Voice, among many other newspapers and magazines. Previously the arts and culture editor of The Daily Star, she is currently a contributing editor for Bidoun, a critic for Artforum, and a staff writer for_ The Review, the weekly cultural supplement of _The National. She earned a BA in English literature and international relations from the University of Virginia, an MS from the Columbia University Graduate School of Journalism, and an MA from the Center for Arab and Middle Eastern Studies at the American University of Beirut. She was a 2007 fellow in the USC Annenberg/Getty Arts Journalism Program in Los Angeles.