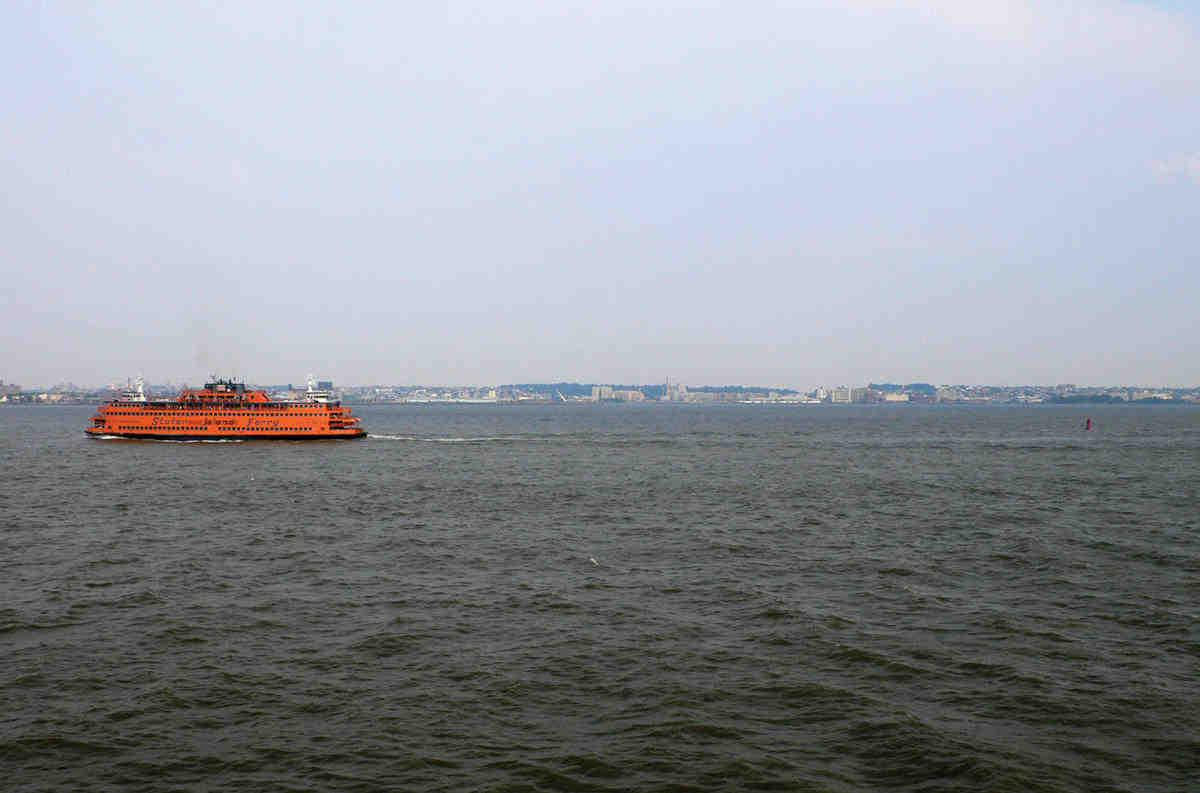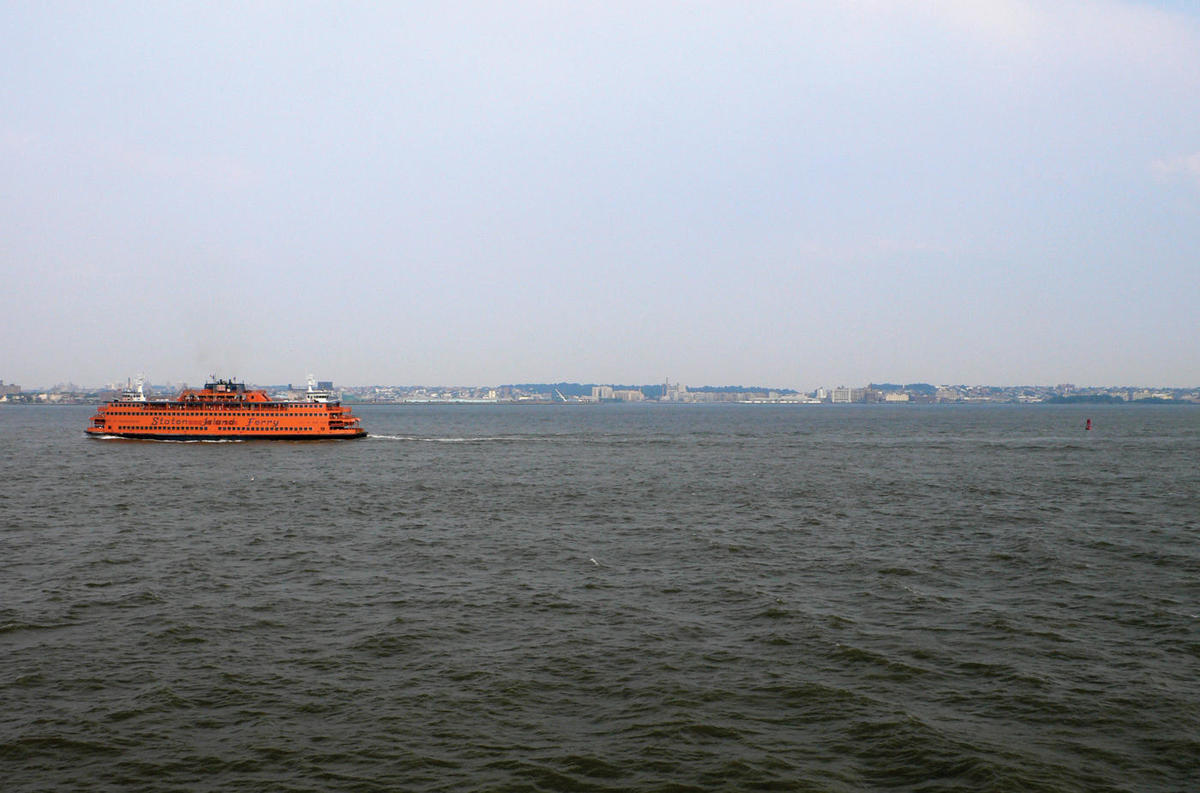 New York The FM Ferry Experiment Staten Island Ferry September 2007
Chugging along between Manhattan and its less glamorous neighboring borough, the Staten Island Ferry is usually the scene of seasoned commuters wearily ignoring the snap-happy tourists who arrive in droves for their Kodak moment with the Statue of Liberty. But last September, alert passengers would have noticed an unexpected intrusion: a mobile radio station had set up operations on the Hurricane Level. A stream of artists, performers, lecturers, and the generally curious passed through; highlights included a "24-Minute Marathon" cello performance and an a cappella singing group who volunteered their talents on the spot. Those who had a radio handy could catch the experimental sound programming between live shows. Bright blue posters in the background announced these covert sound activities to be part of The FM Ferry Experiment, a series of eight live weekend broadcasts conceptualized and orchestrated by neuroTransmitter.
The work that Angel Nevarez and Valerie Tevere produce under the name neuroTransmitter is more than just fun and games aboard the Spirit of America. Their soundworks, installations, videos, and audio prototypes are modest infiltrations into that ambiguous and dwindling commodity we call public space, interrogations of the way it has been seamlessly parceled out among corporate powers and under government control. Mobile transmission and its public are an ongoing interest, developed in earlier works such as the Communiport, a portable radio transmitter that fits into a backpack. (The unit was later put to good use in The Lower Power to Higher Power Broadcast Media Tour, where prerecorded programs were broadcast to an audience of radio-equipped protestors at the 2004 Republican National Convention in New York.)
In the case of The FM Ferry Experiment, they continued their work on radio as a medium and thematic concern while drawing on historic precedents from a more radical time. The pirate offshore enterprise Radio Caroline is one example. Founded as Britain's first nonstop pop radio station in 1964, it braved the Atlantic waters for decades in order to evade the reach of British radio laws. The 1967 New York Avant Garde Festival is another precursor. Engineered by Charlotte Moorman, who had made headlines that year for playing the cello topless, the festival took over the ferry for a forty-eight-hour marathon of performances. The thirtieth anniversary of that festival was celebrated onboard this year with an interview with one of its participants, artist and filmmaker Jud Yalkut, whose reminiscences were interspersed with sound clips of what appeared to be phone messages from 1967. Or did I get my frequencies crossed with WPS1 Art Radio?
While things have changed since Carolee Schneemann's seabound pink foam labyrinths and the outlaw ethos of Radio Caroline, for many artists the idea of resistance still hovers tantalizingly on the horizon. The medium of sound promises powerful tools by way of its ephemeral nature, its evasion of art's classic modes of instrumentalization — the fickle pleasures of viewing and owning — and, in the case of radio, its ability to encompass both mass media and high art. Radio's revival as a medium seems to hinge on the very idea of its obsolescence: the poetry of modernism's scrapheap, the economy of recycling and repurposing, and the frisson of accumulated histories. neuroTransmitter's radio work includes Berlin-based radio WUNP, the sound platform for unitednationsplaza, which offers its recorded programs for distribution to other radio stations — as cassette tapes. In such formats, their work appears as both a critical reevaluation of media histories and a meditation on the aesthetics of inaccessibility, resistance that is aimed against prevailing systems.
FM Ferry Experiment functioned within that context of utopian goals and post-medium conditions, but it succeeded as an experiment on a more practical level: it actually happened. "We wondered," Tevere said, "how far can you go, working through a process?" Undaunted by the bureaucratic hurdles of dealing with the Department of Transport, the student radio station of the College of Staten Island, where Tevere teaches (WSIA-FM hosted their program, providing a radio license), and various funding organizations, the artists managed to press mundane zones of transport and leisure into the service of their own, more open-ended ideas — producing an unusual experience of mass reception that was, unlike their pirate radio predecessors' experiments, completely legitimate.
neuroTransmitter's radio programming also suggested more recent notions of curating in time rather than space, engaging the attention of audiences through a built-in participatory element. Their playlists collided sound, radio, public space, bodies of water, and transport. Music tracks ranged from Donna Summer's "Down Deep Inside" to Leadbelly's "Haul Away Joe," while live guests included a host of like minded artists and speakers: radio theater group 31 Down performing their play Innocent Eavesdropper; Bojidar Yanev discussing the management of New York's 2,000plus bridges; Brooke Singer presenting 800 Steps Apart, her work on Lower Manhattan air pollution; and Emily Jacir and Jamal Rayyis musing on Manhattan street food in their Falafel Chronicles. On my visit to the top deck, Ralf Homann's Monoshow roped me into the proceedings with what just might be the world's oldest radio-talk-show gambit: "What would you take with you if you were going to be stranded on a desert island?" Under the circumstances, I had to choose my radio.
www.fmferryexperiment.com