Abu Dhabi
RSTW
Manarat Al Saadiyat, Saadiyat Island
September 22–January 24, 2011
Culled from Larry Gagosian's  private collection, and curated by Anne Baldassari, RSTW (distilled from the names of the artists displayed),  brings together a selection of seventy-two post-war works by six canonical American artists: Ed Ruscha, Robert Rauschenberg, Richard Serra, Cy Twombly, Christopher Wool and Andy Warhol. Previously unseen until they landed on the $27 billion Saadiyat Island (or Island of Happiness), one wonders what wooed Larry to debut this awesome collection in the UAE in the first place.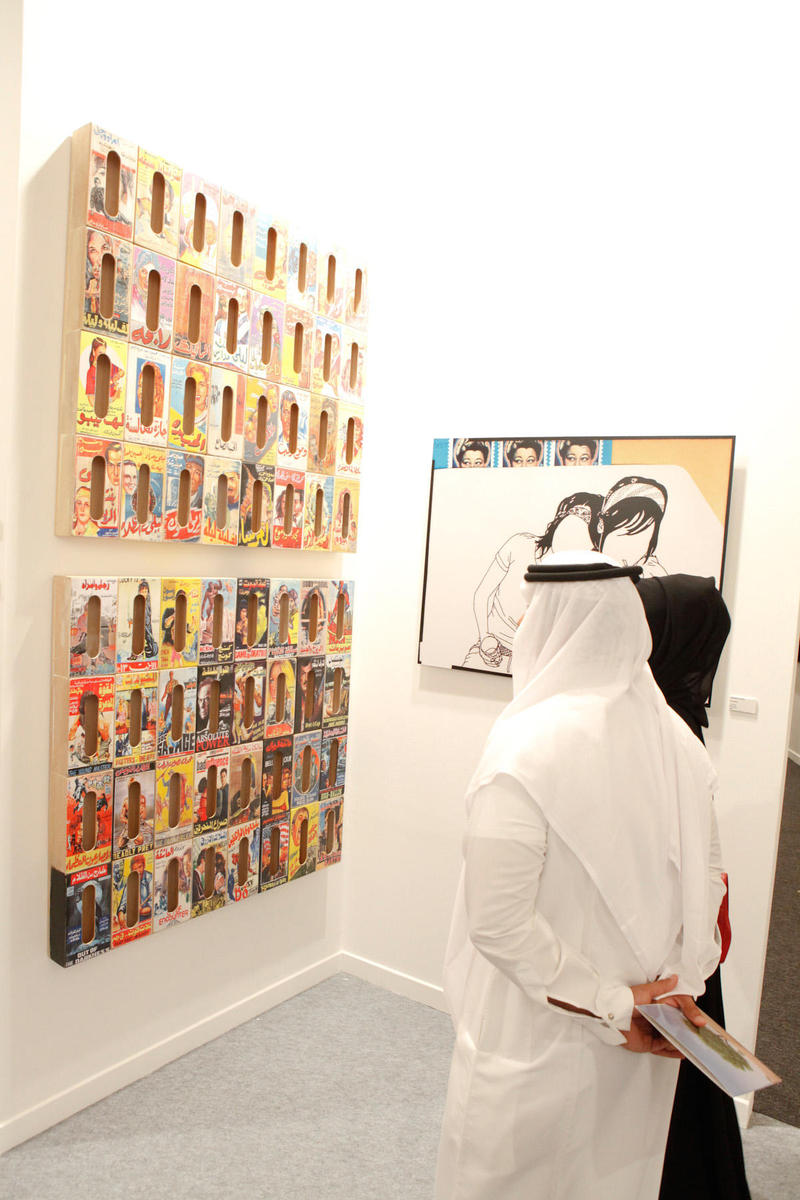 Beirut
Wael Shawky: Contemporary Myths II
Mounira Al Solh: Exhibition No. 17
Sfeir-Semler Gallery
November 25, 2010–March 19, 2011
Wael Shawky presents the film Cabaret Crusades: The Horror Show File, which restages a crucial period of the Crusades between the years 1096 and 1099. Imagined as a kind of horror movie, the film stars 200-year-old marionettes from the Lupi collection in Italy, dressed in eleventh century clothing and choreographed in reconstructed landscapes of Asia Minor and the Mediterranean. In addition to the film, Shawky will present photo-portraits of these marionette actors alongside installations from the film's set. At the same time, in her solo debut at the gallery, Mounira Al Solh presents three new bodies of work including paintings, a suite of nineteen video works and mixed media video installations.
---
Doha
Mathaf (Arab Museum of Modern Art)
Education City
December 30–May 28, 2011
Set to open on New Year's eve, the collection of Qatar's Arab Museum of Modern Art includes 6,000 works representing major trends and sites of production of Arab art spanning 1840 to the present. Its inaugural exhibition, Sajjil, will feature 100 highlights from the collection, including the work of canonical modernists such as Dia Azzawi, Paul Guiragossian and Mahmoud Said. Mathaf's opening programs include Intervention, a retrospective of five major Arab artists curated by Dr Nada Shabout, and Told/Untold/Retold, an exhibition of newly commissioned works by twenty-three contemporary artists with roots in the Arab world. Commissioned artists include Akraam Zaatari, Walid Raad, Lamia Joreige, Amal Kenawy and Ghada Amer. 
---
Dubai
From The Farook Collection: That's What She Said
Traffic Gallery
February 2, 2011–TBA
This exhibition opens with works from the Farook Collection, featuring more than twenty-five installations by a cast of artists that includes Tracey Emin, Hala Ali, Shilpa Gupta, Arwa Abboun, Catherine Bernard, Rokni Haerizadeh, Herakut, Bita Fayyazi, Pouran Jinchi, Runa Islam, Manal al Dowayan, Ayman Yusri and Faisal Samra. Exhibition highlights include Gupta's Untitled (2008–09) — a motion flap board reminiscent of airport announcement boards, which she uses to display whirling combinations of text that play with notions of arrival and departure. The ensemble, curated by Dubai-based Rami Farook — from whose family collection this is drawn — also includes video & sound installations, with word/text as an audio-visual component underscoring the recurring theme of the exhibition.
---
Dubai
Farhad Moshiri
The Third Line
March 13–April 14, 2011
Farhad Moshiri's new work marks an evolution in his practice, taking his textural mimicry and use of humor to new heights. Moshiri's first in-depth monograph will be launched contemporaneously. The self-titled comprehensive book has been presented by The Third Line together with galleries Rodolphe Janssen, Emmanuel Perrotin, and Thaddaeus Ropac.
---
Dubai
Monir Shahroudy Farmanfarmaian
The Third Line
January 13–Feb 17, 2011
Monir Shahroudy Farmanfarmaian presents a combination of circles, squares, and polygons skillfully cast within the rigorous mould of classical Islamic geometrical design. Uniting age-old techniques of reverse-glass painting, mirror mosaics, and Iranian design with a modern abstract expressionist and minimalist sensibility, Farmanfarmaian produces veritable geometric kaleidoscopes in this series of new works.
---
London
Translated By
Architectural Association
January 13, 2011–February 2011
An audio exhibition of novelists and short story writers who translate place into fiction. Includes Douglas Coupland, Tom McCarthy, Hisham Matar, Sophia Al Maria, Rana Dasgupta, Guy Mannes Abbott, Adania Shibli and others on Tripoli, Ramallah, Brooklyn, Sofia, London, Doha and more. Curated by Charles Arsène-Henry and Bidoun contributing editor, Shumon Basar.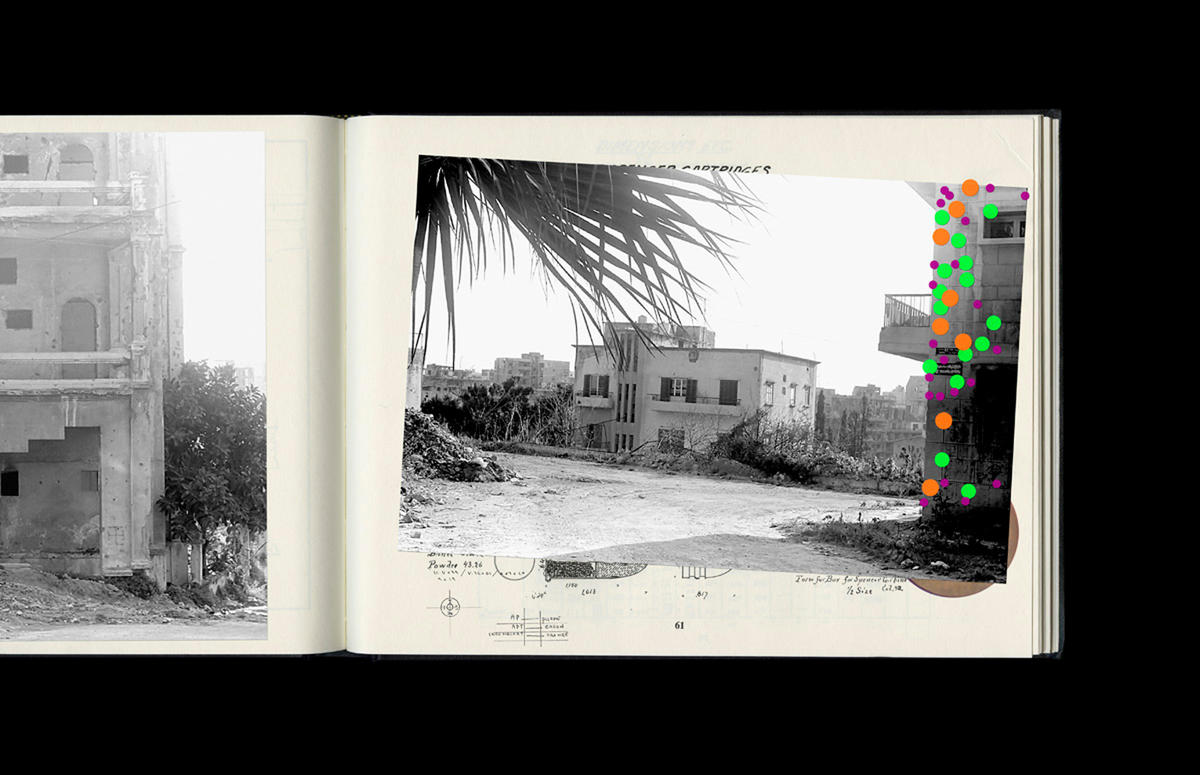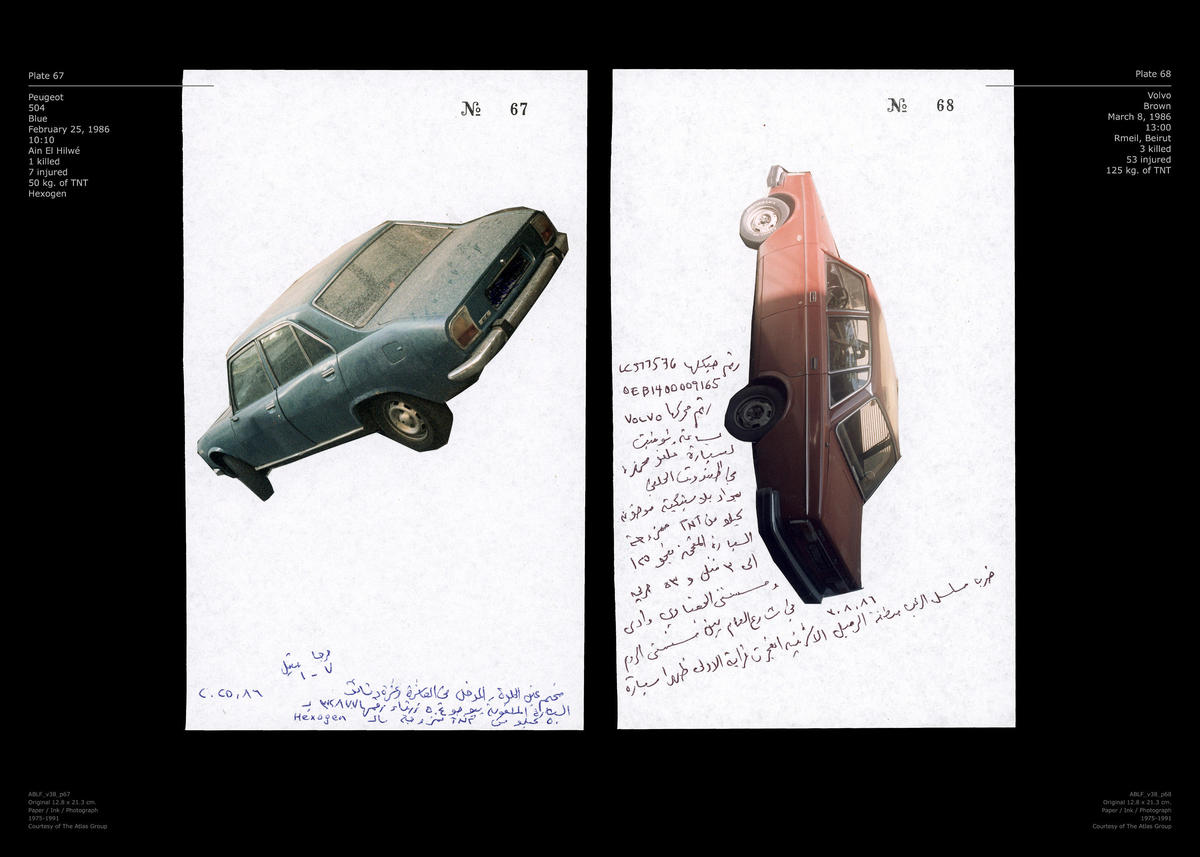 London
Walid Raad: Miraculous Beginnings
Whitechapel Gallery
October 14, 2010–January 2, 2011
Miraculous Beginnings is Walid Raad's largest survey to date, bringing together diverse works including Secrets in the Open Sea (1994/2004) and Let's Be Honest the Weather Helped (1998/2006–2007), with the premiere of Sweet Talk: Commissions (1987–present), his exploration of the changing face of Beirut over the last twenty years. An astute, if not unconventional, analysis of the art boom in the Middle East and the implications this has for art and artists from the region lies at the heart of Raad's latest project, Scratching on Things I Could Disavow: A History of Art in the Arab World (2008–present).
---
London
Haroon Mirza
Lisson Gallery
February 16–March 19, 2011
Working with video, sculpture, light, and sound, Haroon Mirza creates large scale installations using found materials such as furniture, household electronics, and even, at times, other artists' works, revealing the hidden connections of outwardly disparate objects and altering their functions. Mirza's assemblages, at once sculptural and sonic, draw upon historical traditions, science, religious belief, club culture, and their relation to music. To explore the possibility of the visual and acoustic as a single aesthetic form, each piece generates its own noise, in turn combining to form a larger musical composition that spills across the gallery.
---
Los Angeles
Decolonizing Architecture
REDCAT
December 7, 2010–January 30, 2011
In their first exhibition outing in the United States, the West Bank-based research collective Decolonizing Architecture (initiated by Alessandro Petti, Sandi Hilal, and Eyal Weizman in 2007) engages the occupation through the spatial landscape, using their practice in turn as a form of narration and, at best, intervention. A program of lectures and presentations will be organized during the closing week of the exhibition.
---
Malmö
Walead Beshty
Malmö Konsthall
February 18–May 1, 2011
Los Angeles-based artist Walead Beshty fills the expansive exhibition space at Malmö Konsthall with his ongoing series of investigations as to the relationships between technological modes of image production and the indeterminate transitory spaces of modernity.
---
Marfa
Immaterial
Ballroom Marfa
October 1, 2010–February 20, 2011
Set in arts pilgrimage destination Marfa, Immaterial emphasizes the formalist and process-oriented tendencies in its selection of recent work and new commissions from such artists as Barbara Kasten, Rachel Khedoori, Esther Kläs, Liz Larner, Erlea Maneros-Zabala, Linda Matalon, Julie Mehretu, and Charline von Heyl, Rosy Keyser, Laleh Khorramian, Heather Rowe, and Erin Shirreff.
---
New York
The Last Newspaper
New Museum
October 6, 2010–January 9, 2011
Throughout January, The Last Newspaper will continue to transform galleries at the New Museum into temporary offices for a number of partnering news agencies that work on-site alongside a selection of important artworks reflecting on the current state of newspapers as transmitters of information.
---
New York
Small Scale, Big Change: New Architectures of Social Engagement
MoMA
October 3, 2010–January 3, 2011

With an eye toward pragmatic design solutions for the world's underserved populations, this exhibition presents the research of a range of architects, community organizers, and NGOs currently at work on issues of social responsibility in architecture. Look out for Bidoun friend Hashim Sarkis in this wide-ranging exhibition.
---
New York
Kezban Arca Batibeki
LTMH Gallery
January 11–31, 2011
This represents Istanbul-based artist Kezban Arca Batibeki's first solo outing at LTMH Gallery. Taking pop culture as her point of departure, Batibeki has created works in a wide range of media, from installation, to short film, to photography.
Philadelphia
Live Cinema/In the Round: Contemporary Art from the East Mediterranean
Philadelphia Museum of Art
September 17, 2010–February 6, 2011
This exhibition features six artists from the East Mediterranean whose individual practices tend toward the translation of cinematic and theatrical strategies into new forms of video, installation, and performance-based works. Curated by Istanbul-based November Paynter, this exhibition includes the works of Ziad Antar, Inci Eviner, Gülsün Karamustafa, Hassan Khan, Maha Maamoun, and Christodoulos Panayiotou.
---
Sharjah
Sharjah Biennial
Sharjah Cultural Quarter
March 16–May 16 2011
For its tenth edition, curators Suzanne Cotter and Rasha Salti will consider the production of art as a subversive act, drawing on the structure of a film narrative (or plot) to codify a series of new and commissioned works in sites across Sharjah. Organized around keywords such as treason, necessity, corruption, devotion, and disclosure, Plot for a Biennial intends to engage visitors to rethink conventional uses of space, modes of display, and the rhythms of the city. Look out for works by friends of Bidoun and international women of mystery Anna Boghiguian and Trisha Donnelly, in particular.